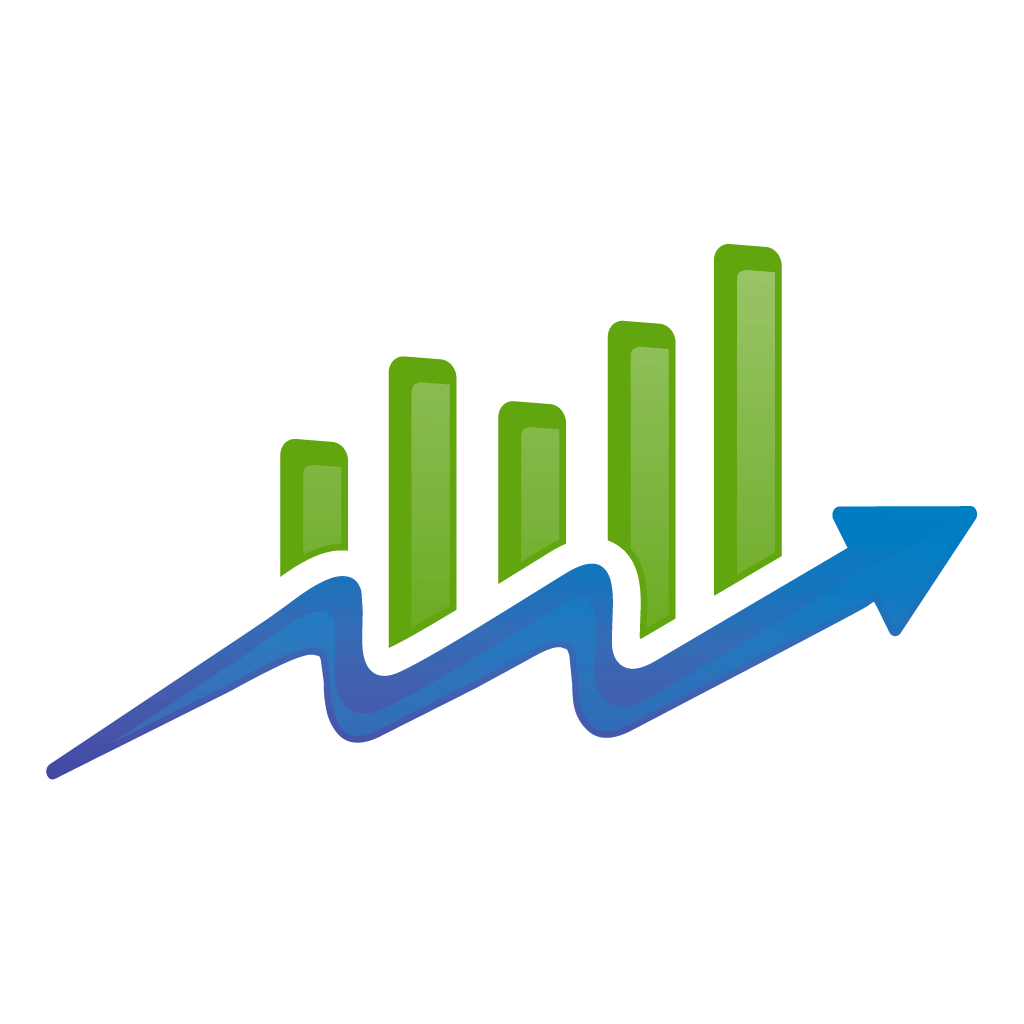 Request a Free Strategy Session
Sign up before 11/30 for contract-free SEO
✖
How to Succeed as a Small Business Owner in the Google Age
Sam Warren
2021-11-09T11:56:25-08:00
How to Succeed as a Small Business Owner in the Google Age
by
Sam Warren
The digital age has brought countless changes to the way we live our lives and the way we do business.
One of the biggest revolutions, was the creation and refinement of search engines.
While there are a handful of prominent players, we're kidding ourselves if we don't recognize that Google is leaps and bounds ahead of the pack. In fact, Google states that they now process over 2 trillion searches per year.
With more and more people turning to search engines for help every day, business owners have no choice but to focus on how to improve their search presence.
At the heart of the matter is the following situation: your business has competitors, who are also trying to be found and featured in the search engine results. Likely for the same keywords that you are.
Since there can only be a few results that show up "above-the-fold" in the results, these results inevitably earn most of the clicks. And clicks mean traffic and ultimately sales.
SEO (search engine optimization) has been the #1 way to earn those top positions, for well over a decade now. But it's not as simple as it used to be.
Once a fairly straight-forward process (hire someone to get you a bunch of links), SEO is now an interdisciplinary investment that requires serious buy-in from business owners and managers alike.
At RankPay, we've come to believe that while any one strategy invariably helps, staying on top of Google requires a holistic approach.
What does that mean for small business owners?
Put it this way… it's going to take more than an exact-match domain to dominate local and niche markets.
To build a lasting presence, business owners need to leverage content to reach wider audiences, be active on social to engage prospects, and convert more sales with smart design and convincing copy.
They also need to embrace secure and optimized website architecture and enhanced back-end services like fast hosting and a mobile-responsive CMS.
We know it's a lot to take in. So let's zoom out for a mile-high view.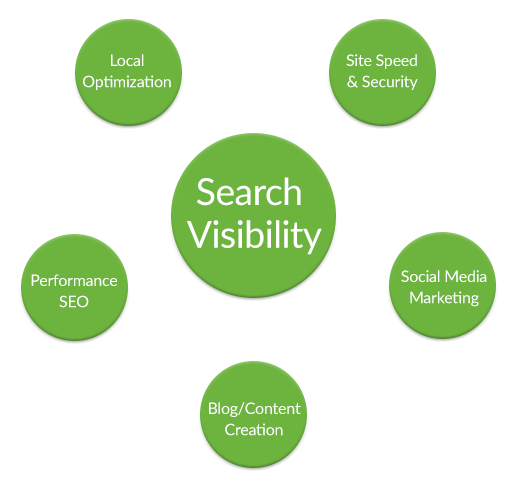 Each spoke on the wheel above deserves your attention. So let's learn a bit more about how each one can contribute to your digital presence.
Search Engine Optimization
Search engine optimization is still the single best way for small business owners to earn more qualified web traffic.
Traffic being the cornerstone of online marketing success, it should be clear why SEO deserves a seat at the head of the table if you're serious about growing your business's online footprint.
Without it, you'll either be stuck paying for every single click you earn via sponsored search, or letting your lead-flow languish and fall behind your competitors.
Unfortunately, SEO can be intimidating to the uninitiated and pricing is notoriously varied.
Regarding why SEO matters: it's likely not all that important that you, as a small business owner, understand the finer details of search engine optimization. What is important however, is that you grasp the effect SEO can have on the digital portion of your business.
To that end, we'd encourage you to check out our guide to why SEO is important.
The short version though? Without SEO, it is nearly assured that your website will not be discovered organically. You will have to rely entirely upon paid search (PPC advertising) to generate web traffic.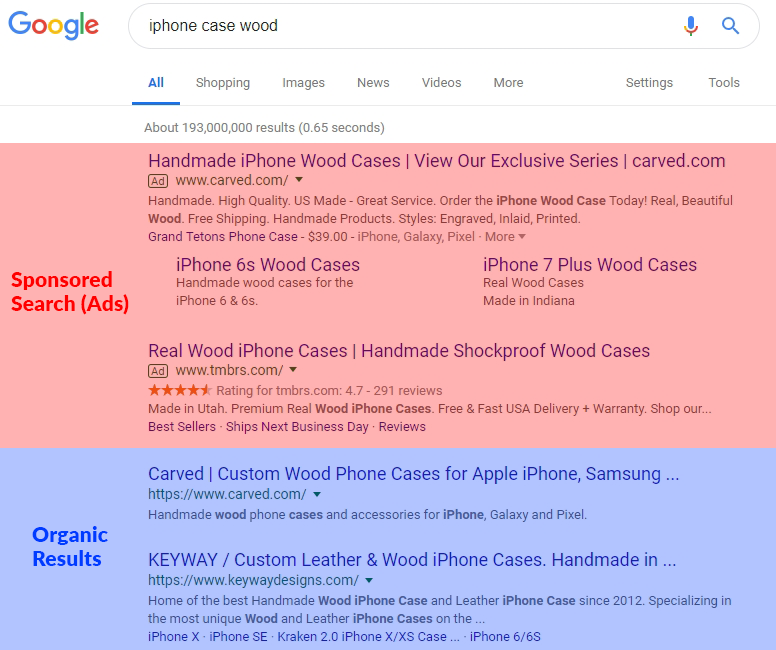 That's not good. While paid search is definitely worth it for many businesses, it's not ideal to rely upon it so heavily given that you will always have to pay for traffic.
SEO is more of a gift that keeps on giving. While it does require an investment in order to obtain top rankings, you won't need to pay for every click ad infinitum.
That's not even accounting for the fact that many users skip right past the ads. Remember, that's the one place your website would be visible if chose to only invest in paid search.
As far as SEO pricing is concerned: monthly retainers and hourly rates are the most common models. For more information on this, see our SEO pricing guide.
There are affordable alternatives however, and we pioneered the most notable…
Our SEO solution
When we first opened our doors in 2007, we only offered one service: pay-for-performance SEO.
We pioneered this revolutionary model for SEO, in which clients would only need to pay after we'd earned them higher search rankings.
Our "if you don't rank, you don't pay" guarantee, and our data-driven approach, have helped us flourish in the years since.
In fact, we're currently employed by over 2,000 business owners to earn them higher search rankings! To date, we've ranked over 4,500 client keywords on the first page of Google.
If you want to give us a try yourself, our approach is inherently risk-free, and quick and painless to get started. Simply click here, and enter your website URL to get custom rates.
Content Creation & Optimization
In recent years, you may have heard people shouting that "content is king", and we don't blame them.
Creating relevant and useful content is one of the best ways to broaden your brand's online reach. It in turn, dovetails into better organic presence and more high-quality links and mentions.
In fact, companies with active blogs get 55% more site visitors, and earn an average 97% more links than sites that don't.
And while that may sound surprising, it makes sense when you think about it.
Often, regardless of your vertical, purchase journeys will begin with a question. Someone turns to Google looking for help.
For example, we find that many small business owners start their journey to hiring an SEO agency by searching about the price of SEO.
So we built a comprehensive and unbiased guide to help answer that question. You can see for yourself where it shows up in the search results.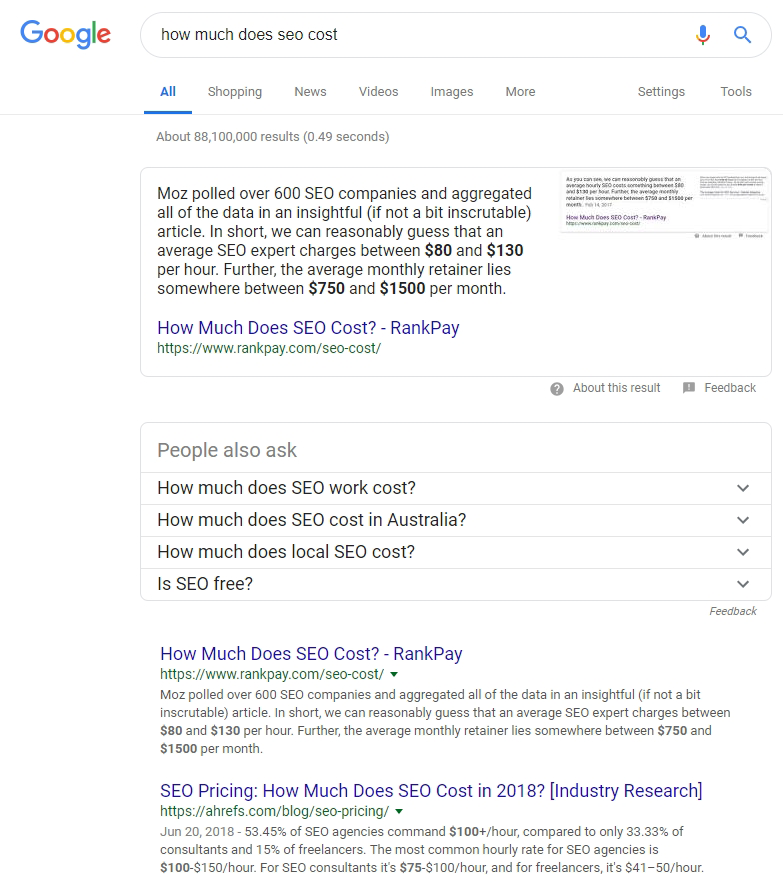 This is a great example of what content creation can do for your lead flow.
If you have quality content built out that can help your target audience, you'll be in a great spot to bring them into your lead funnels.
The earlier you can get in front of your potential leads and customers, the better!
Our approach to blogging is thus one of quality, rather than quantity. There was a time when it made sense to spin out lots of content, but those days have long since passed us.
These days, useful, relevant, and timely content is what gets results. The data and our own anecdotal experience play this out time and time again.
Our content solutions
Over the past few years, we've built a team of professional US-based writers to help us create excellent content day in, and day out.
Of course, while it's important that your content be useful and relevant, it's also critical that it be well optimized. When we create social content, we not only tie it back to your SEO goals, but we also include sales, promotions, and other newsworthy things happening at your business.
Our blog management service helps take content creation off your monthly to do list.
Our content optimization service ensures that your key landing pages stay updated and optimized for search engines.
We take great pride in our ability to produce and optimize relevant content, and have tweaked our methods continually over the past decade to hone in on what gets results.
Social Media Marketing
This should go without saying, but business owners can't ignore social marketing. Big or small, your brand should have a presence.
Even if you're in a somewhat dry vertical, there are still a handful of good reasons to invest in social marketing.
At a bare minimum, having an updated profile with recent posts can suffice. But it's often wise to proactively engage with your community and start to generate some brand recognition.
Despite the recent privacy scandals and the arrival (and departure) of new competitors, Facebook, Twitter, Instagram, Pinterest, and Linked In are still the most viable opportunities for small business owners.
Just look at what percentage of Americans use each platform on a regular basis!
Of course, you likely don't need to have an active account on each of these platforms. It will depend on your business.
For instance, unless you have relevant and useful imagery, Instagram and Pinterest may not be a great idea.
Regardless of which platforms you determine are best for your brand, here are a few of the main benefits to enjoy by engaging in social marketing
Keeping your business social profiles updated with correct information helps Google keep your local presence in order
Social platforms are often where word of mouth referrals happen these days
An active profile signals to leads that you're still in business
If you haven't yet, just
Our social marketing solution
We know how difficult it can be for small business owners to find time to post on social media. That's why we developed multiple levels of entry for our social marketing service, to match a variety of budgets.
Our writers manage hundreds of social media accounts, posting unique, targeted, and fresh content every day. In fact, between our blog management and social marketing programs, we now publish over 5,000 pieces of content every month.
We'll speak to your audience for you, as you, for as little as $59/month. You'll always have control and oversight, and nothing ever gets published without your approval!
Responsive & User-Focused Web Design
Heading into 2019, there are more considerations than ever, when it comes to website design.
Now to be fair, content management systems (CMS) like WordPress and Joomla have come a long ways. They can make owning a website a lot less of a headache for the less technically-inclined.
But unless you choose a solution like SquareSpace that doesn't allow much back-end customizability (or optimization), you will still likely need a professional agency to build your website.
There are many reasons for this, but one in particular stands out. That is: being mobile-responsive.
Being mobile-responsive means that your site content will adapt to the device your visitor is on.
Visitors to your website are statistically more likely to be on a mobile device than a laptop or desktop computer. In turn, Google has been placing greater and greater importance on mobile-friendliness as a ranking factor.
Google has rolled-out of its mobile-first index. What does mobile-first indexing mean?
To put it simply, it means that Google will first index the content on your mobile website. That is now Google's preferred method of indexation.
Don't panic. That doesn't mean your site will stop showing up in the SERPs if haven't invested in making it mobile-responsive.
It does indicate a larger trend though, as more and more of the web moves to being mobile-responsive. So the time to take care of this is definitely now.
If you're not sure if your site is mobile-friendly, the fastest way to test your site is to use Google's own mobile-friendly test.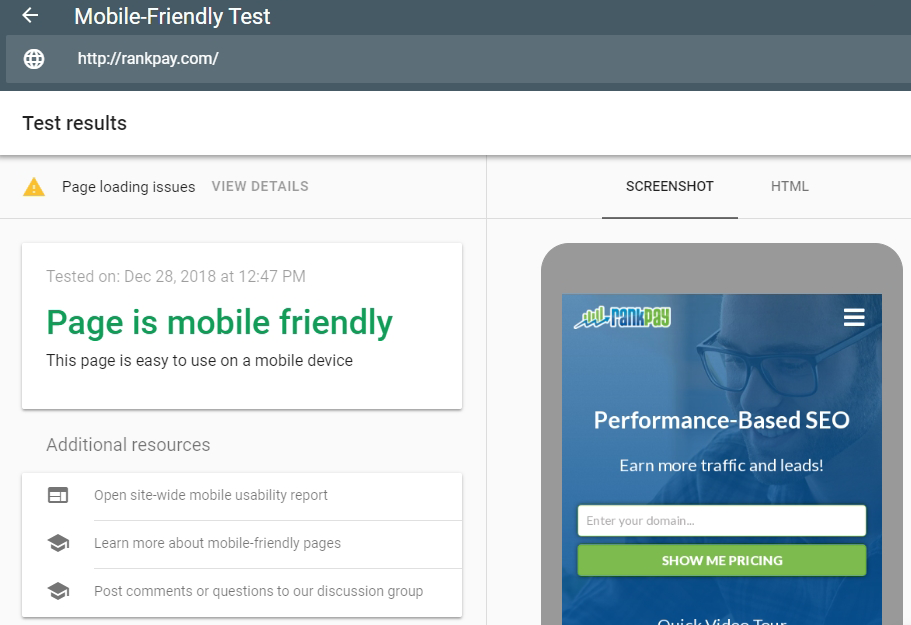 Of course, being mobile-friendly is just the tip of the iceberg when it comes to website design considerations for better search visibility.
If you have an outdated website, utilize obnoxious full-screen interstitials, or otherwise ignore the needs of users, they'll be far more likely to bounce. Higher bounce-rates are bad news.
Long-term, poor bounce-rates can even directly and/or indirectly lead to lower search rankings. It's well known that pogosticking (users clicking on your site only to immediately return to the search engine results) sends negative signals to Google about your presence in that search result.
Furthermore, Google has clearly stated it will take into consideration whether a page uses full screen interstitials or not.
So in short, a focus on user-friendly design is essential to success.
Our web design solution
We've been designing mobile-responsive and user-focused websites for our clients for well over 10 years. So this is old hat for us.
We have thousands of client experiences to draw from when we consider how to design effective websites. When it comes to driving conversions and earning higher search rankings, we know what it takes.
All of our website designs are 100% mobile-responsive, optimized for Google from the ground-up, and customized to our client's needs.
We don't use a cookie-cutter approach, and instead design each website from the ground-up in WordPress. We prefer WordPress because it provides stability, security, and flexibility.
To learn more, or request a free consultation, click here.
Local Optimization & Citations
If your business has any semblance of a local presence, building and organizing local listings is a great way to improve your visibility.
For business owners with multiple physical locations, this may already be on their radar. But we find that many single-location business owners forget the importance of this digital presence component.
It's not only an easy way to get some decent links, it's critically important for Google to validate information about your business.
But perhaps most importantly, it can handily contribute to your presence in the Google Map Pack. Click-through-rates for local industries are known to be exceptionally high in the map pack.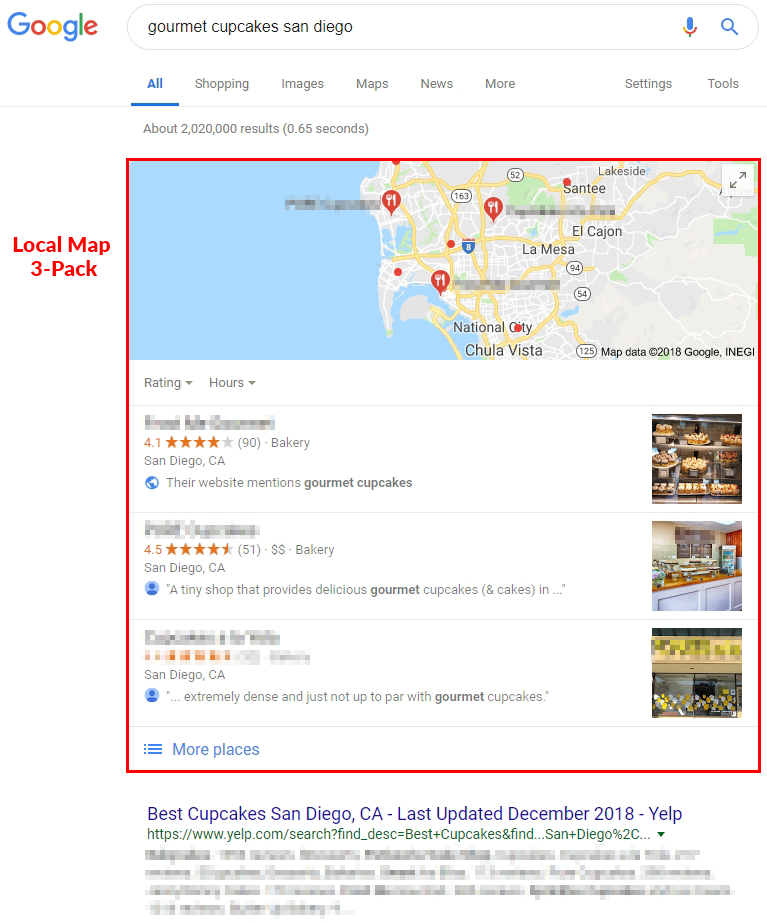 Given how prominent the local map 3-pack is, it goes without saying that you'll definitely want to be featured in it when appropriate.
In order to do so, your information across listings and directories needs to be up to date and consistent. Name, address, phone number, and website are the big four.
If you have one format for your address on one listing, and a different format on another, it can hurt! Search crawlers may be unsure of which information is correct, and then not display any information at all.
Our local search solution
Over the years, we've tested many local citation service providers. From citation creation, to management and optimization, we always felt like they fell short in one way or another.
So we developed our own local citation builder service to meet the needs of local business owners, at an affordable rate.
We do all of our work manually, and have the ability to bulk-update listings when required. Each program is unique in that we will target industry specific directories and publications, to ensure relevant exposure and links.
We also correlate listing details and copy to keyword targets and search presence goals more broadly.
With plans starting at $19/month, we know we can provide fast and transparent value while positively contributing to long-term search visibility.
Website Performance and Stability
As if all of this weren't overwhelming enough already, businesses both small and large need to have access to a webmaster.
For example, if you haven't already, it's time to make the leap to HTTPS. That means installing an SSL certificate to ensure that Google knows your website is trustworthy.
In fact, Google already shows a warning to visitors who enter sites that don't use an SSL.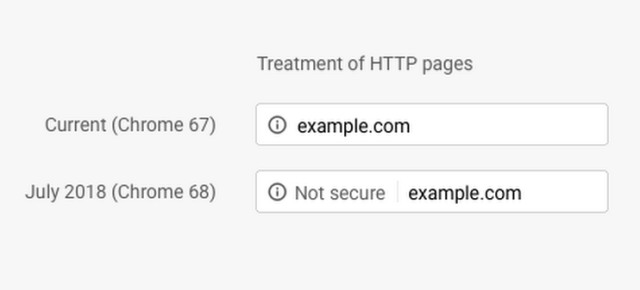 In case it's not already apparent, designing a website and getting it "live" is only the beginning. Owning a business website is a lot like fitness training. There's no finish line.
Your website is only helpful to your business if it's stable, stays up (live), and loads quickly. Unfortunately, there are lots of things that can interfere with that happening.
On a regular basis, you may encounter…
Security flaws that are exposed in your plugins, your CMS, or elsewhere.
Browser compatibility issues (browser updates are out of your controls).
Site speed slowdowns that arise due to features and/or content that's altered on your site pages.
Up-time issues caused by your webhost.
Content that needs updating (seasonal promotions, new services/products, etc).
Each of these alone requires a webmaster bare minimum. But viewed holistically, your webmaster/s will likely need to have a variety of specialized skills and services on hand.
Enter our small business website maintenance service.
Our website maintenance solution
Keeping your site secured, up to date, and running optimally takes ongoing time and energy. Both of which are likely scarce and previous resources.
We designed a flat-rate monthly plan that covers all of the above and then some.
Our team of experienced web masters is capable of handling specialized site speed challenges, closing security loopholes, and installing valuable services like content delivery networks and Cloudflare caching.
Furthermore, we'll handle your web-hosting (with a 99.9% up-time guarantee), and the use of your on-demand webmaster time allocation is completely at your discretion.
The Summary
In short, you can see that success as a small business owner these days is more complicated than ever.
But there are lots of resources available to help, and we try to make ourselves one of them.
In fact, we've spent the better part of the last few years building out our range of services (and their corresponding fulfillment teams) in order to better serve you.
As Google evolves, and more and more potential customers turn to the internet and their mobile devices to make purchase decisions, it's increasingly important for business owners to invest in their digital presence.
If you're interested in partnering with RankPay to improve your search visibility, and the profitability of the online portion of your business, drop us a line or start your free 30-day trial today.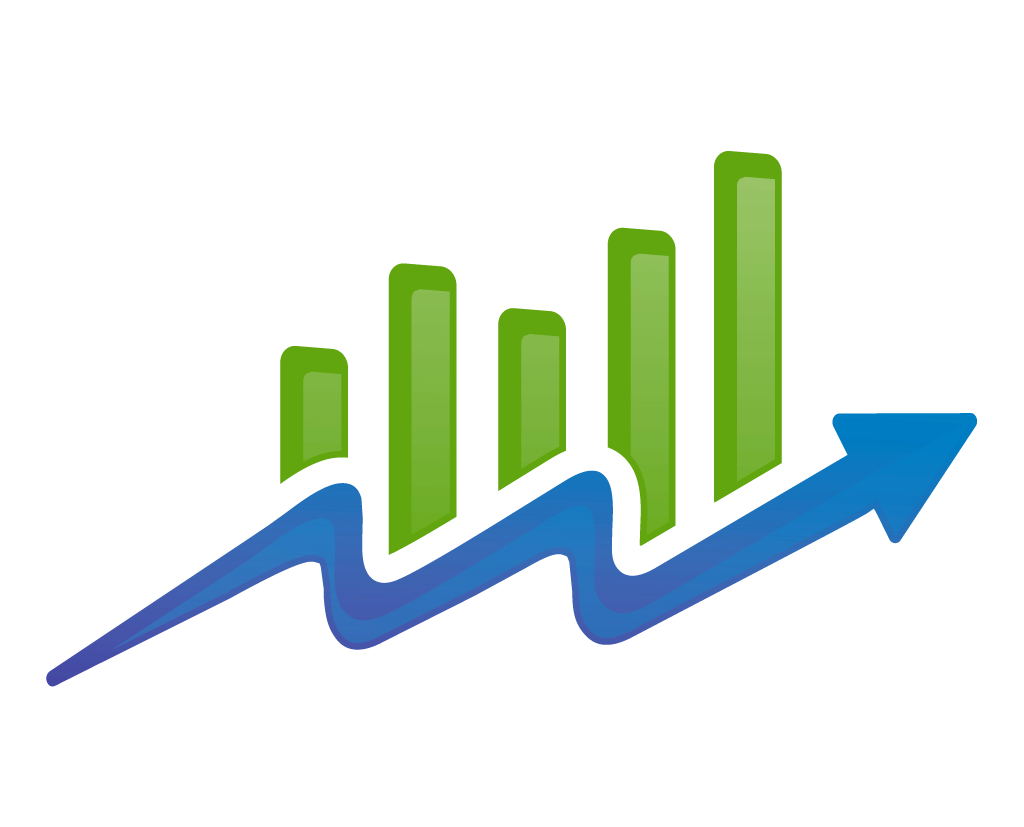 About RankPay
We create multi-channel programs built for scale. Customized service porftolios to meet your needs. Focused on ROI and brand-specific objectives.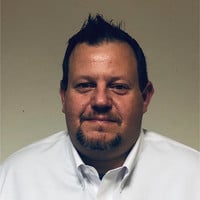 Kyle Evan Anderson, VP Sales & Marketing of Psyche Systems
I hired RankPay in 2019 to simply get a few key phrases ranked. Now, nearly 5 years later RankPay is my entire marketing team. They fully manage our website, content, social media, press releases, SEO and SEM and much more. It is like having 6 or 7 full time marketing employees. The secret sauce has been RankPay's willingness to learn our company inside and out. It wouldn't have worked otherwise. It has transformed our business. Can't say enough about this team.
Sam Warren is CEO of RankPay, a digital marketing agency that pioneered early advances in Search Engine Optimization in 2007. Now overseeing a growing team of talented individuals, his experience has been largely shaped by personally partnering and working with over 100 businesses, ranging from small startups and local businesses, to national B2B enterprises.