Beginners Guide: Why is SEO Important?
Christopher Jan Benitez
Beginners Guide: Why is SEO Important?
We've spent a lot of time talking about how to build a sound SEO strategy, how to improve your content marketing, and tips and tricks for fast SEO results.
But today, we're going to discuss why SEO is important.
Yeah, yeah, I know. If you're a regular reader this may seem like a moot point to cover. You don't think we'd spend months and months discussing strategies about SEO if it didn't matter right?
Still, to many business owners SEO is a bit of a mystery. They've probably heard good things, bad things, and maybe even some scary things. Who could blame anyone for having doubts?
Let's put those concerns to bed and cover the basics. If you're a business owner looking to get your feet wet and wrap your head around the potential upsides of SEO, this one's for you.
So, why does SEO matter? Let's start at the beginning…
What is SEO?
SEO stands for Search Engine Optimization.
In short, it's the process of observing a set of best practices aimed at improving your visibility in the search results. The goal is simple. When a potential customer types "best bakery Austin" into Google, your bakery's listing or website will be the first thing they'll see.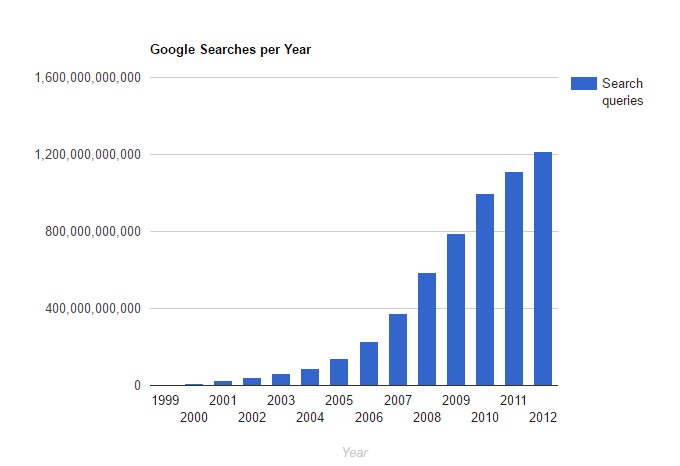 Keep in mind that although Google unequivocally reigns supreme, there are indeed other search engines that can be profitable. Bing/Yahoo is easily the second largest (they are one and the same despite different branding).
That being said, with over 1.2 trillion searches conducted daily, ranking high on Google is the holy grail for most businesses.
This allows business owners to build a stronger business on the back of a steady flow of incoming leads.
This all makes sense right? Remember, the main purpose of SEO is to rank in the top few results for keywords their potential customers are typing into the search engines. It's critical that we be clear about why this is important.
Ranking in the top few results matters because it's where all of the magic happens!
According to this CTR study conducted by Advanced Web Ranking in April 2017, the top search result receives almost 29% clicks on desktop and just shy of 25% on mobile. The second result receives around 15% for mobile and desktop and the third receives 10% on each platform respectively. What's left is a steady decline in terms of importance.
As you can clearly see from that data, ranking in the top few results will make or break your business's online success. Without high rankings, how could we expect anyone to find your products or services?
If you answered PPC, fair enough. And I'd argue that PPC should be a component of pretty much everyone's digital presence. But you can't rely on it alone, and it's pay to play.
What makes SEO particularly cost-effective is that it's similar to the proverbial "gift that keeps giving." By implementing a successful SEO strategy that you can iterate off of in the future,  you'll be all set to reap continuing benefits as the months turn into years.
Find out how many people are looking for your products and services, and then ponder over that statistic from earlier. If you're ranking in that coveted top slot, you'll on average earn a whopping 30% of all of the clicks!
For that reason and a few others alone, it's fairly clear that SEO is of paramount importance to any business owner with an online presence.
SEO Basics (The Keyword)
So now that you know it's important to at least dabble with search engine optimization, what happens next? There's so much to learn and so much information available. A sense of overwhelm is common.
First, let's keep it simple. You need to know what your customers would type into Google, and then you want to build a list of target keywords.
Finding the best keywords to rank for is arguably the most important thing you'll need to do in order to be successful with your SEO strategy.
By figuring out which set of keywords to rank for, you'll be able to focus your efforts and optimize your pages for those queries specifically.
We have covered this topic in great depth. For a more detailed version, check out our guide to picking the best long tail keywords to rank for using our own RankPay opportunity tool.
So we won't go too in-depth on this. However, below is a quick summary of what you'll want to know about keywords.
Find the low-hanging fruit
Not all keywords are created equal.
There are those with immense competition, making it more difficult for your site to rank despite even the most serious efforts. So if you're just getting started, or are working with a limited budget, we'd advise against targeting highly competitive keywords.
A quick peek at the first page of the search engine results for any keyword, can help you determine how easy or difficult it would be to rank for it.
Can you write better content than what you see in the top results? Are there strengths that you can copy and weaknesses that you can capitalize on when writing your own content?
These are just some of the questions that you need to ask yourself when gauging your ability to outrank competitors over time.
We wrote a guide that covers specifically how to pick the best keywords, check it out!
Determine user intent
This one can be a bit tricky. Because the truth is, not all keywords will serve the purpose you might think they do at first glance.
Start by looking at the first page of results and try to determine what users wish to achieve when they type the keyword in.
What do they want to see?
Do they want a quick answer?
Do they want to find a tutorial?
Are they just looking for a specific product?
Obviously, a keyword phrase that starts with "buy" will almost always be a transactional keyword. On the other hand, informational keywords refer to those whose purpose is to provide more information to users about the topic. Most head terms (keyword phrases with less than three words) fall under this category.
However, not all keywords can be so easily defined. There are those that cross between transactional and informational, so you'll need to review the search results and see the kinds of pages that pop up.
If all pages are selling products and services in relation to the keyword, for example, then you're facing a transactional keyword and you need to offer something in exchange to level the playing field.
Additional SEO Basics
To make the most out of your SEO campaign, you'll need to begin optimizing your site.
On-page SEO is the process of optimizing factors within your page that can improve your search rankings.
Same as above, we've written an in-depth guide to on-page SEO before, so if you're curious, be sure to check that out.
Off-page SEO, on the other hand, is a bit trickier to control. The bulk of off-page SEO has to do with the quality of the links you've built to your site. This is most commonly referred to as link building.
In essence, you want to acquire backlink from authoritative sites. There are numerous ways to go about this, and it's a topic for another day. But in short, building links revolves around trust.
In short, a link is a vote of confidence from a 3rd party. So you'll need to give said 3rd party a reason why they should link back to your site.
The creation of link-bait content predicated on giving readers a valuable resource that answers their needs is a great way to start. By leveraging content to share your particular knowledge and expertise, you can generate tons of backlinks even without even needing to do the tedious manual outreach.
Link building can be tricky because, unlike on-page SEO, there are variables involved in the process that are beyond your control. Also, there are competitors to consider.
Competitors can either "get there first" and build relationship with outlets you wanted to partner up with, or they can get nasty and start building spammy links that point at your site.
While you can always disavow these links, it can still be a major pain to deal with.
As you can see, off-page SEO is where a lot of the magic happens, and it's also where things get complicated. So for this article, we'll just move on.
The Good, The Bad, and the Ugly
It is important to point out the phrase "set of practices" with regard to our earlier definition of SEO.
While Google has released (and constantly updates) a comprehensive guide on what and what not to do to increase your site's search rankings, they have not (and won't ever) reveal the specifics of their algorithm.
Therefore, we are simply left with general rules to follow.
The techniques outlined in Google's own "search quality guidelines" are referred to as white hat SEO.
Taking its name from the white-hat-wearing cowboys in Westerns of yesteryears, the methods of white hat SEO are the recommended path towards sustainable growth in the search engine rankings.
What's worth noting, is that doing things the right way, takes time. Specifically, it can often take quite a while to see results. As we always say, SEO is a marathon, and not a sprint.
The other approach is more nefarious and seeks to cut corners. Black hat SEO techniques are any SEO tactics that directly go against (or try to circumnavigate) Google's search quality guidelines.
These methods could include manipulating and finding loopholes within Google's search algorithms to rank higher, as well as implementing shady link building techniques or link-buying.
Unscrupulous SEO practitioners will sometimes go down this path because they want to achieve results faster and easier. Don't be one of those people!
It could risk your entire SEO campaign, and thus the future of your business.
As Google's algorithm gets smarter every day, it is increasingly able to track down sites who have gone down the black hat road and penalizes them indefinitely from the search results.
An example of de-indexation that occurred before took place in 2011 when Google released the Farmer Update. Also known as the Panda Update,  Google's algorithm laid down the hammer on article farms like EzineArticles.com.
It penalized these sites for producing thin content that offered no value to readers. As a result, all those involved saw their websites tank in the search results. Spoiler alert: some of them were never able to recover.
This is the risk that you'll face if you decide to go over to the dark side. You may find success in the short term, but trust me, it will be short lived. Google is getting better and better at finding offending sites and webmasters.
How Important is SEO to You?
Each individual case will vary, but in general, it goes like this: if you own a business, and there are keywords that leads are typing into google to find products or services your business offers, SEO should be high up on your priority list.
Remember, Google values quality and usefulness when considering which pages rank on top of search results. The algorithms constantly changes but these two factors remain as the foundation of every successful SEO campaign.
With all of this in mind, it should be clear if SEO will matter to your business. Odds are, it will!
Just build a great website, offer a great product, and make sure that your site is focused on providing what your audience wants.
Follow these simple mantras and you'll soon be seeing just how big a difference SEO can make for your business.