Want Higher
Google Rankings?
ONLY PAY FOR RESULTS – NOTHING ELSE!
Enter your domain → Add keywords → Sign up free → Get higher rankings
(Costs NOTHING to start. If you don't rank, you don't pay.)
SEO Services That
Actually Work
It's hard to decide what type of SEO service is best for your business. Monthly SEO services can be expensive. You're expected to part with your money in advance with no guarantee you'll see results. Does that seem fair to you? RankPay's SEO services are different. Since 2007, we pioneered pay for performance SEO, which means you ONLY pay for results, nothing else. If you don't rank, you don't pay.



Don't complicate SEO. Simplify it.
SEO is complicated enough. Should SEO pricing be the same? Sure, you can hire a company for thousands of dollars per month or pay an "SEO expert" $200+ an hour, but what happens if you don't get results? They get paid whether your rankings go up or not.
Wouldn't you rather pay for results? Absolutely. That's why we created the 'easy button' for SEO. Just enter your domain and add your keywords. It's really that easy.
We have been helping people earn #1 rankings since 2007.
600 cities. 50 countries. RankPay has helped customers all over the world see higher rankings in Google.
RankPay has helped our business grow by over 300% all within 6 months! Without RankPay, our company would not be where we are today, and are grateful to have them as a partner.
We compete nationally for an extremely competitive keyword that we were already ranked well for, however, we wanted to be at #1. RankPay took us from hovering near the bottom of the first page of Google to the top.
RankPay has exceeded my expectations and some. For those who are serious about their website, we recommend RankPay's services. They've done a great job where other SEO companies fail.
We needed some help with our internal SEO to give it a boost on some key terms we wanted to rank high. RankPay has done a very good job for us and the fact that you only pay for results sets them apart in the SEO services market.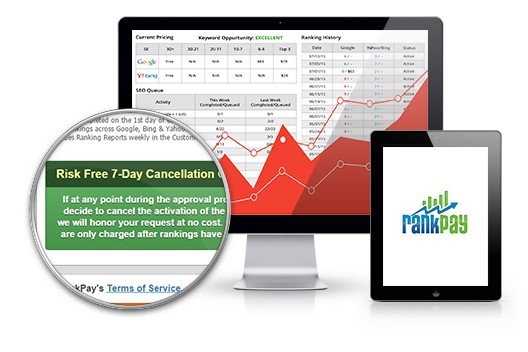 We Have Helped Over
Customers Earn Higher Rankings
Get Higher Rankings In Google