Local Search Marketing Fundamentals
Sam Warren
Local Search Marketing Fundamentals
Do you run a local business? Are you looking to improve your discoverability? Want to make sure your target audience sees your digital store front first when they start looking for a local store?
Drop what you're doing, and set aside 5 minutes to read this article. I'm going to teach you the basics of local search marketing, and they're going to seriously help you boost your pages organic rankings.
Local SEO is exactly like it sounds. Search engine optimization for local businesses.
If you've read any of our guides before, you know that a good SEO strategy always begins with targeting the right audience. Without a specific audience in mind, your keyword research, content marketing, and everything that follows will probably be ineffectual!
It's no different when we're dealing with local search, so keep that in mind as we dive in.
Local SEO – A Brief Definition
Put simply, local SEO focuses on, you guessed it, local communities. The goal is to make your business more visible in local search results.
Benefits include:
More foot-traffic to your store
More digital traffic to your site
Stronger link profile
Earn loyalty before a visitor even arrives at your physical location
The last one might have you scratching your head, but consider the following… According to a Google, 50% of mobile users would visit a local store within 24 hours of searching. On top of that, 18% actually went on to make a purchase.
Not to mention, if someone sees your local listing at the top of the SERPs, and you have a strong review presence, they're primed to psychologically expect (and look for) a good experience when they arrive.
Another advantage of local SEO is not having to compete with big brands targeting international audiences. More and more people are doing location-based or "near me" searches. Guess which businesses appear in them: those with effective local search marketing.
Local #SEO puts your business in front of people who can visit your physical location.
Click To Tweet
Your probably familiar with the "local pack". This exclusive SERP real-estate is a must have for local businesses looking to grow their online acquisition channels. Take a look at this exmple and tell us how likely you are to choose one of the 3 businesses listed in the "local pack" as opposed to something  in the standard results below them.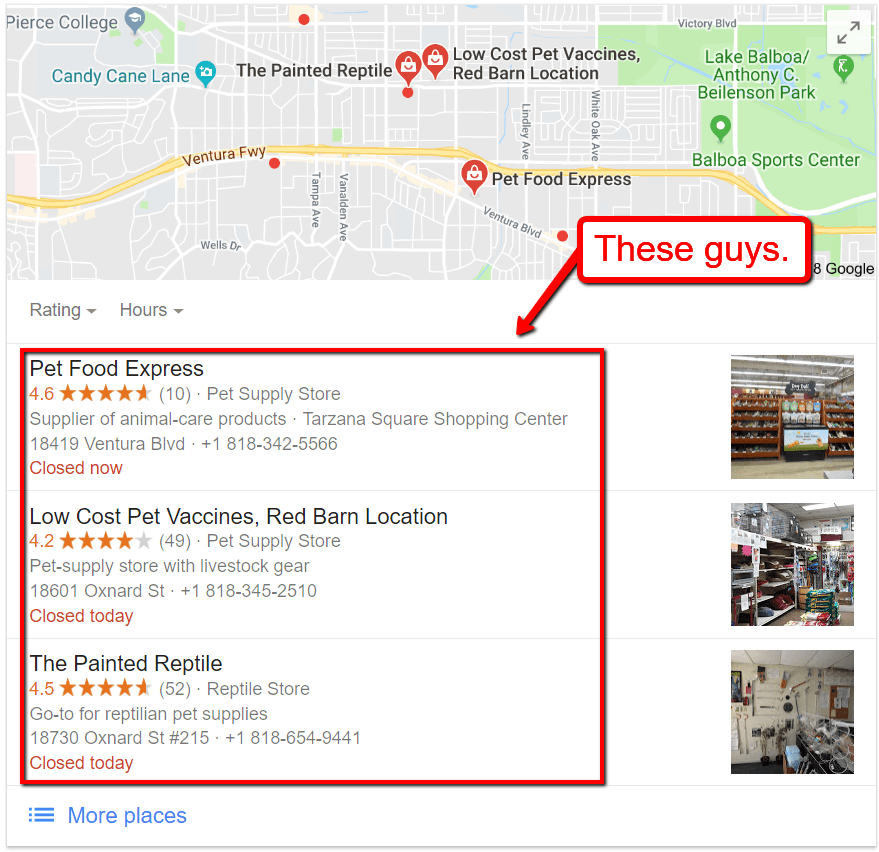 Local Search Marketing Tactics
If you have an SEO background, you may think local SEO is just targeting local keywords. While choosing the right keywords to target your local community is definitely high up on the list, there's a good bit more to consider as well.
With that in mind, let's cover 3 of the highest impact ways you can improve your own local search marketing.
1. Use Google My Business
First and foremost, local SEO relies on having consistent NAP. This is short for Name, Address, Phone Number.
This is critical to what most users and search engines alike use to determine your place of business and relevance.
To help search engines find your NAP, start with high-profile online directories like Google My Business. Sign in to your Google account and fill in the necessary data.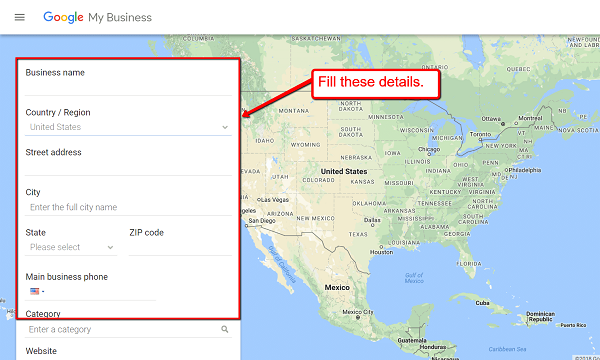 Easy, right? The process is similar to social media account sign ups.
You may notice the "I deliver goods and services to my customers at their location" option.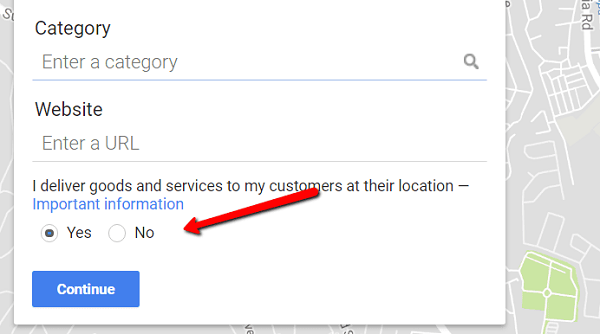 Only enable it if you deliver or offer services that are performed online. This is also useful if you have a physical business location, but no storefront.
In any case, you'll need to identify the area you serve. You can enter specific locations or set an area range.
Remember to verify your address so your information gets published. You'll need to enter a verification code that is delivered by postcard.
The delivery time for this depends on your location. In the meantime, feel free to edit your business through the main page.
Additional tips for setting up your Google My Business page
Include as much accurate information as possible. Make sure your business description, category, and contact info are updated. Also, don't forget to include a link to your website.
Upload high-definition photos. The quality of your photos affect the ranking of your Google My Business page. Photos also allow brands to showcase their products and prove they're legitimate.
State your hours. Your hours of operation let users plan their visits without having to call. This prevents inconvenience and helps improve sales.
Use the exact same info for other directory listings. Google My Business is a great start, but you should leverage other directories as well. Some examples include Bing Places for Business, Yelp, and Facebook. If you don't have time to set these up yourself, consider a service like Moz Local, which can handle the directory/listing submission and maintenance for you.
2. Perform On-Page Optimizations
After publishing your information, it's time for some on-page optimizations.
Start by inserting your NAP (name, address, and phone number) in key areas of your site, specifically the footer. Be sure to use the same format as Google My Business for your address.
Next, publish locally-optimized content. You'll likely be fighting an uphill battle if you don't produce some compelling content. Sprinkle local keywords in the title, image "alt text," and headers.
Many small business owners (and this may apply to you as well) don't have the time or patience to handle blogging regularly. We offer an affordable service that can take this off your plate, and keep up a steady flow of unique, relevant, and locally-optimized content for your business. Check it out here.
Additionally, get your web developer to help implement structured data for your business information. If you want to have a go at it yourself, use Google's Structured Data Markup Helper to generate a schema markup. Pick "Local Businesses," add your URL, and manually tag page elements you want associated with your business.
Last but not least, be sure to leverage CTAs, newsletters, and any other method available to request customer reviews. High star local ratings are a great way to win new customers. Encourage users to leave Google reviews with calls-to-action, preferably after checkout.
3. Build Links from Local Sites
When it comes to local search marketing, high-quality link building is going to be critical to your success. The only difference from traditional SEO link acquisition, is that you'll want to specifically focus on relevant and authoritative websites in the local market.
A good strategy is to use Google search operators to perform a custom search. Specifically, I'd recommend using the (+) operator.
For example, if you're looking for pet blogs in New York, type: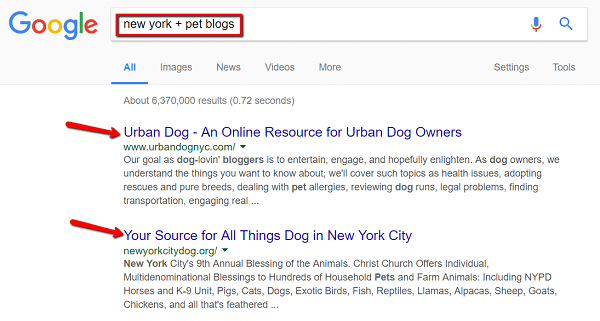 Don't hesitate to play around with your keywords (and other operators). Once you have contact information, either launch an email outreach campaign or visit them in person.
The latter won't always be possible, but it's definitely worth exploring. Top bloggers and publications don't hand out links to just anyone!
If you want a higher response rate, be as personalized as possible!
Conclusion
Local search marketing is a great way to connect with potential customers and improve your brand's local visibility.
Just remember to be consistent with your company information, optimize for the right keywords, and connect with the right people.
Most importantly, always be in-tune with the latest SEO news and trends. For even more information on local SEO, check out our earlier guide.