How To Do Keyword Research For SEO Like A BOSS
Rob Lons
How To Do Keyword Research For SEO Like A BOSS
If traffic is what brings in visitors and visitors bring in dollars, shouldn't you optimize for keywords that bring in the most traffic?
The foundation of search marketing starts with keyword research, and you'd be an absolute fool to ignore it.
The need to do keyword research hasn't changed, but the methods have.
There are two goals…
Build traffic.
Increase conversions.
It couldn't be simpler—except for the fact that SEO is in a state of constant flux in an ever changing landscape of competition, content, Pandas and Penguins. Fortunately for you, this tutorial cuts through the crap to show you how to hustle your way to #1 in Google.
Like a Boss.
Does More Traffic = More Revenue?
More traffic does not mean more revenue.
In a perfect world it would. You already know (or should) that on average your site receives X amount of visitors. A percentage of those visitors inquire about your services. And a percentage of those people become customers.
The thing is traffic sources are not created equal. The same holds true for search terms.
Perfect example:
A San Diego CPA is interested in optimizing her site to (hopefully) bring in new business. She decides to choose a handful of keywords that she feels makes sense.
She decides she wants to target the keyword "accountant" — a very broad term, to say the least.
People can be searching "accountant" to look for a job. Or to learn how to become an accountant. Not only that, a local accountant stands very little chance of ranking #1 for a one-word keyword, especially if they're ignoring local SEO.
A much better strategy would be for this accountant — let's call her Susan — to decide who she wants to do business with before she decides on what keywords to choose.
Who stands to be a more profitable customer? Individuals or businesses?
That's a no-brainer.
Businesses have to file taxes every quarter. They have a need to understand their finances month to month. Business owners are extremely busy and can benefit from outsourcing accounting to a CPA.
With that in mind, Susan came up with a list of keyword ideas using Google Keyword Planner to target search terms small business owners might be searching for in San Diego.
This is what she came up with:
cpa 880
accounting 390
financial advisor 210
accountant 170
retirement planning 170
Susan quickly realized "accountant" was not the best choice. More people were searching for "CPA" or "accounting". What surprised her was the amount of people searching for a "financial advisor".
After finding the most important keywords, she started expanding her list to target searches that are more likely to have buyer intent. Here's the list she came up with:
payroll services 110
tax preparation 90
financial planning 90
bookkeeper 90
tax services 50
quickbooks training 50
bookkeeping services 50
Each keyword focuses on services businesses need, which is exactly the type of customer Susan is looking for!
The takeaway?
Ignore keyword research at your own risk.
Keyword research can help you 1) find the best keywords with the highest search volume… 2) understand the language being used by your target market… and 3) discover more keywords you probably haven't thought of yet.
In Susan's example, people searched for "financial advisor" more than "accountant". While an accountant is a financial advisor, the people using that search term are more likely to be affluent, high-value clients. If Susan is able to gear her services towards prospects like these, she stands a better chance of capturing higher paying clients.
Also, there were four times more searches for "CPA" than "accountant". While the services are basically the same, optimizing for one keyword over the other means exposure to 4X the amount of search traffic.
SEO is market research. Good keyword research (especially on a local level) can help you uncover the best phrases to use to describe what you are offering. Why? Because you're speaking the language of your customers.
See how you can segment your customers using keyword research?
How To Do Keyword Research (For SEO or PPC)
Ranking "#1" for a keyword that rarely gets searched and stands no chance of sending you buyers is useless. It's an expensive mistake to say the least. It costs time and money to update your site with fresh content. If you're not targeting keywords that will make the most impact on your business, you're "making it rain" with all your hard-earned money and getting nothing in return but a few worthless clicks.
It's not about finding a keyword that fits. Good SEO is about selectively choosing keywords that reel in people who want to buy what you have to offer.
Here's what you're going to do:
Create a seed list of search terms
Expand your list using keyword research
Refine your list with competitive research
Step #1: Come up with a list of phrases people would use to find what you offer.
Write down a list of brand terms, product terms, buyer intent keywords, related keywords, and competitor keywords.
Separate these keywords into "buckets". Keep closely related search terms grouped together.
Here is a list of example categories that we would use:
Brand phrases: rankpay, rankpay.com, rank pay, rankpay seo, etc.
Product (or service) phrases: seo services, pay for performance seo services, results-based seo, etc.
Buyer-intent terms: seo packages, seo service provider, affordable seo services, seo pricing, seo consulting, etc.
Related keywords: local seo, social media management, on-page seo, link building, keyword research. 🙂
Competitor keywords: (direct) / (none) 🙂
* Sign up for free. Tweet @rankpay for a "no strings attached" $50 account credit to test our services for FREE!
There are a couple ways you can use this tool. First, go to Google and type in one of your main keywords. I'd opt for using a keyword with buyer intent. Let's use Susan's example.
You should get a list of competitors occupying the first page for your chosen keyword. Just copy and paste the domain of a competitor into Google's Keyword Planner like you see below.
You'll get a list of keywords relevant to that site along with average monthly searches. If the keywords don't seem to fit, try another domain. Download the results to Excel or Google Drive and rinse and repeat across a few more competitor domains.
You can also enter your keyword to get ideas.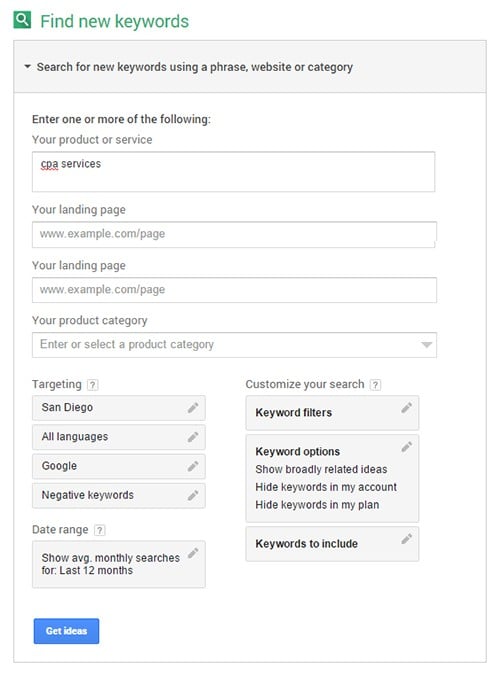 You want to uncover as many opportunities as possible. Doing both will help you uncover more keywords to add to your list.
Step #3: Generate more keyword ideas using Google Search.
Open up Google and type in your main keyword. Scroll to the bottom of the page and check out the related searches.
Google will show you related search results at the bottom of the page. Add these to your list.
Step #4: Generate more keyword ideas using Google Search.
Ubersuggest is by far one of the best free keyword research tools out there. Enter your main keyword and the tool will spit out a huge list of ideas you can use for your campaign.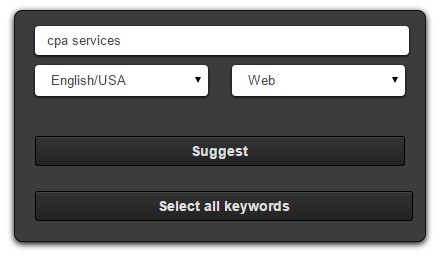 Step #5: Use Google Keyword Planner (again), but this time you're going to check search volume for your new list.
Hop back over to Google Keyword Planner. This time we're going to take a look at search volume trends for the keyword ideas we came up with.
Copy and paste your list into the field provided and click 'Get search volume'. If you are targeting a specific language or geographic location be sure to select the appropriate options. Your screen should look something like this: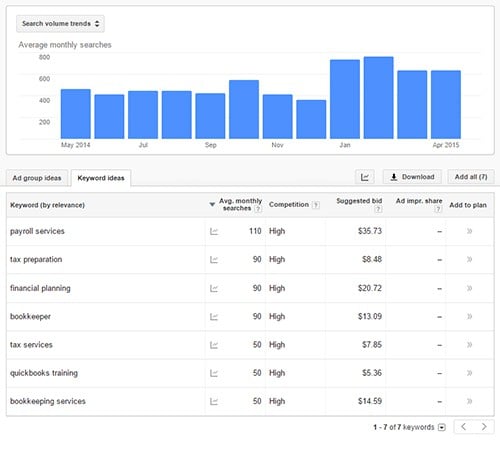 Keyword Research = Complete
You now have a solid list of keyword ideas to use for your SEO campaign. Focus your efforts around a tight group of buyer keywords and don't forget that longtail keywords (typically 3 words or more) do bring in traffic and are often times easier to rank for.
There are a lot more tools out there, but I'm keeping this tutorial simple. This one is for the small business owners and do-it-yourselfers that just want to get started without shelling out cash on software. That being said, there are a ton of keyword research tools you can use to get the job done.
Psst… there's a list of free and paid keyword research tools below, if you're curious.
More Keyword Research Tools
This list of free/paid keyword research tools make finding the best keywords even easier.
The alpha and omega of keyword planning tools. You will spend most of your time using this one. It's free, it's user-friendly, and it's chock full of data. There are some minor quibbles that you'll have from time to time, but overall this is an essential and powerful tool. Check out Backlinko's Guide if you're just getting your feet wet.
Scrapebox gets a bad rap, mostly because it's a favorite tool of spammers. It can be used for good as well though! It has a built-in keyword scraper that will really flesh out your research results. It's even able to pull "suggested searches" from Amazon.com and Yahoo among others. This article by Jason Mun is outdated but serves our purposes well here. It showcases the many useful capabilities Scrapebox has to offer, and explains how to make the most out of them as well.
Wordtracker is essentially google's free keyword planner on steroids. It returns far more results and as such is even more useful. The website itself is also not to be missed as it features an Academy that is incredibly valuable to anyone looking for more information about how to maximize the benefits and efficiency of their keyword research.
Raven Tools is one of the biggest players in SEO tools these days. While their keyword research may not be as in depth as some of its competitors', it boasts one of the most comprehensive suites available. Having SEO, email analytics, content marketing, etc all in one place is a unique and beneficial solution for smaller firms where each employee is involved in multiple aspects of marketing and sales.
If you find yourself disappointed by the vague and hard-to-interpret "keyword difficulty" metrics in some of the other tools listed here, this is great addition to consider. It both analyzes and quantifies the anticipated difficulty of ranking for your desired keywords, and integrates nicely with the rest of Moz's stellar SEO tools. This article on Wright IMC has an in-depth walkthrough of Moz's tools that includes some instructions on how to make the most out of the Keyword Difficulty Tool.
KeywordTool.io is a solid (and free) alternative to Google's Keyword Planner. It works fast, it returns more results than Google's offering, and it's UI is simple and aesthetically pleasing.
Soovle is another simple and straightforward offering, but one that has a really interesting approach to displaying results. It pulls results real-time (while you type) and displays a list of results for multiple search venues all at once. It's therefore useful for comparing search data between Google, Bing, Yahoo, etc.
This is a strong keyword tool with a variety of features, including a Keyword Competition asset that functions similarly to Moz's Keyword Difficulty tool. While it may not pull ahead in any particular category, it does many things very well, and it's price point is pretty reasonable.
Digital Vidya has a guide to help you hit the ground running with this free keyword tool. It doesn't offer anything particularly robust or powerful but it's free and gets the job done. Worth taking a peak at to see if you'll prefer it over keyword.io and/or google's keyword planner.
SEMRush is a popular and comprehensive SEO tool for the serious internet marketer. It's more expensive than most of the other tools listed here, but with good reason. This is a professional offering with very few shortcomings. Check this incredible and in-depth guide published at RefuGeeks.
Market Samurai has been around for quite a while and undergone a few major changes along the way. In it's current iteration, it offers a strong keyword tool with a variety of useful parameters users can employ to narrow results to exactly what they're looking for. The best information you can find about Market Samurai is published by the team behind it, Noble Samurai. They have a fantastic FAQ section that explains Market Samurai's functionality and should answer any questions you might have.
This is another tool that gives users a variety of data including predicted competition, trends, and social metrics. It has a free option so you'll be able to get a feel (albeit a fairly limited one) for whether or not it'll be a good fit for you and/or your organization.
Conclusion
There are a million ways you can do your own keyword research, but the most important thing is building a good list from the beginning and then refining your list to target high volume, low competition phrases that have buyer intent. Targeting general keywords is never the best strategy, especially for a new sight. Keep your keywords focused on the phrases people use to find your products or services.