How to Pick Keywords: The Easy Way to Find Low-Hanging Fruit
Christopher Jan Benitez
How to Pick Keywords: The Easy Way to Find Low-Hanging Fruit
Learning how to pick keywords is intimidating to say the least. Especially since the outcome of your keyword research can pretty much make or break your online business.
Before you can even begin to write great content and build high-quality links to it, you'll need to determine which keyword you want to rank for each.
By developing a focused list of target keywords that you want to optimize for, you can ensure that if your SEO campaign is successful in improving your rankings, you'll also see a measurable ROI improvement.
I know this has been said ad nauseam by marketers and SEO specialists, but it's with good reason. We still frequently see business owners either ignore or blaze through this critical part of the SEO process.
According to a Chitika study, the top page of search results attracts 32.5% clicks on average from users. The second and third pages are far behind with 17.6% and 11.4%, respectively. The other results only attract single-digit percentages for their CTRs.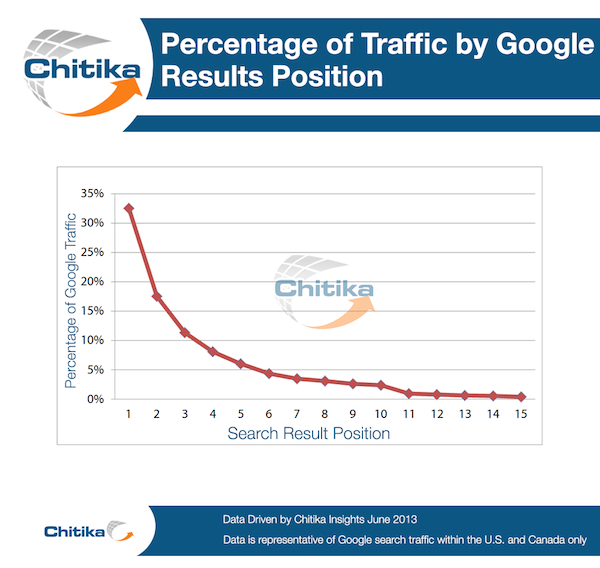 Another study conducted by Advanced Web Ranking a year after confirmed the importance of the top three organic search results regarding getting more clicks compared to the rest of the other positions.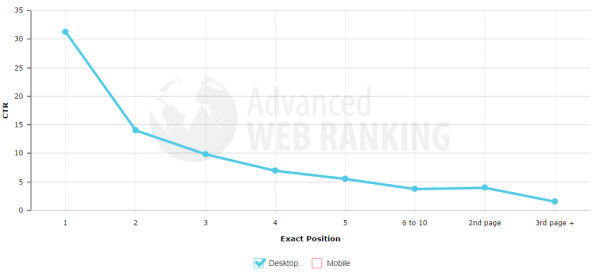 What these studies reveal is the importance of ranking on top of organic search results. Since SEO is one of the most cost-effective ways to drive traffic to your site or blog, you need to take advantage of this fact and do you best to generate as much traffic as possible.
However, this will never happen unless you choose the strong keywords. So what makes a strong keyword? Let's dive in.
What Makes a Strong Keyword?
User intent
Before we begin debating what makes certain keywords better than others, we need to gain an understanding of the different intents searchers have when they use different types of search terms.
Not all keywords are built equally. Each is built for a specific purpose that fulfills the intent of the users. Therefore, you need to be aware of the objectives that each user may have for typing in a keyword.
Below are the three most common user intents that govern their search habits:
Informational – Users type in these types of keyword with the intention to learn more about a subject. Examples of such are keyword phrases that form a question, i.e. "how to…," "why is…," etc.
Navigational – Searchers often use navigational keywords to get to a specific site that they want to visit. Most commonly, a user may not remember the exact URL or not feel like typing in the https://www portion into the navigation bar. Examples of this are branded keywords, i.e. RankPay, Nike, etc.
Transactional – Often, when users want to purchase from, or engage with ,a website they will use transactional keywords in a search engine. A good example of this would be "buy XYZ" or "free trial XYZ".
For bloggers, they will most likely be attracted to informational keywords since the purpose of a blog is to share ideas and thoughts with their readers.
For business e-commerce sites looking to make a sale, then the focus should be on navigational and transactional keywords so they can hopefully see some increase in sales. However, it is also possible for them to optimize for informational keywords as well if they have a blog where they can build an audience.
By identifying the type of keyword intent you need to target, you can narrow down your keyword search and optimize for those that will have a profound impact on your business' success.
Head term vs. long tail
Once you have determined the user intent, you'll want to get a more complete understanding of the two types of keywords that you will come across and why one is generally better than the other.
To further show the discrepancy among keywords, they are classified under head term and long tail keywords.
Head terms are composed of one to two words but have impenetrable competition. They cover the most ground regarding search volume because they are common phrases that people always look for online. However, ranking on top of search results for head terms is next to impossible unless you're a mid-size to enterprise level business with a substantial marketing budget.
There is just too much competition on these keyword types to make them suitable for most business owners. Another reason is the following. If you're running a local business, ranking on a national basis for your product or service won't particularly benefit you. Instead, you could spend less and still get the same amount of bottomline ROI by dominating the search results for your local keyword variants.
Therefore, as a startup or a small business, it is best that you target long-tail keywords from the very start. This keyword type is typified by a longer string of words. Due to the increased quantity of words in these search terms, they provide lower search volume, but more targeted traffic. What they make comparatively lack in terms of volume, long-tail keywords more than make up for with decreased competition and increased expected conversion.
Because long tail keywords have low search volumes, you can take solace in the fact that there is also relatively less competition. Therefore, it is much easier to rank on top of search results by optimizing for a long tail keyword.
More importantly, since long-tail keywords are more specific than head terms, users searching for this phrase have a great idea of what they want to find from search results. Because of this, there is a higher conversion rate for pages that rank for long-tail keywords.
From what has been mentioned above, the "best" keywords to target for in your business, therefore, are:
Those in line with your user intent, i.e. if your business wants to increase online sales, then you need to target transactional keywords. If you have a blog that you want to leverage for community-building, then you can target informational keywords.
Long-tail keywords. By targeting long keyword phrases with relatively high search volume and low competition, you can drive more qualified traffic to your business. This will help increase your conversion rate and achieve your online goals.
The Easy Way to Pick Keywords
Now that we've established the kind of keywords you should choose to optimize for your business; then you need to learn how to find them.
Keyword research is arguably the most laborious process of your SEO campaign. However, it only goes to show that finding the right keywords is paramount to how your site or blog will perform on organic search results. So I'd urge you not to take the process lightly.
That being said, we've designed a better way for you to get keyword research done quickly and easily.
Instead of endeavoring to do all of the manual steps involved in finding the best keywords, you can simply use our proprietary process. It removes most of the legwork involved, making the process shorter and less strenuous.
Start by entering your business's domain on the RankPay homepage.
Click on "See Pricing" and you'll land on a page where you'd enter a keyword you're curious about.

Click "Go!" and information will populate below.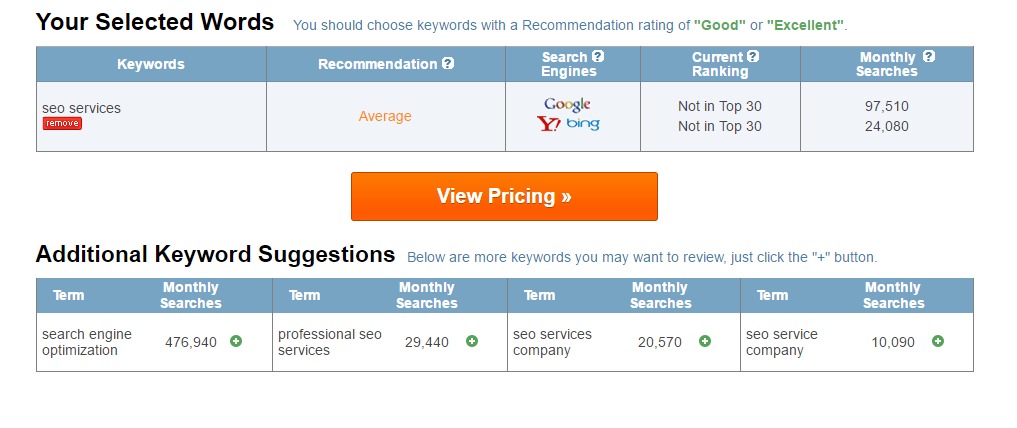 On the "Selected Keyword," you will see if the page you entered is ranking within the top 30 of Google, Yahoo!, and Bing. It also shows an estimate of the monthly search volume for both Google and Yahoo!/Bing.
More importantly, you will see our Recommendation score and whether you should pursue ranking for this keyword based on aggregated metrics. Our platform has analyzed over 10 years of data and is supremely adept at understanding the search landscape. In the results shown above, we see that RankPay only scores our first keyword of interest as "Average," so we should probably look for another keyword with a higher recommendation score (either "Good" or "Excellent").
Fortunately, the Additional Keyword Suggestions section below shows other keywords that we can add to review similar to the one done to the initial keyword above.
On the results above, let's try "professional seo services" by clicking on the green plus sign icon to add it to review.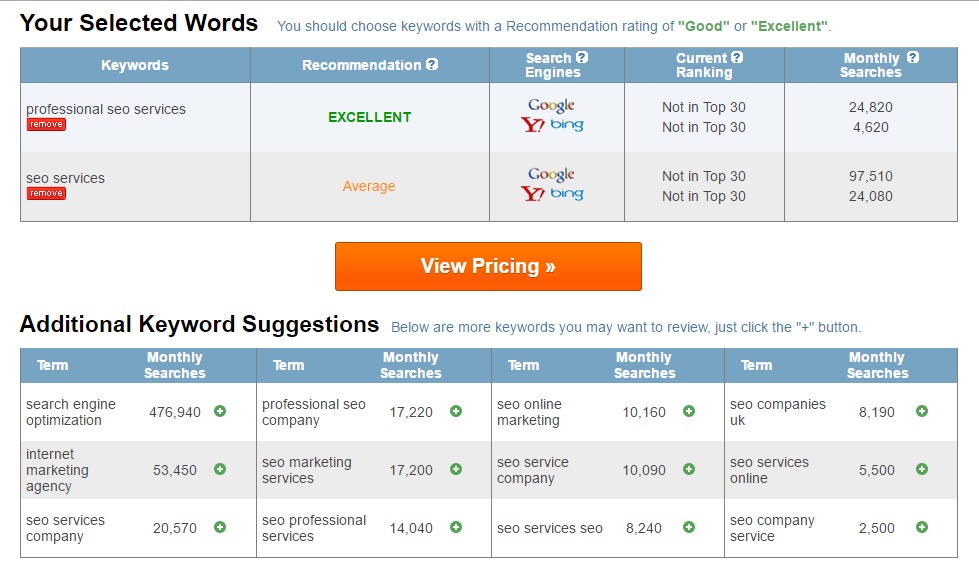 As you can see, "professional seo services," although lower search volume compared to "seo services", has a higher Recommendation score. This means that there's a most likely a greater chance that our site will rank for this keyword compared to the previous one.
If you want to remove "seo services" from the review since it only has an "Average" score, press the red "remove" button below the keyword.
In addition, the Additional Keyword Suggestions shows more keywords to choose from. You can add additional keywords with one click, so you can discover even more keywords with "Good" or "Excellent" Recommendations scores.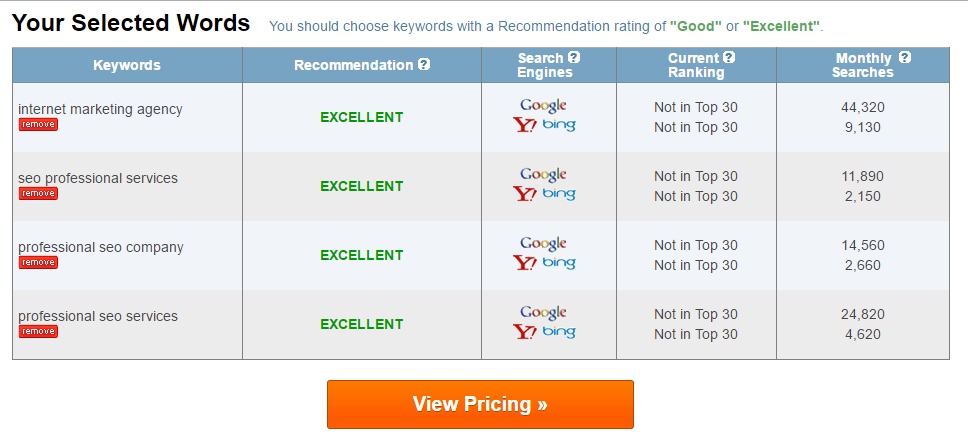 From the image above, you'll see that I've cleaned up the keywords with "Excellent" Recommendation scores from RankPay.
The great thing about RankPay's Recommendation score is that you no longer have manually conduct a competitive analysis and search for long-tail keywords since it already does the work for you. You'll still want to do some brainstorming ahead of time to consider user intent and what your competitors are optimizing their sites for. But otherwise, we think you'll be able to save substantial time by making use of our SEO Opportunity Tool shown above.
In case you're not familiar with RankPay, we're the original pay-for-performance SEO company. Meaning, if you don't rank, you don't pay! Instead of requiring a lot of work on your end, we'll take care of the entire SEO process so you can focus on where you're needed most: running your business.
If you don't have time to dilly-dally on SEO and want a clear-cut solution that will help you increase your rankings and drive more traffic to your site, do yourself a favor and  learn more about how we're different from other SEO solutions.
Wrapping Up
Finding the right keywords to optimize for is never a walk in the park. However, using this guide and our SEO Opportunity Tool as references, you should be able to finish the job with greater ease than ever before.
Remember, keep an eye on your competition and make the most of free resources. With any luck, you'll be dominating the SERPs in no time at all!