Starter
"Easily get started blogging for business and earn more exposure across Google, Yahoo and Bing"
2 posts per month
400 words per post
Professional US content creators
SEO optimized blog posts?
No long-term contracts?
Dedicated Account Manager ?
Pro
"Stand out from your competitors, earn higher rankings and build a great business blog"
4 posts per month
500 words per post
Everything in Starter, plus:
Promoted across social media ?
Extended RSS distribution ?
WordPress maintenance?
Enterprise
"An advanced content marketing solution for business owners who want to go to the next level"
8 posts per month
600 words per post
Everything in Pro, plus:
Press release distribution ?
Unique social promotions ?
Content syndication ?
RankPay has helped our business grow by over 300% all within 6 months! Without RankPay, our company would not be where we are today, and are grateful to have them as a partner.
RankPay has exceeded my expectations and some. For those who are serious about their website, we recommend RankPay's services. They've done a great job where other companies fail.
Blog Management & Content Marketing Services
Small business owners across the US have made RankPay their go-to content marketing solution.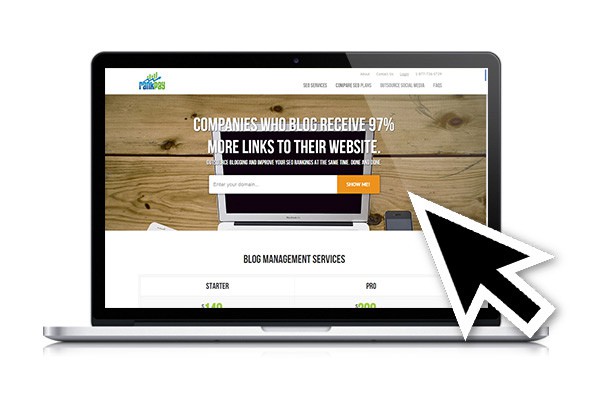 #1 Sign Up For Our SEO Services
Companies that maintain an active blog get 55% more site visits, 97% more links to their websites, and their pages get indexed 434% more often than sites who don't have a blog. Now, when you sign up for our results-based SEO services you can outsource your company blog at the same time.
B2B marketers that use blogs receive 67% more leads than those that do not. –
Huffington Post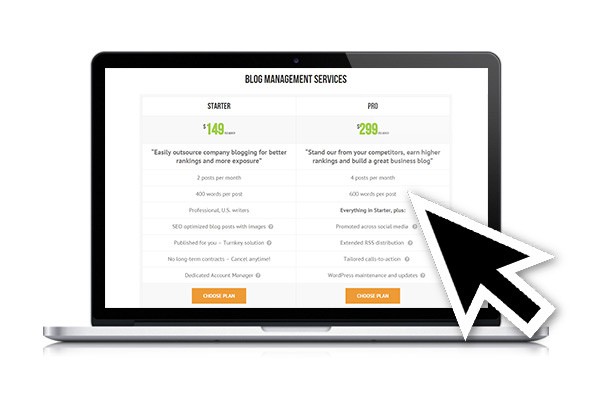 #2 Choose The Plan For Your Business
Once you sign up for our SEO services you can choose the blog management plan that will benefit your business the most. If you are in a competitive niche and want to target hard to rank keywords, we'd recommend the Pro plan. If you're just starting out and want to build trust with your audience and stay consistent, you might consider our Starter plan.
Marketers who have prioritized blogging are 13x more likely to enjoy positive ROI. – HubSpot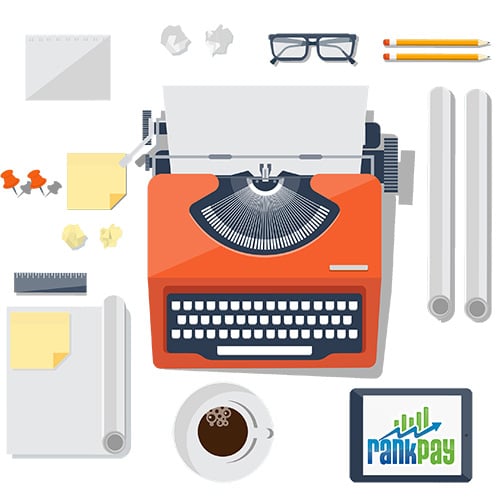 #3 Leave The Rest To Us
We'll hop on the phone or a Skype call to get to know you and talk about the tone, style and topics you would like us to write about. If you don't have a blog, we'll set one up for you. We handle ALL the technical heavy lifting, so there's no need to worry about anything. Got more questions? Check out the FAQ or contact us with your questions.
Blogs have been rated as the 5th most trusted source for accurate online information. – Search Engine People
What if I don't have a blog?
No blog? No problem. Signup for either of our plans and we'll set your blog up for free using WordPress.
Are your writers U.S. based?
All of our writers live in the U.S. and speak English as a first language. We pride ourselves on building a team of writers that know how to craft articles worth reading and sharing on social media.
What will you write about?
We write about the topics important to your business and that ties into your marketing goals. Every post we write is aligned with your SEO and social media strategy to compound results and fuel your inbound marketing channel.
Can you ghost write blogs in my name?
Yes! We'll work with you directly to make sure we capture the tone and style you want to portray. Need professional content? We got you covered. Want something more light and friendly? We can do that too.
Can I approve posts before they are published?
Yes. We'll work with you to create a content calendar and give you a list of post titles for you to approve. Each completed post is uploaded to your site and scheduled one week in advance so you have time to review before the publish date.
What if I still want to publish my own posts?
Of course. In fact, we have customers that still blog for their own business, but use our services to add more authors to their site. You're always free to publish the content you want.
What do I have to do?
Sign up is simple. Enter your domain above, select your keywords and create your account. You'll receive an email from us to schedule a phone call or Skype meeting to talk about how you'd like us to work on your blog.