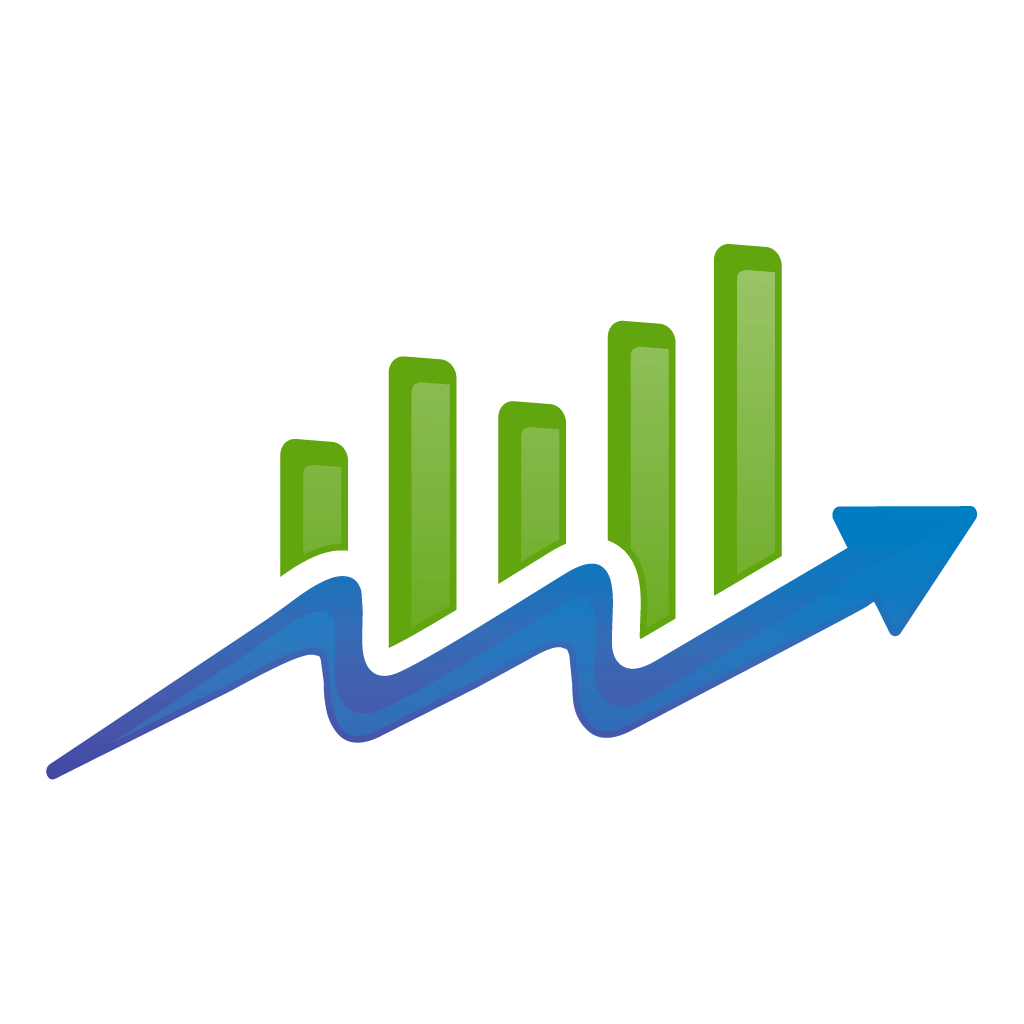 Start A Free

30-Day

Trial

of RankPay SEO
Sign up before 11/30 for contract-free SEO
Rafflecopter Case Study: How RankPay Uses Giveaways To Build A Viral Feedback Loop
Sam Warren
2018-03-28T14:55:37-07:00
Rafflecopter Case Study: How RankPay Uses Giveaways To Build A Viral Feedback Loop
by
Sam Warren
January 12, 2016
Increased exposure. Social media mentions. Subscribers. Links.
A good giveaway incentivizes people to talk about your business (and keeps them coming back for more).
Giveaways are used by companies big and small. Want an avalanche of social mentions that bring in more traffic to your site and exposure for your brand? A giveaway can do that.
One of the most obvious examples is McDonald's Monopoly Sweepstakes.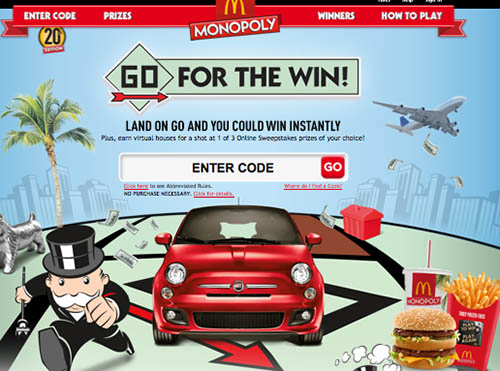 We've all come to know this one. McDonald's continues to use giveaways each year as a way to promote their brand and get people involved with their business.
The good news is you don't need a big name to pull off a successful giveaway.
In fact, all you need is Rafflecopter and this launch checklist.
How to Promote A Rafflecopter Giveaway On Your Website
This checklist walks you through each step of launching your giveaway. You should read and complete each step before moving on to the next.
First things first…
1. Start with a goal.
Every giveaway should start with some basic goals. You want to define what metric you will use to measure success. This can be as easy or difficult as you want to make it. The metric you choose should be quantifiable and be tracked accurately.
A good giveaway will track one or more metrics:
traffic
social shares
subscribers
backlinks
I intentionally chose to not include new customers for two reasons:
Giveaways are required to be "no purchase necessary"
It's difficult to track attribution 100% accurately
For these reasons you are much better off choosing goals you can easily define.
Each one of these goals can be measured accurately:
Increase Twitter followers and mentions by 30%
Earn 100 new backlinks from the giveaway
Grow our newsletter by 100 subscribers
It's always a good idea to take notes of daily website traffic, number of Twitter followers and subscribers before you launch your giveaway. You'll want a baseline to compare these metrics against after your giveaway comes to an end.
A simple spreadsheet will do the trick. Record the date and follower counts for each one of your social networks being promoted in the giveaway.
2. Pick a prize.
There is a huge difference between B2B and B2C giveaways.
You will almost always have more entries when your giveaway targets consumers. B2B giveaways tend to be more difficult to promote, so if you want to do a giveaway that targets businesses you should think ToFu (top of the funnel).
I have launched giveaways with prizes worth thousands of dollars and really simple ones giving away a few books. Simple prizes work better.
Think about why you would want to launch a giveaway. You want more exposure for your brand. With this in mind, I've found that giving away services (like web design or something complicated in nature) tends to get less entries.
Your prize should still target the right audience. For example, giving away an iPad will definitely get you a lot of entries, but most of the people that enter will have no real interest in what you do.
If you target businesses and offer SEO services (like we do), not everyone will be interested. You can give those services away, but again you won't get as many takers.
For the B2B crowd I've found it's best to offer small, useful prizes that we can give away every month — for example, top-selling business books, custom business cards, and other cool stuff a business owner would want.
This helps us cast a wide net for our giveaway, while at the same time keeping the focus on attracting business owners.
3. Create a landing page.
At RankPay, we promote our monthly giveaways through a dedicated landing page that also targets relevant keywords. The giveaway may change but the page doesn't. This means we're constantly building up links and social mentions to the same page.
Open another tab and type in "small business giveaway".
It's ok. I'll wait. 🙂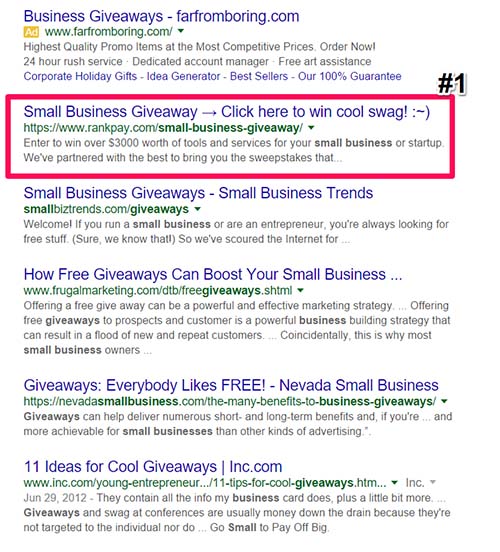 If you run giveaways often you should use this strategy too. While the traffic might not be huge, people still find our giveaway through organic search.
Every person that finds our giveaway and enters exponentially increases our reach, which is exactly what we want.
This is why your landing page should follow best practices. Your offer should be immediately obvious as soon as someone visits the page.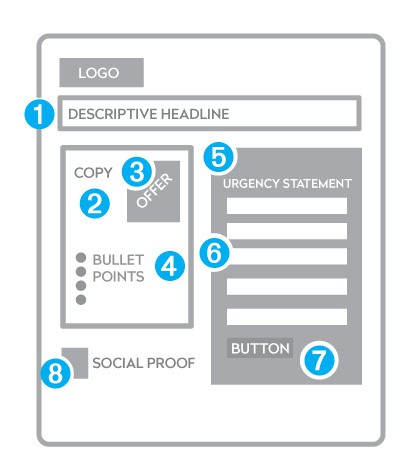 Here are a few quick tips for landing page design:
Say it in 3 seconds. The moment someone visits your page they should immediately understand what to do next. Make your offer obvious, along with the actions your visitor should take next.
Limit options. Avoid distracting your visitor from taking action. Remove menus, links and anything else that will cause your visitor to wander off the page.
Add social proof. Use real testimonials or quick case studies to give your visitors insight into the benefit they will get from taking action. Another strategy is partnering with known brands and featuring their logos.
Test, test, test. Make no assumptions. Run A/B tests to improve conversions and let the data guide your design.
4. Design banners and graphics to promote your giveaway.
You want your images to stand out. This will make them more likely to be shared and more likely to get noticed.
Most giveaways are driven through social media, so it's incredibly important to design images for each network you will be promoting on.
Sprout Social put together a great reference that stays updated with the latest image sizes.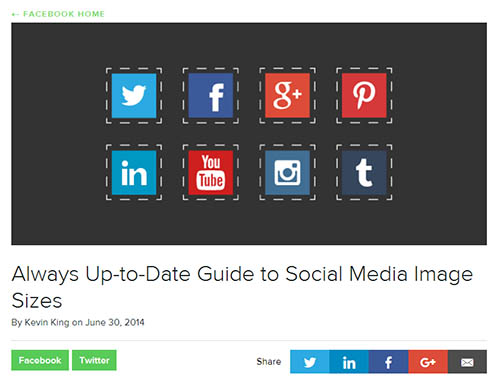 For quick reference, here are the current image sizes for each network:
Facebook
Cover photo 851×315
Profile photo 180×180
Tab 111×74
Link image 1200×627
Shared image 1200×1200
Twitter
Header 1500×500
Profile photo 400×400
Shared photo 1024×512
In-stream photo preview 220×440
Google+
Profile photo 250×250
Cover photo 2120×1192
Shared image 250×250
LinkedIn
Standard logo 100×60
Square logo 50×50
Banner image 646×220
Shared image size limit 100MB
Pinterest
Profile photo 600×600
Board thumbnail 222×150
Pin 600xinfinite
if you do not want to redesign your timeline cover and banners, just skip to creating images you can share on each network.
I cannot stress the important of a good image enough — 87% of shared posts on Facebook contain images!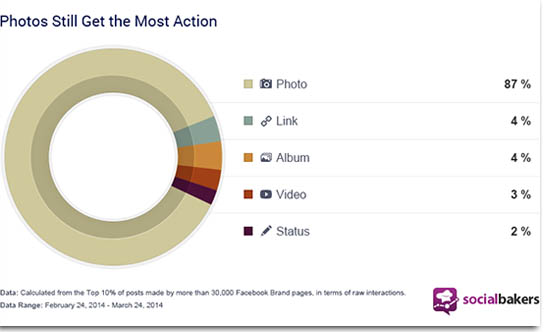 Check out the giveaway we're running right now >>
5. Add CTAs throughout your site.
You have to be careful how you decide to promote your giveaway on your website. Take the shotgun approach and you can end up with unintended side effects.
Case in point: We used Hello Bar to promote our giveaway sitewide and ended up watching signups for our SEO services go down.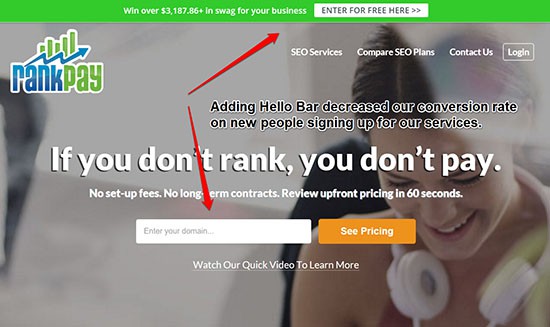 What we found was that the giveaway actually pulled people away from our funnel.
In hindsight, this was an obvious mistake.
Ideally, every page on your website should have a single call-to-action. You can get away with more, but making each page laser-focused increases conversions.
Our home page is the most important page on our website.
Most of the customers we get enter our funnel through our home page, so we decided to kill any mentions of the giveaway on this page (and any other page that explained our services). We didn't want to distract them from signing up.
Our rationale was that if visitors were on these pages they either found us through search or navigated there for more information.
How you decide to promote your giveaway on your website is entirely up to you, but here is what we found works the best:
Do not draw attention to your giveaway at the expense of converting website visitors. In most cases, it's smarter NOT to feature your giveaway on the home page (or on pages where people sign up or purchase).
Use Hello Bar but only include the announcement on your blog posts. Avoid announcements on pages where your customers sign up or make a purchase. Promoting your giveaway in these places can lower your conversion rate.
Be careful using exit intent / timed popups. As with everything, test and test again. If you use exit intent popups on sign up pages, be careful that they are not affecting conversions or increasing your bounce rate.
What worked for us may not work for you. Let the data guide you. Pay attention to your Google Analytics and conversions, adjust accordingly.
6. Invite customers, subscribers and friends.
A giveaway without entries looks like a restaurant without diners.
It's not appealing. It lacks credibility. It's not a look you want.
You want entries early on so your giveaway doesn't look like a ghost town. You need traction and here's how to do it.
Invite your customers. If you are a business with customers these should be the people you reach out to first. All of your giveaways should include your customers. Send them an early invite and get them involved.
Invite your subscribers. If you blog or have a newsletter this is the perfect reason to send out a broadcast. Let your subscribers know by sending them an email with a link to the entry page.
Invite past entries. If this isn't your first giveaway, chances are you have the emails from the last one. Put together an email inviting the people that entered before back for another chance at winning.
Tell your friends. If you have some friends that would be interested, now would be the time to invite them.
Pro tip — Don't forget to track your links using Google Analytics UTM tracking. You'll gather insight on what works and which sites send the most traffic. This data will come in handy if you plan on running more giveaways in the future.
7. Announce the giveaway on your blog.
This is one of the easier tasks to check off your list after launching your giveaway. No need to make things complicated. Simply announce the giveaway, list the rules and link to your landing page.
Bonus points if you aggregate your blog to sites like Blog Engage and Triberr. The moment you hit publish your announcement will be pushed out to these sites and put in front of their audience.
8. Publish a press release.
When you publish a press release you want to focus on targeting the keyword that you are targeting on your landing page. If you plan on running ongoing giveaways, you should definitely do this.
You can use sites like PRWeb and PR Underground. Both have their advantages, but PRWeb is more expensive.

Here are some example press releases. Use them as a template or to get ideas for your own.
9. Submit your giveaway to directories.
There is one caveat to adding your giveaway to sweepstakes directories: you will get entries from people who care nothing about your brand. "Sweepers" will enter anything and everything because they just want to win something.
The prospect of them becoming long term customers is small. Still, these people help amplify your giveaway. Leverage this audience by adding relevant hashtags and mentions of your brand in the content you have people share to enter.
Here are some of the more popular sweepstakes directories:
This spreadsheet has the full list of sweepstakes directories.
10. Share on social media.
Sharing your giveaway on social media is pretty straightforward, but there are a few things you should keep in mind.
Share across all your networks
Schedule promotional posts out for the duration of the giveaway
Tag companies involved in the giveaway in your posts
Mention brands and influencers tied to your giveaway
Include relevant hashtags (like #giveaway) to reach a wider audience
11. Find communities to share your giveaway.
You probably already know about some communities that are popular with your audience. Every one of these communities are great places to share your giveaway.
We targeted some of the usual suspects, like forums and communities where business owners and marketers hang out.
Inbound.org
GrowthHackers.com
Quora
Reddit
Warrior Forum
Just remember to follow the etiquette of the community and don't drop links where you shouldn't. Most communities will remove promotional posts, so sometimes you have to be creative. For example, you can write a post that naturally ties in your giveaway.
See what I did there.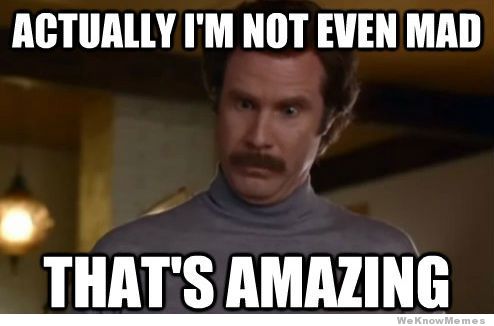 12. Do some old-fashioned outreach.
Never underestimate the power of email and Twitter.
The last giveaway we ran included prizes sponsored from all the companies on our perks page (and more). Rafflecopter actually included 6-months of their Premium plan for the giveaway as well.
That entire giveaway was sponsored and we were able to give away over $3,000+ worth of tools and services to one lucky business owner.
It all starts with an email.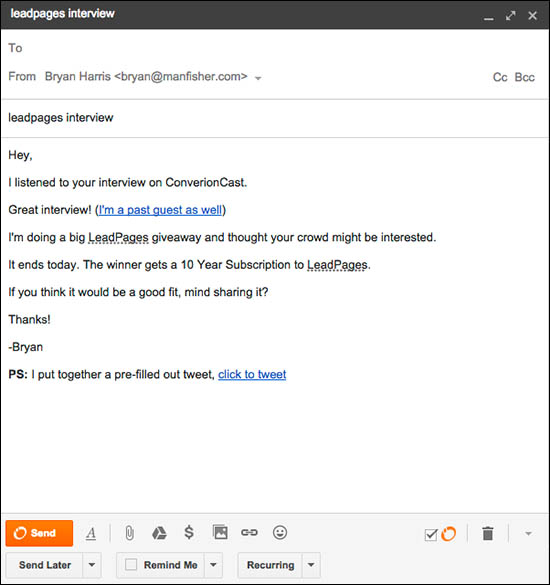 Bryan Harris wrote a great post on his results doing giveaways. He's also done a thorough job breaking down his results.
The "2-Step" Optin Survey Hack That Unlocks Growth & Gets New Customers To Spread The Word (At The Same Time)
Bill Macaitis, the CMO of Slack, said if you want growth you need to answer these two questions:
Does your team know the top three reasons people refer you?
Does your team know the top three reasons people don't like you?
Knowing the answer to those questions becomes the "aha" moment for every marketer. If you're responsible for growth you should know these things. It's just as critical for your team to know these things as well. Knowing what moves the needle can be the difference between being laser-focused on what works or taking wild swings in the dark.
Surveys are one way to gather that information, but incredibly difficult to get right.
How many times have you got an email like this?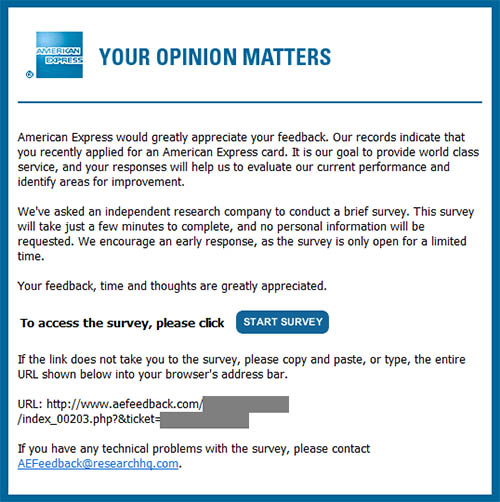 Do you stop what you are doing and fill it out?
If you're like me, you don't. More times than not the survey comes a day after I've had an interaction with the company. By then I've moved on.
Here's the reality: the best time to gather feedback is in the exact moment the transaction is taking place. It's at this point your customer is "sold". If you catch them at this moment you are far more likely to get an answer that gives you real insight as to "why" they chose to make the purchase.
Just don't make the mistake of doing it this way: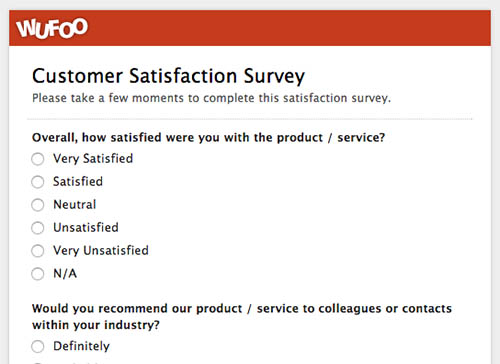 Giving your customers predefined answers instead of allowing them to answer in their own words takes away the real benefit of surveying customers after a purchase.
When you force them to give feedback in their own words you create product gold.
You're able to see exactly what your customers like the most.
For us, we take a much more simple approach that plays off the 2-step optin marketing ploy.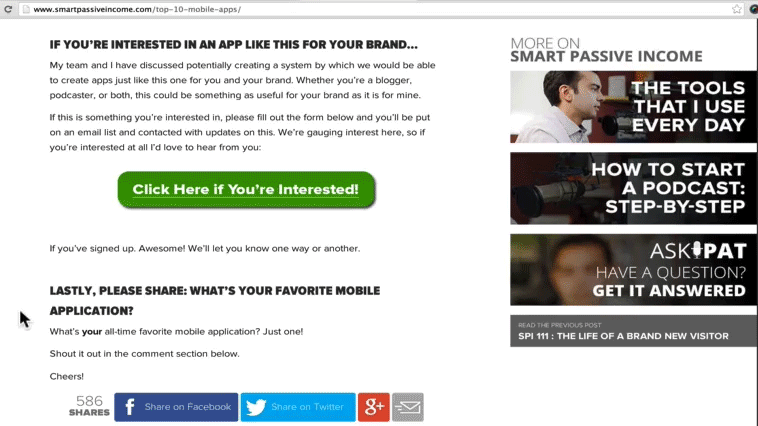 image source
Studies have shown that a two-step opt-in increases conversions. It catches prospects off guard, which makes them more likely to take action.
What we do really can't be called a "two-step opt-in", but that tactic was what inspired the idea.
Here's what we do: Right after the customer signs up we immediately forward them to a thank you page that has one simple question.
"What made you sign up for RankPay today?"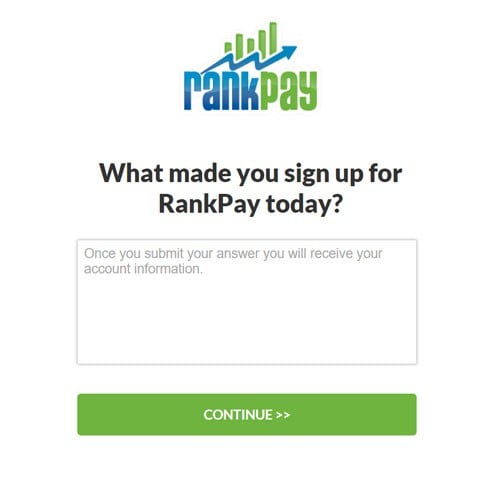 By forcing the customers to use their own words we get to read (in their words) why they chose to sign up. We later incorporate and test this messaging across our website, social media and PPC ads.
We push customers into giving us feedback by keeping the focus on the question. All other elements are removed from the page. You have to answer it in order to proceed.
As soon as they submit their answer they are redirected to another thank you page that gives them more information on what comes next, plus an invite to our monthly giveaway.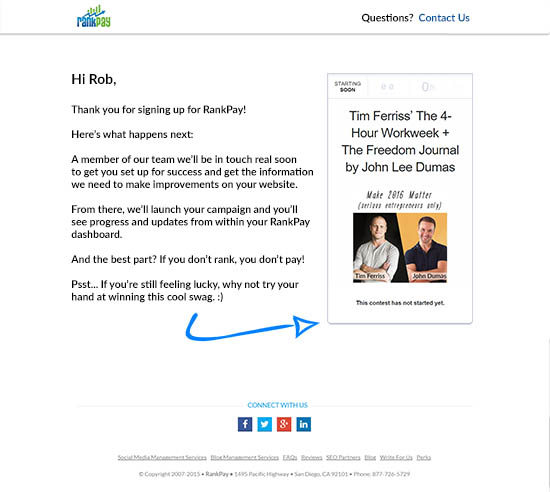 There are a couple things to take note of with this strategy:
Surveys are directly incorporated into the signup flow in a way that 'pushes' the customer into giving us a response.
Each completed survey is sent to a channel in Slack, so our team can understand the reasons customers sign up for our SEO services.
Responses from surveys are used to shape the marketing message for future campaigns, used in A/B tests and tested through paid ads.
Inviting customers to the giveaway gives them more