What Will Blogging Do for Your SEO? A Lot Actually!
Sam Warren
What Will Blogging Do for Your SEO? A Lot Actually!
It recently came to my attention that not all of our readers know that blogging for SEO will really make a difference and improve search results.
My first thought: "no worries, I'll refer them to one of our articles covering it."
Imagine my surprise when I realized that we don't have an article that addresses this specifically.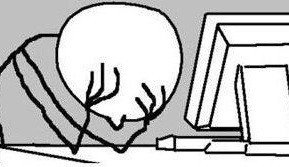 I won't insult your collective intelligence with some lame excuse. It obviously just slipped through the cracks.
Still, there's no use in crying over spilled milk right? I'll do my best to make it right and cover it right here, right now.
The bottom line, that you simply must accept, is that having an active blog will make a big difference when it comes to earning more organic traffic.
Let's dig in and find out why.
Blogging Is All About Keywords
Now, I know you're probably quite familiar with keywords (if not, do yourself a solid and read our write-up on keyword research), but bear with me here.
While link-building and on-page SEO are monumentally important for earning higher ranks on your desired keywords, content still can't be overlooked.
In fact, some sites will only ever achieve the results they want if they regularly blog on topics based around their core longtail keywords.
Think about it, this is an opportunity to create something relevant and engaging that hammers on a longtail that you know is pertinent to your business.
For example, you're a local avocado farmer. You want to be found by stores looking for an avocado distribution channel. Maybe you find that they're often searching for "San Diego avocado farmer".
That right there may be one of the keywords your entire SEO campaign will focus around.
Expanding on this a bit, imagine some article titles we could work up around that keyword.
"7 techniques for San Diego avocado farmers to avoid drought disaster."

"Work-life balance of a San Diego avocado farmer."

"How much money can you make as an avocado farmer in San Diego?"
You get the idea.
Use BuzzSumo to get inspired and see what other people are writing about when dealing with your target keywords.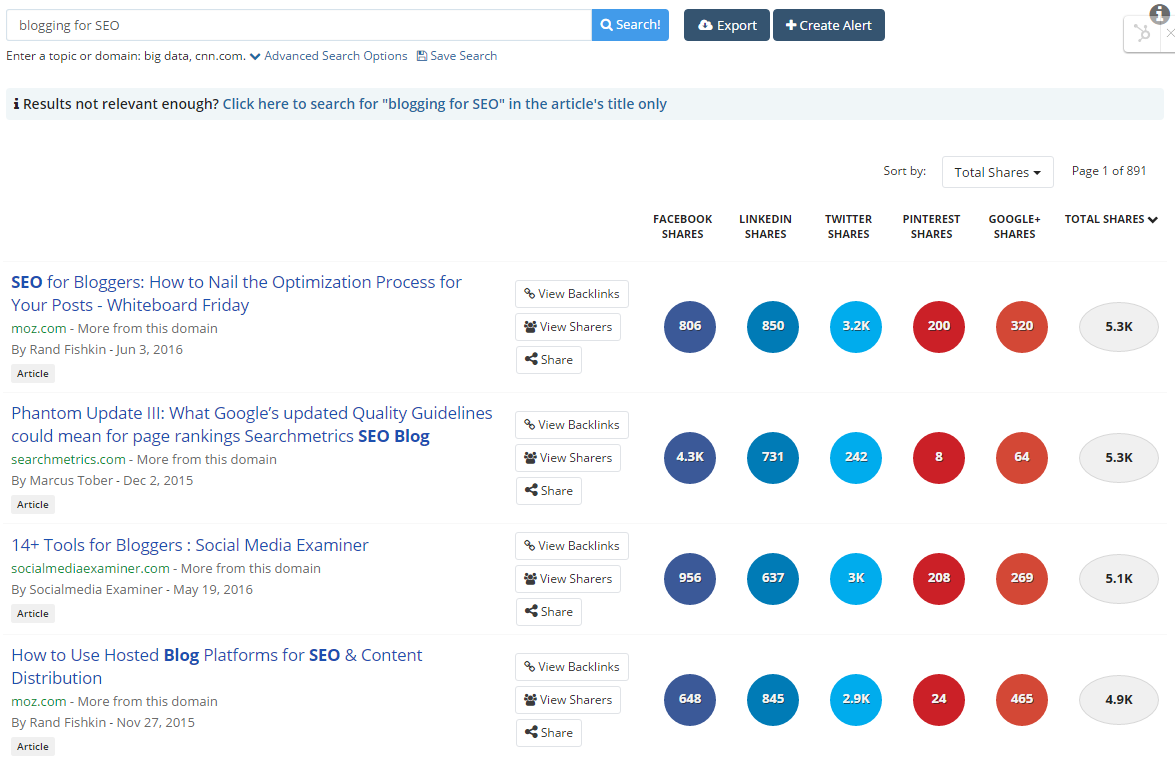 All of these pages, once indexed by Google, will bring additional traffic and SEO juice to your site for terms based off the fundamental keywords of your SEO campaign.
Need I say more?
Content Nets Traffic, Traffic Means Relevance
Google likes a busy site. The more people flowing in and out of your site the better.
Especially if you have a low bounce-rate. You know what produces a low bounce-rate?
You guessed it, engaging and useful content.
You may be able to skim a website page in 5 seconds to determine what you want. But if you're interested in an article, good luck getting off that page in a matter of seconds.
Even if you're a master of reading at a glance, you'll still be on the page more than long enough to not be considered "bounced traffic".
All of this engagement has secondary benefits as well. Think brand trust, word of mouth referrals, and loyalty!
Blogging Collects Links
If your blog is interesting, well-written, and you make sure you get it "out there" into the wild, you'll start earning some inbound links.
Remember those lovely little things? The ones that influence your search rankings more than possibly any other factor?
Yep, those links. Imagine if you made a piece of content that's just so darn cool, even your competitors want their customers to see it.
This can literally happen. The more links you get, the more your site will be considered a top pick for the terms you're after (assuming your keyword strategy is aligned between your blog and your website).
You can (and should) also internally link where it's appropriate. You've already seen me do it in this article.
There's a good reason for it too. Search algorithms like seeing that your site is tight and interconnected.
Linking to other posts or pages on your site is a great way to both convince Google of that aforementioned fact, and to drive engaged viewers to relevant content and services your business offers.
Size Matters
Sorry folks. Just because your spouse and Matt Cutts say otherwise, it's still not true.
If we're being fair, Matt is actually right in a sense of course. If he says that larger page sizes don't automatically improve rankings, than it's more than likely he's right.
But as always, things aren't necessarily so black and white in the real world.

The more pages you have, the more useful your site is to your audience.
More information to share

More internal links

More content to consume

More links
All of this contributes to something that very much does matter in the SEO world… engagement and loyalty!
Each time you do your keyword research and you put up an article that targets a high-value long tail? It's another opportunity to rank for that keyword you want so badly. It's also another chance to earn some solid anchor-rich external links.
Getting the Most out of Blogging for SEO
Of course, it's not actually going to be that easy.
If you want to really reap the benefits described above, you are going to have to both learn and follow best practices.
You'll want your keywords in the article URL, you want variations of them in headers, and you want to make sure that your articles are skim-friendly.
There's more to it, but I just wanted to glance over some of the basics here. For a more in-depth look at how to maximize the SEO gains you get out of your content, read our guide on it here.
Should You Buy Blog Management Services
Many small and micro businesses simply do not have the time or budget to build a content marketing machine. Luckily, there's a solution for folks in this situation.
Here at RankPay we offer a complete blog management service. It's a no-brainer that we offer this since it will have a net positive impact on your SEO results.
If you want to get that extra boost on a competitive keyword you've hired us to rank your site for, check out our blog management services page to learn more and get involved.