How to Write A Blog Post That Search Engines Love
Sam Warren
How to Write A Blog Post That Search Engines Love
So you want to know how to write a blog post?
That's a question I've been asked more than once, so I created this guide based on curated expert opinion and my own experience.
This post was adapted from an internal guide we use to keep our blog posts optimized using best practices. We use this internally when training new hires, outsourcing to copywriters, or training interns.
I'm "leaking" the doc because I think you'll get as much use out of it as we do.
Enjoy.
A Quick Cheat Sheet for Writing Blog Posts
There is an opportunity cost to multi-tasking. It kills your productivity.
If you are familiar with "batching" when you work you're well aware that constantly flitting between tasks decreases your ability to focus. Blogging is no different. If you don't have a process, you'll likely have trouble consistently producing fresh content.
The best way to crank out post after post is to follow a system. We use a simple checklist that was originally written by Neil Patel. It's insanely straightforward and gives you a great process for writing each post.
Step #1 – Create headings for an outline
Create the main heading
Create subheadings for each section
Outline each section with a few bullet points describing what it's about
Step #2 – Find supporting research and resources
If there are any gaps in your knowledge (needed for the post), learn about them
Find 2-5 studies about the problem/solution
Search for each section topic, and write down the URLs of any great resources
Step #3 – Write each section, one by one
Follow the outline
Write the first thing that comes to mind
Step #4 – Create any necessary images for the post
Have at least one image for every 350 words
Step #5 – Add internal links and a lead magnet
Add one internal link to a relevant post for every 200-400 words
If a post-specific lead magnet is possible, create it now
Step #6 – Edit and publish
Remove any "fluff"
Check for spelling and grammar issues
Format for WordPress, and publish
How to Write A Blog Post That Gets Noticed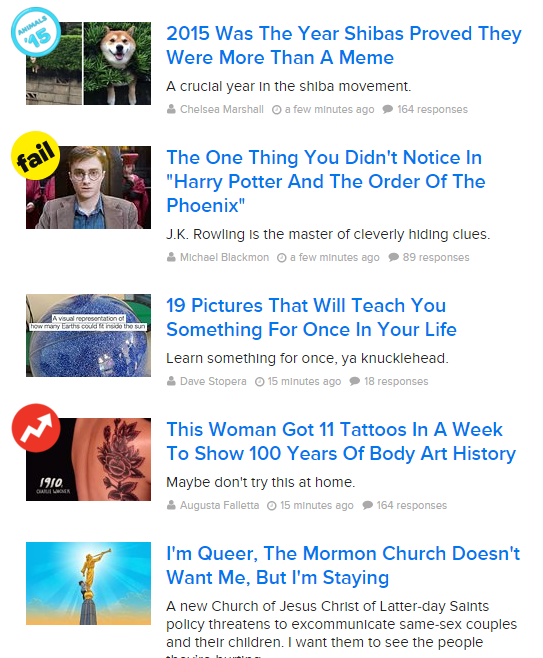 Most people that ask how to write a blog post really want to know how to write a blog post that gets exposure. While there are factors that play into virality that cannot be replicated, the most popular posts share some common elements.
1. Use a powerful, clickbait style headline (think Buzzfeed).
The most critical element of your blog post is your title. Whether your blog post shows up in search or is shared on social media, the title is what people see first.
"An insanely compelling blog title can make the difference between a highly read post and one that dies an untimely death." — Rebekah Radice
The goal of your blog post title is to accomplish four things:
Arouse curiosity and excitement.
Provide an honest description of your content.
Give a compelling reason to take action.
Target the right keyword for maximum exposure.
There is no right way to coming up with the title. Some writers start with a title, others create one once their post is complete.
If you struggle with coming up with blog post titles there are a number of tools that you can use to get the creative juices flowing.
Blog topic generators can be really useful when you're lost for an idea. There are a number of tools out there. Below is a screenshot of Portent's Content Idea Generator.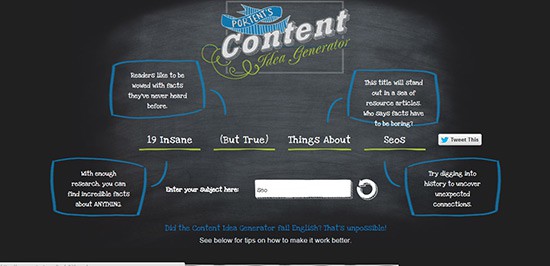 All it takes is entering a keyword and letting the tool spit out an idea. You can run with the one it gives you or use it for inspiration to come up with your own.
Of course, another way to get inspiration for a killer blog post title is to look at what's performed well already. Buzzsumo is a tool that lets you search by keyword and pull up the most popular posts over the past year by share count.
If you look at the screenshot below you can see that I entered the target keyword for this post. Not only can I see what titles have been used, I can also dig deeper and compare what's already been talked about. This way you can look for gaps, see where ideas can be improved, or expand on ideas in greater detail.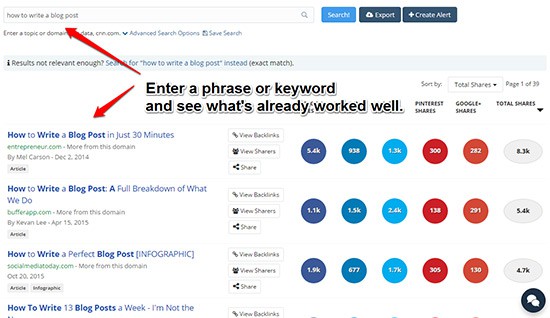 If you're still lost for ideas, here are a few to get you started:
How to [BLANK] that Drives [BLANK]
# Simple Strategies To [BLANK] Without [BLANK]
What To Do With [BLANK] When You [BLANK]
At this point you should be able to come up with a few titles of your own. You can then use Coschedule's Headline Analyzer to rate your title's ability to get social shares traffic and SEO value.
2. Use custom images and graphical content to increase engagement.
What catches your eye first?
This…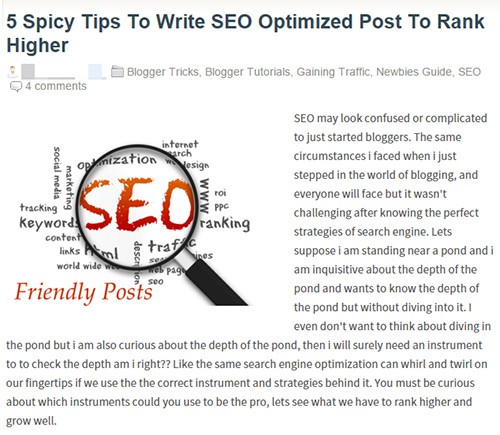 Or this.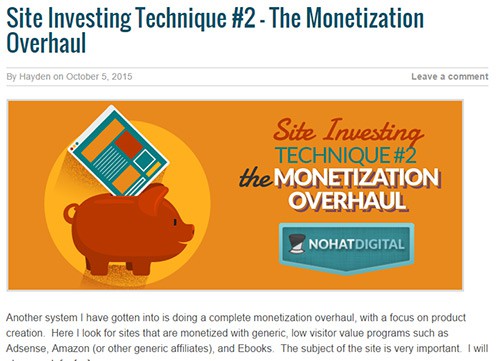 I'll venture a guess and say it's the second one.
A good image will give the reader an emotional connection to your story. It's just as critical as the title, especially when you consider the impact social media will have on your post getting noticed.
Think about how images appear when you share a link on Facebook or Twitter.
An eMarketer study in 2014 highlighted how much popular images really are. When it comes to what gets shared the most on Facebook, images win by a landslide.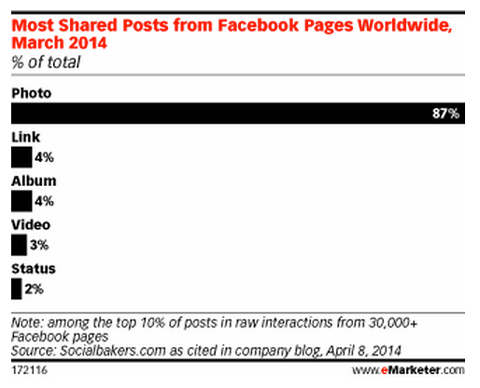 The same goes for Twitter. In fact, tweets with images get 18% more clicks.
The data above shows how important it is to use images in your blog posts. Using images strategically allows you to expand on your ideas, give examples, highlight data and illustrate how something is done.
Bonus Tip – Always use screenshots on complicated tutorials or guides that would be difficult to follow without an example. You can also create animated GIFs to show a series of steps. Make sure that the image is clear and each step is obvious.
4. Quote an expert or reputable company.
Blogging is about bringing people into the conversation. You want readers, but who those are readers are is just as important. Robert Cialdini, author of Influence, explains that the act of reciprocity is what drives people to take action.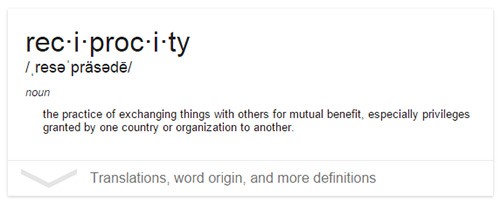 For example, if I invited you to my birthday party, it's highly likely that in turn, you would feel somewhat obligated to return the favor in some way.
This phenomenon plays on basic human psychology. The video below dives deeper into how this has been proven to work.
It's a very interesting concept and something you should apply to your writing.
Reciprocity works the same way in blogging. Want to get noticed by influencers? Give them exposure and you will get exposure as well. Think about this when you write your blog post.
Quoting an expert for an article (whether directly or through their published work) adds more credibility to a post. It shows that the writer went the extra mile to source an expert's opinion and looked for facts to back up their ideas.
You can add more credibility to your posts in two ways:
Include a quote from an expert.
Use a screenshot from an authority site.
Neil Patel makes ample use of both strategies. The screenshot below is from an article he published on Quick Sprout.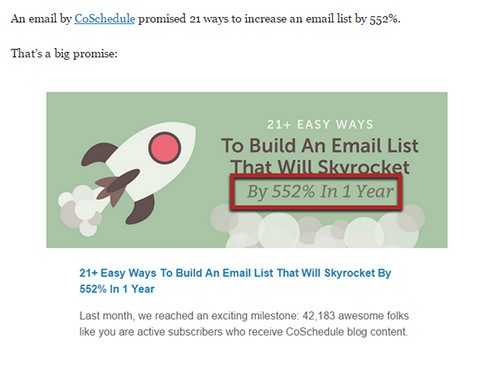 His post talks about creating an autoresponder series. If you check out his post, you'll see that he took plenty of screenshots of other people's articles on the same topic and made it a point to call out their work.
You can use this strategy too. Simply take screenshots of relevant posts from reputable sites or use Buzzsumo to find influencers.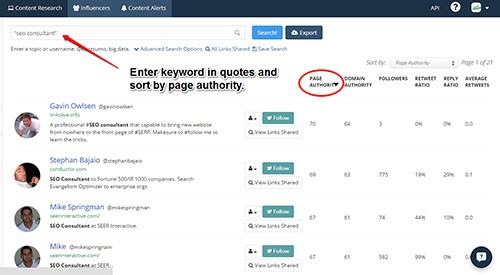 Just enter the focus keyword of your article in quotes.
Then, reach out to that influencer on Twitter or through their site and ask them for a quote for an article you are working on.

Don't forget to tweet them when the post is published. You can also comment on their latest post and let them know you wrote about them.
And then drop the link.
4. Cite data/statistics from reputable sources.
Do you think news sites would have credibility if they didn't back up their stories with credible sources? Of course not. Blogging works the same way. When you write your blog post you should be sure to back up any data or best practices with legitimate sources. The more authoritative the source the better. Look for research from Forrester, HubSpot, SBA, Forbes, and similar sites.
It's always best to show this data in some type of graphic. It expands on your point and adds more credibility to your post. If you use a graphic that was created by someone else, be sure to cite the source.
5. Use short, punchy paragraphs.
Do this: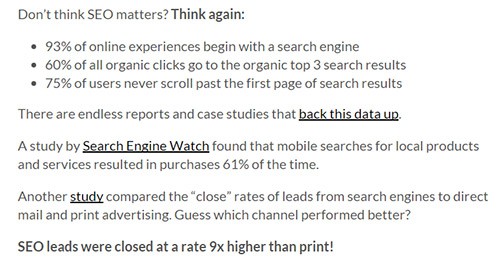 NOT this…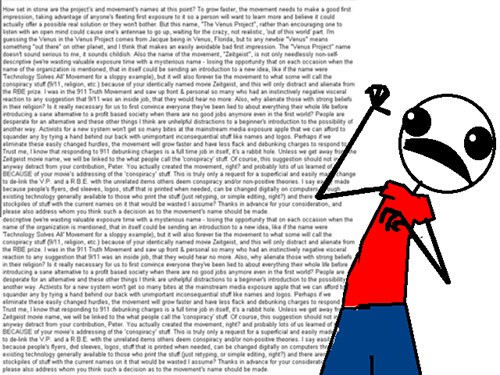 How To Write A Blog Post That Is SEO-Friendly
In this section I want to focus on the elements that make a post SEO-friendly. There are best practices that you need to follow in order to stand the best chance of getting your content indexed by Google. While there are many ranking signals that contribute to higher rankings, you should always follow this basic principles.
1. Make sure your post is 1,500+ words.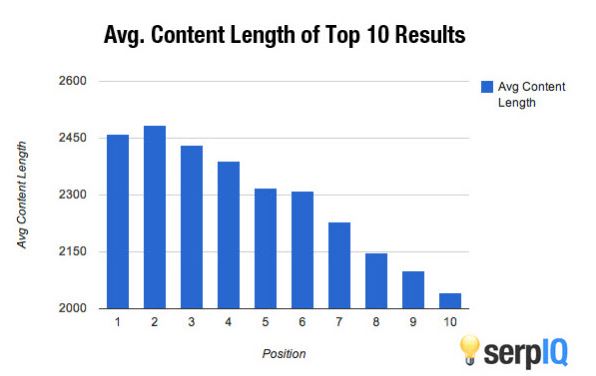 SerpIQ analyzed content ranking on the 1st page of Google for different keywords and found that there was a correlation between high word count and high rankings.
The studies below all came to the same conclusion: long-form content works.
2. Link back to old posts and update links on old posts as well.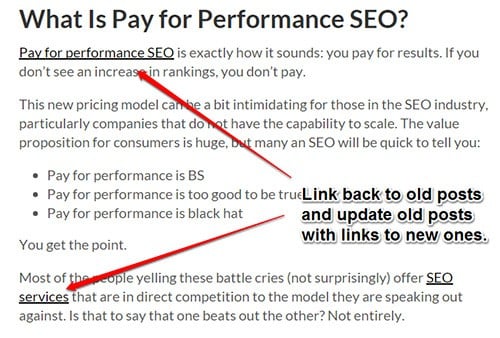 When you are writing your post you should think about the other content on your site and how you can link back to that content. This helps Google crawl your site better. A good internal link structure is good for SEO.
3. Be descriptive with image files and use your keyword when appropriate.

Not only should you use your keyword in your image file names, you should also be sure to include it in your title and alt tags.
4. Include your keyword in the url of your post.

How to Write A Blog Post (And Get Paid $100?)
If you want to learn how to write a blog post and get paid in the process all you have to do is follow this guide.
Read our blogger program guidelines, write your article and ask yourself these questions:
Is it long and in-depth? – yes
It is clear, simple, and actionable? – yes
Is it user-friendly and readable? – yes
Does it include illustrations, data and high quality images? – yes
Is it backed up with expert opinions and statistics? – yes
If you can answer "Yes" to those questions, send us your finished post and we'll check it out.