Easily Overcome the Most Challenging Mobile SEO Obstacles
Sam Warren
Easily Overcome the Most Challenging Mobile SEO Obstacles
There's a decent chance you're reading this article on a mobile device. Take a step back and think about that for a moment.
In the not so distant past, that would have been considered sorcery.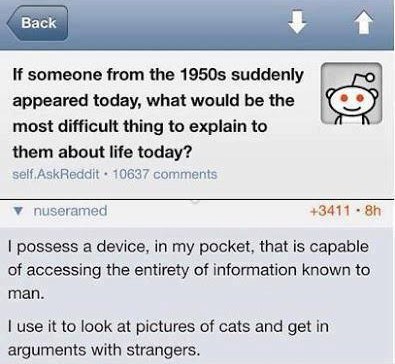 Jokes aside, mobile technology and mobile search have forever changed our lives. I'd add that it's mostly been for the better.
What this means for marketers of course, is that we have a new audience that we must accommodate. We all know that having mobile-friendly design is critical to getting even baseline recognition thanks to Google's Mobilegeddon update last year.
But there are still a wide range of challenges that mobile marketers face when it comes to SEO specifically. Mobile SEO has it's own quirks and best practices, and today we're going to dig into the most important of them.
After reading this, you'll be all set to hurdle these confounding mobile SEO obstacles with ease.
Focus on Local Results
You may be aware that a large chunk of mobile search users are looking for local products and services. By extension, we need to start our journey with optimizing for local SEO.
So let's break it down into the three main factors as laid out by the wonderful Anna Crowe in her recent piece on SEJ. These factors are all quite self-explanatory but let's just cover the bases to be safe.
Relevance
Relevance is a metric used by Google to determine how appropriate your website is for the given search query. The most basic way you can influence this factor is by sharing more information on your business listings.
Pro Tip: This doesn't mean keyword stuffing or making your listings bloated. Keep it simple and use common sense.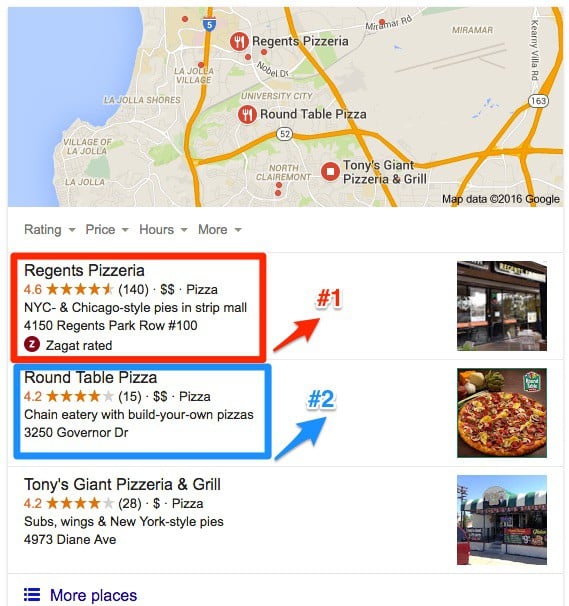 Be concise and give complete information where applicable. Also, always remember to be consistent with your NAP. See our earlier post on local SEO citations to get more details on this.
Distance
There's not a whole lot you can influence in this department, as it's simply a measurement of how far the searcher is from your business listing.
That being said it still helps to have an accurate portrayal of your address so you only get targeted traffic and don't have to deal with a lot of inbound requests from out-of-state customers looking for a local product or service.
Prominence
This one is a little trickier, but no less important.
Google does its best to determine how significant a business's offline presence is.
"For example, famous museums, landmark hotels, or well-known store brands… are also likely to be prominent in local search results" – Anna Crowe
But it doesn't end there, as search optimization in general plays a role here.
Expect all of the following factors to influence the results:
Online testimonials and review
Link profile
Directory Listings
Social account presence and engagement
Loading Speed
Despite all of the recent soap boxing about the importance of mobile responsiveness, it's still a humongous problem.
Just two years ago, a study found that almost 70% of websites failed to deliver acceptable mobile load times.
Hold the phone. 70%?! Wow. It's time to get up to speed folks (pun intended).
We already know that Google considers mobile responsiveness when it comes to its search algorithms. We also know that every study done on the subject shows users often turn away from a business if a page takes too long to load.
Anywhere between 3 and 7 seconds is acceptable. Get up around 8 or more and you've got to make a change. You can test your site's load time here.
The simplest way to overcome this challenge? Upload smaller image files. Time and time again we see humongous image files, and this causes a huge strain on load times.
"…determined that the mean home page weight of the sites in the sample was 1.7MB, with a median weight of 1.2MB. Notably, this figure was considerably heavier than the 420KB average page weight of the top 30 retailers…" – Trilibis Blog Team
If the top 30 retailers can manage to have such a lightweight page, so can you.
Directing Traffic
Another major hurdle faced by businesses looking to optimize for mobile SEO is getting past ugly and incorrect redirects.
Many sites redirect mobile traffic to a specific mobile-friendly page in an effort to streamline the mobile experience.
Only problem with this approach is that often redirects get jumbled around and it becomes all too easy for a visitor to end up on a page that was not intended for mobile audiences.
Maybe it has incompatible videos or content formatted for a 1080p display. Maybe it's just not relevant for mobile users. Whatever the cause, you're definitely going to want to set it straight.
The best way to take care of this is with the handle Mobile Redirect Viewer tool. Best of all, it's free and you can choose different device previews to check cross-compatibility.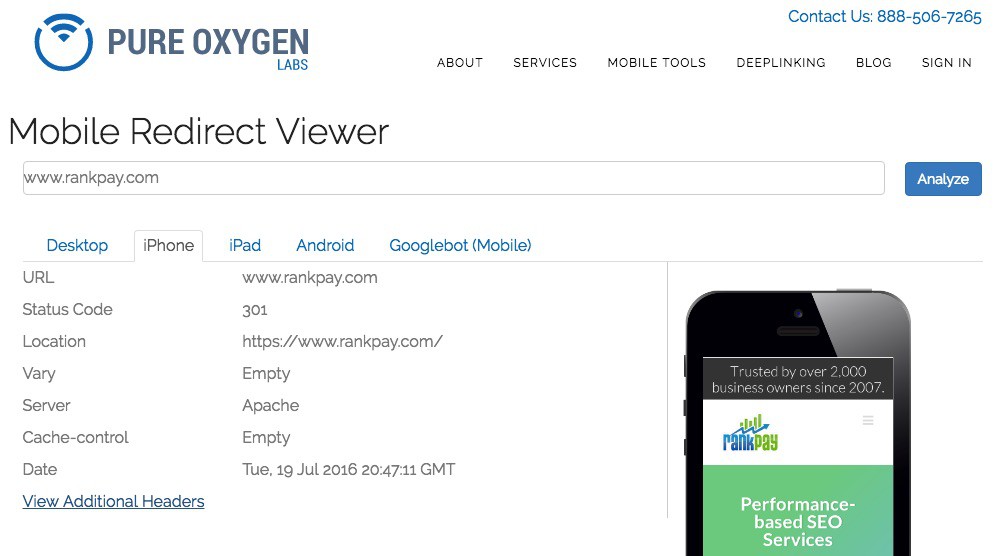 Spring Cleaning
Mobile only errors are the last pest you'll have to deal with in order to claim you have a truly mobile optimized site.
These can be a bit tough to catch since you may not actually experience the error until someone else does and writes in to complain.
Some basics though? Don't use flash videos. They're not compatible on newer versions of Android or on iOS.
Problems also commonly arise if Googlebot-Mobile has been handled improperly. The short version? You can end up with an infinite loop of redirects.
Spoiler alert: that's bad for your visitors, and for your performance in the SERPs.
Head over here for more info from Google themselves.
What More Do You Need to Know?
Plenty. But that's OK. This is just the tip of the iceberg.
But as they say, let's take it one step at a time. Catering to Google's every desire can be tiresome since it's a never-ending task.
Follow the steps above and you'll at least be well on your way to having a mobile-friendly site and you too will be cashing in on the boatloads of traffic on smartphones and tablets.