How to Find the Best Long Tail Keywords
Christopher Jan Benitez
How to Find the Best Long Tail Keywords
Take a good look at the inner workings of any successful SEO campaign, and you're sure to find some very well-researched keywords.
Not just any kind of keywords either, mind you. You'll most likely find long tail keywords.
Now, much has been said about this type of keyword over the years, but it bears repeating nonetheless.
Long tail keywords are highly targeted phrases that consist of at least four words. This is the opposite of head term keywords, which are generally only one or two words max).
I know what you're thinking. "The longer the term, the less the search volume!"
While this is true, there's a flip side that's worth considering. When you target long tail keywords, you'll have the distinct advantage of user intent.
Often when users search for head terms, they're only looking for information. Users typing in long-tail keywords are far more likely to have the motive to make a purchase. When you optimize for long tail keywords, you're creating a net to catch traffic that is transactional in nature.
You know what that means right? You can then bring value to visitors and being converting them into customers or subscribers.
Perhaps even more importantly, it is much easier to rank for long tail keywords because as search volume lessens, so does competition. The more specific the term, the better your odds of being able to rank for it.
In short, by optimizing your pages for relevant long tail keywords, you'll dramatically increase your chances to quickly improve your organic search results and drive targeted traffic to your money pages!
The Trick to Finding Strong Long Tail Keywords
The more visitors your site has, the more opportunities you have to drum up enthusiasm, grow sales and build a loyal following.
The problem you're now faced with, is finding the keywords that will really make a difference on your bottom line.
One of the most common mistakes when digital marketers and site owners start doing keyword research is the notion that you have to spend a lot of money to get access to the right tools for the job.
I don't fault anyone for thinking this way. There are some pretty good reasons to believe that you'll have to pony up to get the ball rolling. Considering that Google is slowly closing the window for some marketers to find accurate keyword data, it only makes sense that paid tools would be the way to go if you want to gain real and relevant insights.
But let's face it — paid tools are overrated. Yes, they make finding and assessing keywords for competitiveness much easier. But in my experience, they're a wholly unnecessary part of all but the most intricate SEO strategy.
If you have the manpower, time, and some elbow grease to do keyword research on the cheap, it's totally possible to manage it without spending a dime.
In this post, you will learn how to:
Gather ideas for long tail keywords by using Google Search and Ubersuggest
Check the search volume of each long tail keyword using Google Keyword Planer
Research the pages currently ranking for your targeted keywords using MozBar
1. Brainstorm for New Keyword Ideas
First and foremost, we're going to need to get some ideas. Let's head over to Google Search.
If you are developing a local SEO strategy, then you'll want to make sure you conduct your research on the appropriate regional Google variant. For businesses targeting a more global audience, http://google.com/ncr is a better place to look.
Once you're there, type your niche or topic into the search bar, but don't press enter yet. Unless you have the autocomplete function turned off (if you do, turn it on for the purposes of this exercise), Google will predict a number of common keyword phrases that it believes you might be interested in searching for. Doing this will give you an immediate idea of what people are actually searching for in your niche.
If you're not happy with the suggestions, or if you want to extrapolate more opportunities from the ones you liked, I'd recommend going to Ubersuggest to get even more long tail keyword ideas that you might want to optimize for. It's a great way to get a handful of relevant keywords that you might not have thought of otherwise.
Get as many keywords from Google Search and Ubersuggest that you're comfortable working with, and organize them all in a spreadsheet or text file. Ubersuggest makes this particularly easy since you can download a copy of your keyword results to either text or .csv.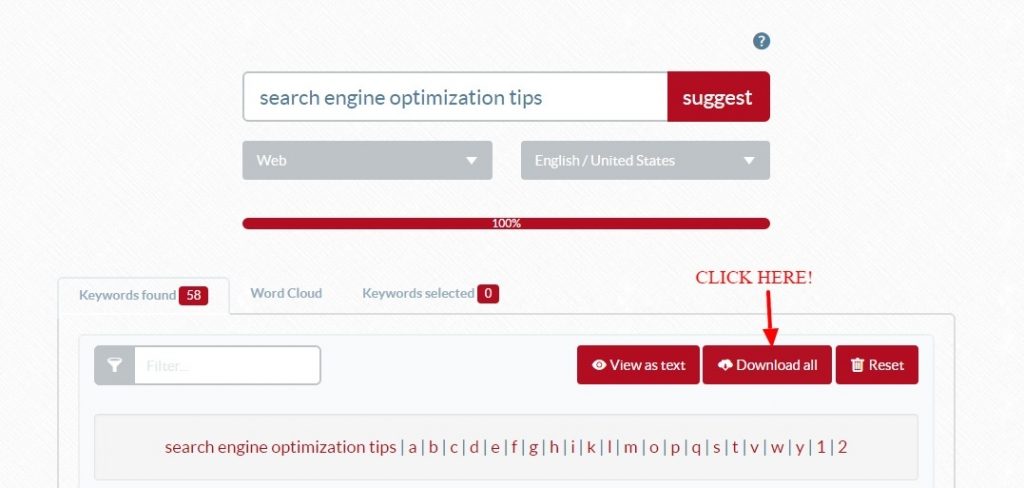 2. Check for Keyword Search Volume
Now that you have keywords you're interested in, let's check out their respective search volumes in the Google Keyword Planner.
Copy and paste the keywords you downloaded from Ubersuggest into the search bar. Tip: don't forget to use the location settings (shown below) if you're going to be targeting a specific country or region.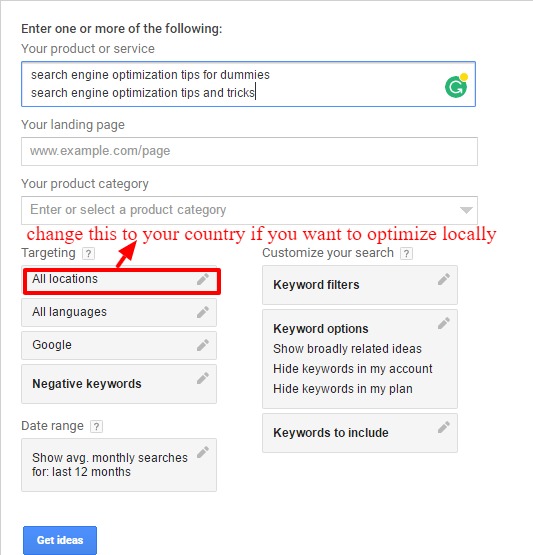 After you click "Get ideas", you'll be taken to a results page that will show you how many times users search for your chosen keywords every month.
Keywords with 1,000 or more queries are a good starting point for choosing long-tail keywords. However, long-tail keywords for some niches barely crack the triple-digit mark on average. We'll take a look at some of these a bit later.
Adjust your expectations based upon your findings. If you cannot find long-tail keywords that have at least 50 searches, you may want to go back to the drawing board for some new ideas.
Despite all of this focus on volume, the most important thing to keep in mind is conversion. Marketers should look for long-tail keywords not necessarily for their search volume, but for their potential to convert visitors into subscribers or buyers.
Going after a long-tail keyword with a few thousand monthly queries is definitely a plus, but be sure to consider if the keyword will help you drive sales. We have to pay special attention to the user intent of each keyword in determining whether or not this will be the case.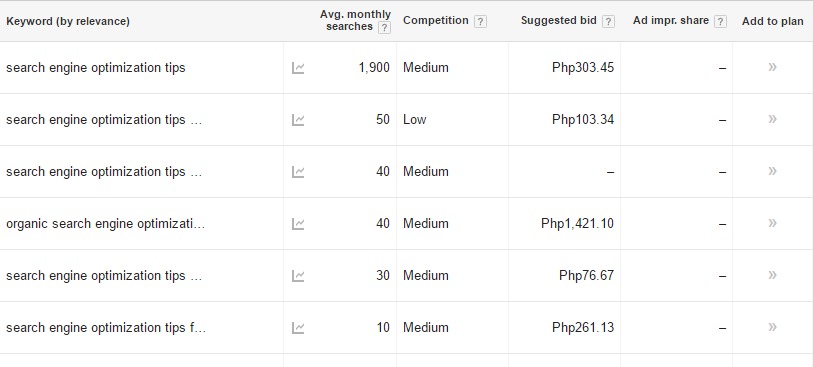 Looking at these results, there is a pretty large discrepancy between the most searched keyword "search engine optimization tips" and the rest. The second most searched is "search engine optimization tips and tricks."
As we've mentioned though, as important as search volume is for choosing long-tail keywords, it is not the only metric to consider.
For now, keep the above in mind and compile a list of long-tail keywords that have at least decent search volume and a strong buyer intent.
3. Gauge Your Competition
Hopefully at this point, you have a pretty strong list of keywords to target. Let's dive in and figure out just how competitive these keywords are and thus how difficult it will be to rank for them. Fair warning though, this process will be time-consuming and requires the use of multiple tools.
The true purpose of this step of the SEO analysis is to gauge the level of competition and to ascertain if the top pages have any strengths and weaknesses that you can replicate and exploit respectively.
A quick look at the SEO factors that determine search results
It's not entirely clear how search engines like Google determine which pages rank atop the search results for their respective keywords. However, experts have done extensive research that at least help us understand the fundamentals.
Among the different off-page factors, backlinks carry the most weight. A page with backlinks from authoritative sites does wonders to suggest to search engines that it is trustworthy page. This in turn shows Google that your page is closely correlated with its targeted keyword/s.
Link-building has changed a lot over the years, be sure to pursue this avenue cautiously. Building poor quality links will easily hurt more than it helps.
For on-page SEO factors, there is a lot to consider. In the effort of time, I'll refer you to Brian Dean's excellent post on the matter. But to summarize, below are the most important on-page SEO elements that can affect the search rankings of any given website page:
Mention your keyword at least once on the page title, meta tags, alt images, and subheadings.
Mix internal and external linking.
Aim for >= 2,000 words.
Loads fast, ideally before four seconds. At the 4 second mark, on average, 1/4 of all visitors will have clicked back if your page hasn't loaded.
Must have compelling content and feature images to keep visitors engaged, extending the length of time they spend on your site.
By knowing how certain factors influence search rankings, you'll be better prepared to make informed decisions regarding which keywords you want to target going forwards.
Back to the research at hand!
First and foremost, create a free account at SEMrush. This is one of the most important tools we'll use for conducting competitive research.
Once you've created your account and logged in, enter one of your candidate keywords in the search bar.

Next, scroll down to view the Organic Search Results section.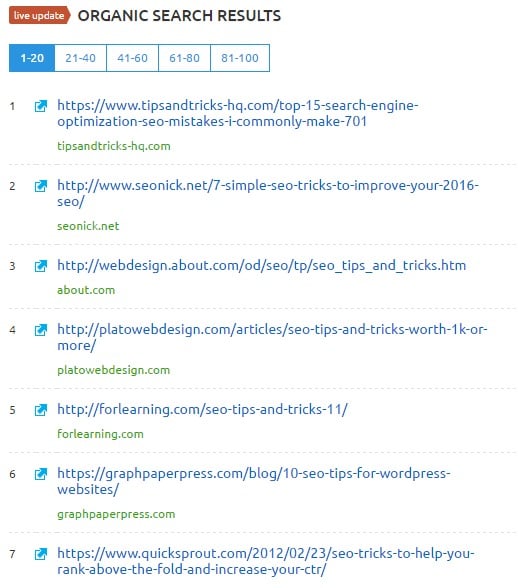 This page shows us the websites that are currently ranking for the long tail keyword you entered in the search bar. The default view will show you the first 20 results. For the purpose of our research however, let's just focus on the first 10 results.
Start with the top ranking page. Click on it in SEMrush and we'll get taken to the "Domain Overview" for that particular page. Here we'll see organic search traffic estimates and the backlinks the page has.
From the example above, the top ranking page surprisingly only has two backlinks. Strange as that may be, we should be able to safely assume that it closely observes best practices for on-page SEO.
To get a better look at on-page factors, head over to Moz and create a free account. Afterwards, you'll be able to install MozBar Chrome extension.
This killer tool will help us see the overview of any page's on-page SEO.
Once you've got the extension installed and logged in, refresh the page you're looking at and click the MozBar icon in your browser.
You'll be able to examine on-page elements, general attributes such as site speed, and link metrics. These factors will help you determine whether or not the page observes the best on-page optimization practices.
If you're like me and like to organize data, I'd strongly recommend cataloguing anything of interest in a spreadsheet for future reference.
All that's left now is to rinse and repeat the process for the rest of the top 10 results. Do so and you'll have a comprehensive spreadsheet of data and analysis of your competitors' high-ranking pages!
What to Do with the Data (Wrapping It Up)
At this point of the process, we're prepared to make smart decisions about what long tail keywords will be best for us to actually target and optimize for.
To further help you determine the keyword difficulty, refer to the questions below as guide:
Are you able to create or rewrite a post on your site that is at least similar to, but hopefully even better than the content currently ranking for a given keyword?
Do your pages load faster than the top results you researched?
Can you find a way to earn unique (or at least replicate) high-quality backlinks to strengthen your off-page SEO?
Of course, despite the detail we've gone into here, there are still more SEO factors to consider when building your plan of attack. Some of them may be beyond your control as well, such as domain age, authority developed over time, and others.
No one can fully guarantee that your page will rank for your desired long-tail keywords even with the most rigorous planning. Such is the nature of SEO.
With that said, doing strong and thorough keyword research will drastically help yourself for success.
Remember, you want to engage and convert traffic. Picking the right keywords is the first step to doing just that. Put in the time and effort, use the free tools mentioned above, and you'll be one step ahead of your competitors.
Last but not least, this whole process is a critical step for our customers. We've been helping our clients pick the right keywords since 2007!
If you've done your keyword research but don't want to get your hands dirty with the subsequent heavy lifting, consider outsourcing it to us. We'd be glad to to take care of it for you.