10 Content Marketing Mistakes That Will Hurt Your Reputation
Guest Author
10 Content Marketing Mistakes That Will Hurt Your Reputation
Content marketing is all the rage these days. But do we really know what strong content marketing entails or is it just a fancy buzzword for modern marketers to throw around?
How effective is your content marketing strategy? Well, that all depends on the content itself.
Believe it or not, there are certain types of content that will turn off most readers before you've so much as clicked "publish".
Building a good reputation is essential in gaining more followers and converting leads. Here are a few of the most common mistakes you could be making that will hurt your content marketing efforts.
1. Over-Advertising Your Product
When we talk about marketing a product, we really don't mean focusing on your product alone. Marketers, especially those online, seem to think that their job is over once they've listed all of the product features and specs.
Truth is, that's rarely the case.
People don't generally want to about what they can do for you. What they really want, is for you to point out what you can do for them.
If you've subscribed to this faulty marketing strategy until now, it's time to re-frame your strategy.
Look at what currently interests your audience. Tap into their emotions, the trends they follow, and pay attention to the influencers in their network.
Rand Fishkin, Founder & CEO at Moz says:
"Great marketers have immense empathy for their audience. They can put themselves in their shoes, live their lives, feel what they feel, go where they go, and respond how they'd respond. That empathy comes out in content that resonates with your audience."
2. Staying on a Single Platform
So you've made strong content – great! That doesn't mean it should remain stagnant.
Staying on a single platform and not expanding to other sites can make your content feel stale. Make the most of the immensity of the internet. After all, it's free and there are many places for your content to find a home.
To formulate a more organized strategy for this, you should start off with your current platform and following. If you have accounts on more than one platform already, you can tap into each of your followings there. Once your content has made the rounds, let it go viral.
Encourage your followers to share it to their own networks. This is how connections on social media are built. Be sure to maximize this to avoid getting your content pigeonholed in one place.
3. Ignoring the Analytics
It's all about the data!
Statistics are critical when it comes to knowing how your audiences interact with your campaigns and products. Analyzing the data is the next step to taking your content marketing to the next level.
Ignoring the analytics is a big mistake that could cost you your following. Your target audience is your priority. Don't build your strategy off gut feelings. Go for something more precise?
Let the analytics tell you how your target market really feels. It can also be a useful tool in looking at what they care about outside your campaigns.
If there's anything interesting in the numbers, latch onto it and use it as a basis to develop an even better strategy.
4. Focusing on the SEO, Forgetting Content
SEO is important. SEO services like RankPay can make a huge difference to the bottomline of pretty much any business.
We all want to be visible on Google. But facts show us that arbitrarily stringing words together to get on the first page isn't the way to go.
If you want to build a strong and authentic foundation with your followers, don't let the quality of your content slip to the wayside.
Make sure that the topics you cover will have real value to your readers, even as you hit certain keywords. It's actually better this way because readers who find value in what you write can share it to a network of like-minded consumers.
5. Going in Without a Strategy
Your content marketing strategy acts as the anchor to your campaign. Running campaigns arbitrarily without a clear plan will lead to one thing and one thing alone: disaster.
It's important to carefully plan before diving in.
For example, conducting a simple SWOT analysis of your current status is already a way to get you on the right foot. This means looking at your Strengths and Weaknesses, and observing the Opportunities and Threats that currently exist in your market.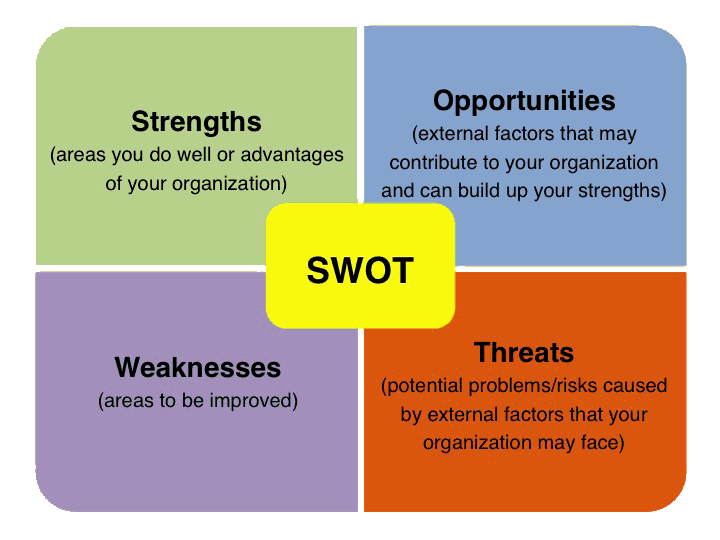 Building a strategy also involves taking a peek at what competitors are doing right now, and how you can set yourself apart from them through your own content.
6. Not Engaging Your Audience
The audience should be the center of your attention. Failing to engage them defeats the purpose of content marketing in the first place.
This could manifest itself in a number of ways. For instance, like an example already mentioned above, you could just be focusing too much on the keyword optimization element of SEO-friendly content.
Another possibility: you might be just not connecting with them enough.
As much as good content can stimulate an audience, readers also expect authors to really "speak to them" directly. Make them feel special.
Hosting promos or contests is a good way to incentivize readers to become particularly loyal followers.
Engaging the audience is a noticeably easier task when it comes to social media marketing.
Arianne Stevens, Content Editor at EduGeeksClub, has this tip,
"It pays off to be creative in your approach and open yourself to the possibilities of audience engagement. Conduct a study of what your audience needs and show them that your product or service is the solution. You don't have to limit yourselves to articles. You can create multimedia content, apps, or even quizzes and games."
7. Putting Little Effort in the Headline
Not everyone will read through your entire article. No matter how good your content is, some people will just skim through. With the rising trend of shorter attention spans, this may honestly be more commonly considered a "rule" than an "exception."
Putting little to no effort in a headline is a huge mistake. After all, the headline is the first thing audiences come into contact with.
Headlines are a mixture of powerful and emotional words that in effect produce a thought-provoking preview into your content.
Tools like Co.Schedule's Headline Analyzer will help you determine whether your headline is interesting enough to readers or not.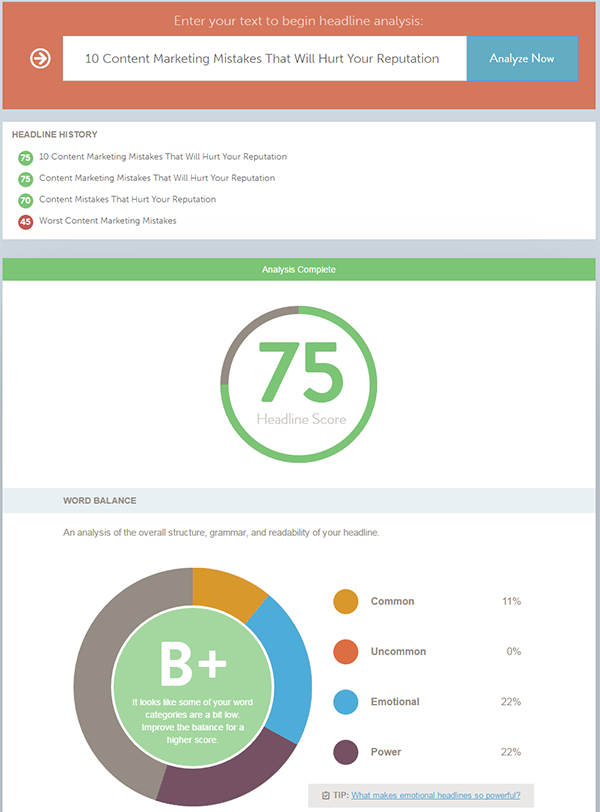 At the very least, it will help get you brainstorming about how to improve your headline design on the whole.
8. Prioritizing Quantity over Quality
Another way to engage audiences is by publishing content online often. This lets them know you're active and constantly on the lookout for their best interests.
Be aware however, there is such a thing as overdoing it. If the quality of your articles decreases as a result, it can be just as detrimental to your online reputation as not publishing anything at all.
Tiny things like structure, grammatical errors, and overall content will vary across the types of audience you're looking to address. But maintaining a minimum standard for each of these will earn you a more loyal audience in the process.
"You need to create ridiculously good content – content that is useful, enjoyable and inspired." – Ann Handley, Chief Content Officer at MarketingProfs.
Remember that quantity doesn't always beat quality when it comes to content marketing. Bulk doesn't necessarily mean that you've engaged your audience. If it's all gibberish, how do you think your readers will react?
9. Creating Content That Doesn't Leave Readers With a Takeaway
Your marketing campaigns should always have a strong call-to-action.
A simple CTA that people can remember is often preceded by useful content. This can also be seen as a stepping stone for the creation of evergreen content, those pieces of content that remain relevant and a go-to resource for readers for years to come.
To create a high-caliber post that's perpetually useful to your audience, you will be required to really look into analytics and trends. Consider what works and what doesn't for your particular readers.
To impart a strong brand impression on people, you'll need to step up your content marketing.
Again, don't settle for something that only meets the SEO standards. Algorithms change, and so do people. But the impact of a positive brand image will help in securing you a relatively immortal name.
For instance, consider how business tycoons like McDonald's, Gap, and HP have all but sealed their brand images in their respective industries.
Alongside good branding, you can rest assured that they also worked hard at creating useful and informative content, and continue to do so to reaffirm their relevance to their audience.
10. Forgetting to Tap into User-Generated Content
When it comes to a functional content marketing strategy, everything is a valuable resource.
Consider your followers as a source of untapped potential. Not only do they have useful feedback to provide, but they also have their own networks that you'll want to tap into once you've earned their trust.
No matter how relevant your content is, you won't always be able to go it alone.
Even the most recognizable brands aren't able to go personally to each and every door in the name of advertising. At some point, they instead relied on their current following's networks to get their name out there.
Look at this as word of mouth in the digital age. Expanding your reach requires a thorough examination of all possible resources to generate good content – even if this means looking to your audience for help.
The Takeaway: Don't Let Your Reputation Slide
Depending on how you execute it, your content marketing strategy will make or break your efforts on the whole.
Blatant self-advertising alone will only get you so far. When it comes to content, a different approach may be necessary. Access as many resources as you can to widen your reach, and publish content focused on benefiting your audience to really pique interest and earn their loyalty.
Step up your content marketing with these tips today!
Guest Author
Karen Dikson is a creative content writer at  Writix, blogger and marketing expert. Her works have been published on HuffingtonPost, BlogHer and other marketing and educational resources. Karen cannot imagine her life without writing. Connect with her via Twitter.