Introducing… RankPay Search Accelerator!
Sam Warren
Introducing… RankPay Search Accelerator!
Hey there RankPay fans!
As you probably already know, we work day in and day out to provide a stand-out SEO service. With thousands of clients on our platform now, that sometimes means taking a hard look at how we can improve and build upon our successes.
When it comes to client success, we wanted to bring that same methodology to bear.
Enter our newest SEO program, Search Accelerator.
What Is RankPay Search Accelerator?
Our Search Accelerator program is an opportunity for our existing SEO clients to expand their keyword portfolio and audience reach, while capping monthly investment.
We know that when many more keywords get added to a pay for performance SEO campaign, the higher potential investment ceiling may cause some business owners to pause.
At the same time, we always want to step on the gas when we see steady progress and ranking growth. We do that in a few ways.
First, we like to add keywords to the client's portfolio to help earn additional SERP exposure and more clicks. Secondly, we recommend experimenting with keyword variations to search for new organic opportunities.
As we mentioned earlier, we wanted to ensure that this couldn't result in runaway costs for our clients. So we've included a "monthly investment cap" as part of our Search Accelerator program.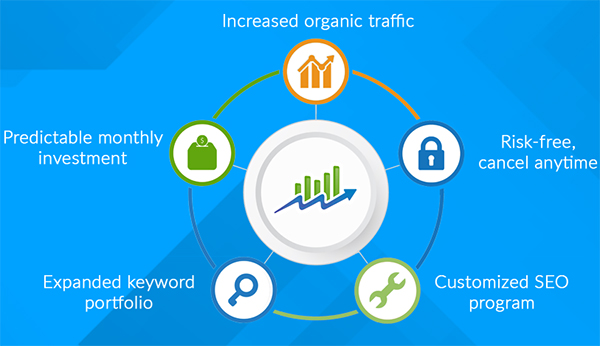 In summary, joining Search Accelerator means that we'll…
Customize an SEO roadmap specifically for your business
Expand your keyword portfolio
Cap your monthly SEO investment with RankPay
Is Search Accelerator Right for You?
Our Search Accelerator program is definitely versatile since each program will be custom-built from the ground up.
That being said, it's only available to our existing SEO customers. Further, we think it's most appropriate for clients that have already seen improved rankings thanks to our performance-based SEO service.
After we've had a chance to prove that our model and methods work, we hope you'll consider exploring our Search Accelerator program.
Of course, if you're unsure if you're in the right position to take advantage of this exciting opportunity, you can always just ask! We'd love to hear from you and will give you honest recommendations based upon the status of your RankPay SEO campaign.
How Do I Sign Up?
If you're convinced you're the right RankPay client for Search Accelerator already, getting started is exceptionally simple.
All you need to do is visit the Search Accelerator page, enter your domain, and click "Let's Get Started."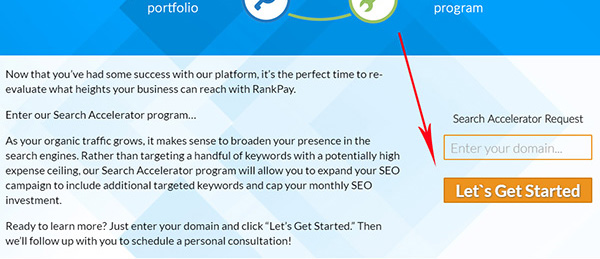 That's all there is to it. Afterwards, just sit tight!
We'll be in touch within a few business days to discuss the next steps. We'll schedule a phone call with you to discuss the opportunity, monthly investment cap, and explore additional keywords we'd like to add to your SEO campaign.
In fact, to make it even easier, I'm going to include the request form right below this paragraph. If you want to get started now, just enter your domain and let's get this rolling!
Final Thoughts
We've been building these custom programs in the background for a few years, and are really excited to release the opportunity to our client-base at large.
We hope you're equally excited to learn more, and get started if it's the right fit for you and your business.