9 Quick Solutions to Revitalize Your SEO Strategy This Fall
Guest Author
9 Quick Solutions to Revitalize Your SEO Strategy This Fall
One problem that everyone notices early on when they start dealing with SEO, is that it's never "stable".
Every time Google pushes an algorithm update, priorities shift. Strategies that used to boost your site to the top might suddenly relegate you to the bottom of the pack.
What does all of this mean for you?
For starters, you need to constantly monitor the news and be ready to adjust your strategy so you don't put your site in any jeopardy.
For this reason (and a few others), it's often in your best interest to take time to revitalize your SEO strategy every so often. This way, your flow of organic traffic won't run the risk of slowing down to a trickle.
If you're in the other camp, and your results have been stagnating, changing things up might be just what the doctor ordered.
So what big changes has Google made in the recent past?
What's Changed?
Last year, Google started to take a more serious look at mobile responsiveness. In the end, they decided to make it a far more decisive ranking factor.
This May, they boosted that strategy even further. And with good reason. After all, smartphone usage and the percentage of people who access the internet using those tools continues to grow.
Another change that Google made involves something called RankBrain. This is a machine learning system focused on building a more useful search engine. It takes what people have done in the past to consistently improve the results of people's searches.
Now for the end user that's all well and good. But for those of us doing search engine optimization, it can be a real headache. After all, RankBrain ensures that the ground isn't only going to shift during the big updates. It's going to be constantly changing.
Google is determined to make it harder for anyone to game the system. Every update, they get better at ferreting out companies that are somehow artificially boosting their rankings and taking steps to counter it.
So what can we do about it?
1. Focus on Improving User Experience
The first thing you need to consider, is if your website is actually optimized for users in the first place.
The goal now is no longer just to have a flashy website, but to make certain that it's intuitive and easy to use. Make sure the right buttons are in the right places, and that people are able to quickly find what they're looking for.
At a loss for how to figure this out?
One simple strategy is to install a Google search bar on your pages. Brilliant right? Monitor what people are typing in, and you'll not only have an idea for what people expect when they come to your site, but you'll also figure out quickly which links or buttons might be missing.
2. Hire Professional Content Creators
Outsourcing your content creation is another strategy worth considering. There are plenty of professional content creators that can create outstanding articles your readers will look forward to reading every week.
I'd recommend building a long-term relationship with a content creator. You'll maintain the same voice throughout your content that way. What's more, you'll be able to build up a better and better working relationship, making certain that your desired message gets across loud and clear.
Of course, this isn't always possible. Or it might just take time to find the right person. If you're having a hard time, you might check out these reviews of writing service companies. You never know, you might find the perfect author!
3. Go to Your Customers
On many social media platforms it's quite a simple process to figure out where your audience is actually hanging out. Facebook's AdManager is particularly helpful for this kind of research.
You can specify what their interests are, where they're located, and more. Facebook will then supply you with a list of sites that are most popular among these people.
Approaching your audience on those other sites is a great way to get their attention and get them interested in what you're doing.
Why does this matter? Because Google cares about social signals and will use them to decide if a piece of content will rank well. Getting your content in front of people that engage with it is a vital part of today's marketing strategy.
If you find a site that has managed to attract a lot of attention from your audience, consider establishing a share and share alike strategy. Meaning, you'd offer to share their content across your network if they reciprocate on their own.
4. Take Advantage of Video Marketing
We're visual creatures and for that reason, we prefer video over text on almost any day.
It probably won't surprise you then that video gets 50 times better page ranking than plain text. Yes, you read that correctly, 50 times better.
With that in mind, consider using and promoting video content to give yourself a boost this fall.
These can be uploaded on Youtube, Facebook Live, or really anywhere else, just as long as they end up pointing to your website (which is fortunately relatively easy to do). With some promotional efforts, these videos can become SEO magnets. pulling your audience in and exposing them to the rest of your content.
5. Optimize for Mobile
Is your website mobile friendly? Not sure? If it isn't, it's absolutely going to cost you.
Google cares a great deal now about how mobile friendly your site is. If you lag behind, then that's going to hurt. How you ask? Here's how.
If a user can't surf your page well using their mobile devices then they're going to stick around for less time and be more likely to bounce. Both these statistics are interpreted by Google as meaning that your website is not optimally configured.
Google will now actually punish you directly for not being mobile friendly.
So how do you check if you're mobile friendly? Fortunately, this is the easy part. Just use Google's own "Mobile Friendly Test." Piece of cake.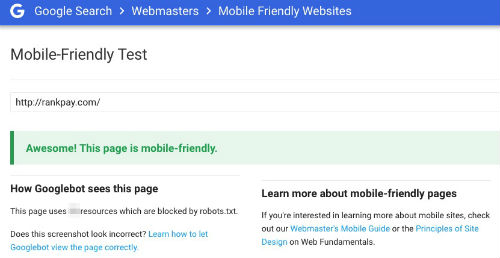 6. Check for Broken or Outdated Links
You should always stay on top of your site with regard to your link profile, but many site owners overlook this one.
When was the last time you checked for broken links? If you've accumulated some over the past few months, you may already be feeling the negative effects. Google dings your rankings for having a poor link profile.
Luckily, it's quite easy to find broken links with the right tools. One straightforward service is broken link checker. They'll let you know if your site still points to working websites.
Of course, finding broken links is only the first step. If you do find any, you'll have to take care of them. How you do this may vary depending on the circumstances, but it shouldn't be too complicated. Usually, just remove the link or update it with a more up-to-date resource.
This will often be a problem for evergreen content, so keep a close eye on the links in those pieces as they often won't age as well as the content itself.
7. Start a Series
Instead of writing individual blog posts about a range of topics, try picking one broad topic and sub-dividing it into a number of titles. You can spread the publication of the individual posts out over a couple of weeks.
The reason this will help your SEO is that when done correctly, people will not just want to read the entry they landed on, but the subsequent entries as well. This will increase your time on page as well as significantly reduce your bounce rate.
Those are two factors that Google gives a fair amount of weight in determining your page's relevance and value.
What's more, when people are interested in a series, they'll be far more likely to return to view the additional content, which will once again boost the amount of attention that your website receives.
8. Start Using Semantically Connected Keywords
If you're not doing so already, the time to get on board with semantically connected keywords is now. Don't wait another day to start using them in your posts.
Semantically connected keywords are words and phrases that Google believes are closely related to the words that a searcher actually includes in their query.
Need help figuring out what some good semantically connected keywords might be for your targeted terms? That's quite easy actually.
Simply type your keyword into the Google search bar and scroll down. Right at the bottom, Google will have provided you with a whole bunch of additional searches. Won and done.

Try to include these in your article, particularly in headings, and you'll likely see a boost in rankings.
9. Pay Attention
And last, but not least – keep paying attention to the news. Google is constantly issuing minor and major changes to their algorithm, and this isn't going to stop anytime soon.
Big or small, you'd be wise to keep an eye on all of these changes. Furthermore, be nimble and incorporate new strategies on a regular basis.
Hopefully with these tweaks – some small, some big – you'll be able to improve your SEO ranking and climb your way up the ranks.
Guest Author
Kerry Creaswood is a passionate writer and blogger. Her topics of interest are SEO, marketing and social media. To find more about Kerry – check out her Twitter.