Preparing for AuthorRank
The RankPay Team
Preparing for AuthorRank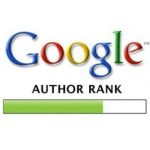 The principal ranking component and success of any website is its' content. Without content you have nothing – no user engagement, no marketing message, no customer education and nothing for the search engines to clearly value your product and/or service relative to search query and competition.
While Google has been paying a lot of attention to onsite content, (just think of Panda), it has only recently communicating information about AuthorRank.  The idea behind AuthorRank is that the reputation and identity of the content author should have a bearing on how authoritative and trustworthy that content is.
An author with a lengthy history of producing content is deemed to be a more trustworthy source of quality than someone with no history at all. An author who has a history of creating content which users actually interact with – sharing, liking, +1'ing, stumbling – is more likely to be more relevant and authoritative than an author with fewer such signals.  In essence, AuthorRank will be assigning a grade to individual content creators, much like PageRank assigned a grade to web pages.  (AuthorRank is not yet live, but is forecasted to rollout in 2012.)
Interaction of AuthorRank and PageRank and the Impact on Link Value
Google recently performed an update of visible PR values, but there is a non-visible PR at work behind the scenes. We will soon have another attribute to help sites discern whether the links coming into a site really should have more value or not – this is where AuthorRank interacts with PR.
For instance, you have a link in from a website which has high PR. Ordinarily, this would be a good thing, but now AuthorRank (AR) is part of the mix.
What if the linking page has a high PR, but a low AR?  That's a consideration flag to take a closer look, because a high PR page created by an author with low AR means the author may be relatively new and has not yet acquired a reputation.
What if we have a low PR page from an author with high AR?  This could just mean that the site is new, or it may mean that the reputation and authority of the author is waning. This means that Google has an inbuilt deterrent to authors (once you have a certain status, you are far less likely to want to lose it because of the impact across your entire body of content).
The ideal situation will be where there is a page with high PR, created by an author with high AR –  that would 'naturally' lead to content which is authoritative, of high quality and likely to encourage user engagement, and therefore a healthy link profile. A link from such a page is obviously going to carry more weight than any other combination of PR and AR.
Authorship & Identity
There are two essential components required to make AR work:
An universal means of identifying authors; and
A digital signature unique to an author.
Google has produced both – Google+ is the identity platform, and the rel=author tag is the digital signature.
Moving forward, sites will need to use both of them to ensure pages are ascribed higher value, meanwhile your link building efforts will need to focus on the desired combination of good PR and AR.
Recommended Actions
Use Google+ and start engaging with other users and their content and circles – use other social platforms to further broaden your customer base that are engaging with your content;
Establish and claim your ownership/authorship of content – this means using rel=author tag;
Summary
AuthorRank is not yet implemented, although patents have been granted, and Google has been consistent in their messaging to bring AR into ranking algorithms in its' ongoing focus on quality.
AR is not a replacement for PageRank, but it is going to work with PR to better value quality links.  AR requires your content authorship is claimed and you establish your author identity.  We suggest taking a good, hard look at your content – is it engaging, is it likely to be shared, are you making it easy to share and interact with?  We're doing the same with our site to help better prepare for AuthorRank and Google's never-ending focus on improving relevancy and freshness of search results for consumers.