Escalating to Google
The Rankpay Team
Every day we receive multiple requests from small businesses that want us to review their site, accept them onto our platform, and help them recover their ranking which has fallen.  These requests have steadily increased with Google's Penguin updates, and the release of Hummingbird.
To accommodate the increased interest, we've added staff to review, we've invested in more tools to evaluate the real challenges that some of the site's have, and we work hard to evaluate each unique situation independently, and then provide our best recommendation to the site owner.
With hundreds of situations now reviewed, we're definitely seeing trends:
a.)  Sites that are continuing not to invest in the fundamental best practices around On-Page, Social, and Original Content.
b.)  Sites that have been slow to adapt to the signals which Google has determined have value; or
c.)  Sites that over-optimized for years, either directly or via a 3rd party
RankPay works with hundreds of businesses that typically fall into one of these three categories as starting points.  Fortunately, the first two trends ("A" and "B") are very straight-forward to remedy with a dedicated, customized plan.  These sites usually find long-term success in ranking prominently once they commit to a program, and have sound On-Page in place, always-on social profile continuity, and consistency with off-page efforts and fresh content.
When we see sites that fall into Trend "C" – we scrutinize all of the variables, and provide a suggested recovery path.  The good news is, we're seeing more and more cases where recovery from any manual penalties can certainly be overcome.  Here's the message that every site owner whom falls into Trend "C" wants to see: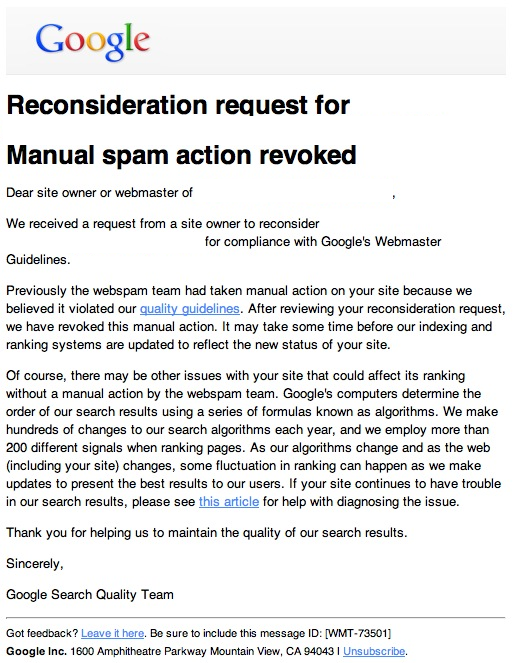 The approach that our Analyst Team takes is to examine a prospect's legacy link profile, and determine the most effective paths to remove the problematic areas through removal, disavow and consistent reconsideration.  Likewise, we provide consultation on how the site's are utilizing their social profiles, and take a deep look at how their site is set-up from an on-page perspective, including technical areas of importance such as site speed, architecture, navigation, usability, meta-descriptions, and many more.  We've seen multiple cases where Google definitively reviews, listens and helps to guide the impacted site on the right path.
Reconsideration requests are absolutely reviewed by real people, and following Google's lead should result in real recovery – here's a quick video from Matt Cutts of Google, highlighting the process:
The quote "change is the only constant in life" certainly applies to the search industry, however we've learned that adapting with Google's change, and applying their direction continues to be effective.
That said, let us know if you have a site that is fluctuating in the midst of the Penguin and Hummingbird changes…. our Analyst Team would be happy to review your site, and provide their recommendation on what next steps to consider: https://www.rankpay.com/support