SEO Service Starting at a Whopping $0? (You Read That Right)
Sam Warren
SEO Service Starting at a Whopping $0? (You Read That Right)
If you're here because of what the title offers, allow me to cut to the chase and save you some time. Our SEO service costs nothing to sign up for, and you can get started in literally a matter of minutes. Use the box at the end of this post to start your SEO campaign. To those of you interested in learning more: read on!
So What's The Deal With SEO?!
If you're like most people, you're probably a little intimidated (and maybe a touch outraged) by the price-tag associated with SEO. It often costs thousands of dollars just to get the ball rolling, and after that you'll keep throwing down big bucks for the continued privilege of having people see your business at the head of the pack in search results.
Things didn't come to be this way without reason mind you. SEO experts aren't highwaymen getting their jollies from robbing you blind. The truth is SEO is as much an art as it is a science.
It's not some mathematical equation that SEO companies have cracked.
As such, no SEO expert can guarantee they'll be able to deliver good on their promises.
By the nature of SEO then, a traditional pay-model requires customers to spend money without any assurances or guarantees. Needless to say this isn't particularly consumer-friendly.
No Guarantees?
We here at RankPay were determined to fix this problem. So we set to work in 2007 and designed an SEO firm around a simple slogan: "If you don't rank, you don't pay". It's known as pay for performance SEO (or performance-based SEO). As they say, money talks and bullshit walks. We put our money where our mouths are, and it turns out people really appreciate that!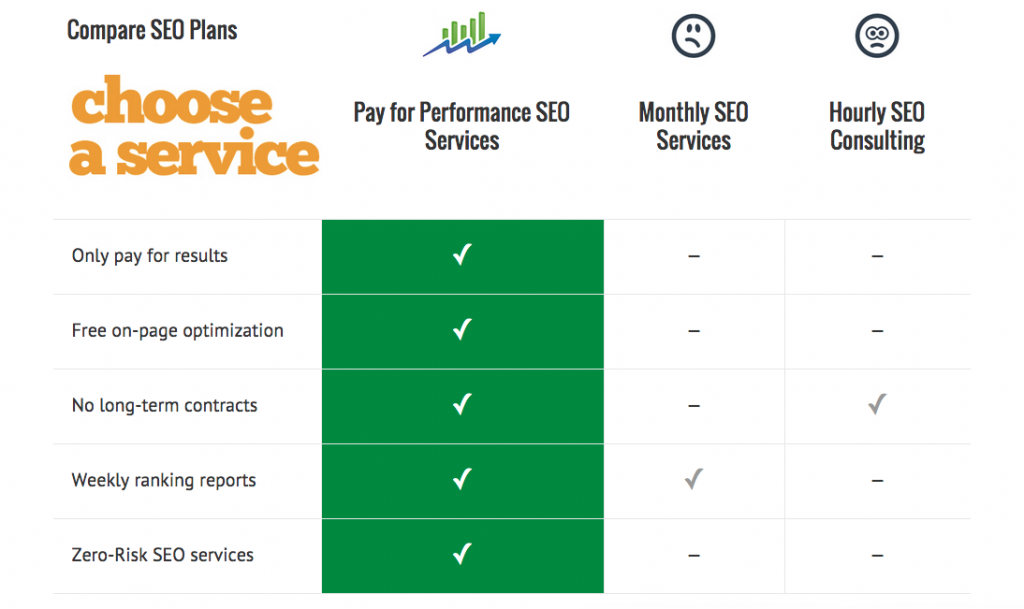 With our unique pay model, we start working for you before you pay even a dime. Further, if you don't get the results you're looking for, you won't ever pay a dime. You'll only be charged once you start really getting noticed by Google, and that's what we all want at the end of the day right?
Word is getting around. If you could start your company's SEO campaign today without investing a single dollar, would you?