About RankPay
Established in 2007 as a performance-SEO company, we've helped thousands of small and midsized business owners earn higher search engine rankings. We now provide a host of digital marketing services, focusing on growing the online portion of our clients' businesses.
Company Overview
We subscribe to a one-lens philosophy. All of the services we provide are aligned around one goal: greater digital exposure.
Through performance-based SEO, PPC management, content creation and optimization, and technical website work, we help our clients achieve greater success online. Better organic visibility, Google map prominence, and sponsored search placement deliver more and better traffic. With improved website experiences to offer leads, we'll help you convert more into leads and ultimately sales as well.
Why Us?
Experience
With over 12 years in business, we know what it takes to deliver meaningful results, and how to adapt to the dynamic digital landscape.
Versatility
Over the years we've built dedicated teams of specialists, who are focused in a few key areas: search engine optimization, PPC ad campaigns, website design & maintenance, and content creation & optimization.
Technology
From the moment we pioneered a front-end platform to help us provide performance-based SEO, we've been heavily invested in innovating and developing technology solutions to better serve our clients and improve digital brand presence.
Affordability
Rather than force clients into prohibitive retainers that could make positive ROI unobtainable, we custom-tailor solutions for our clients with an aim to help you get the most bang for your buck.
Our Mission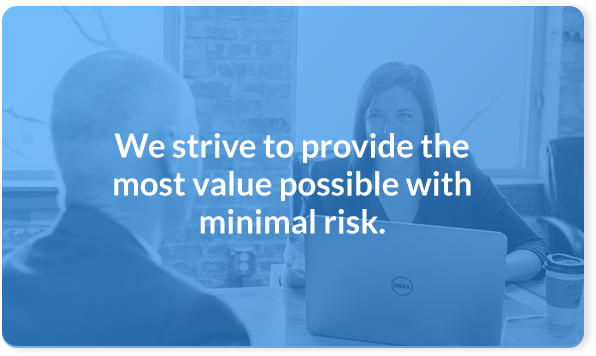 Our mission at RankPay is to innovate affordable digital marketing solutions for small, local, and midsize business owners.
We subscribe to a performance-based model whenever possible, in which we're incentivized to earn our keep and become close partners with our clients. By leveraging technology, we consistently strive to develop efficient, adaptive, and scalable solutions.
We also aim to create a modern and collaborative work culture. We're a remote-friendly workforce. While our home-base is in San Diego, we have employees all across the states, including Massachusetts, Texas and Illinois.
Our History
RankPay was established in 2007.
We started out as a disruptive technology-based business, aimed at helping small and local business owners tap into the ocean of digital leads.
We knew there was an opportunity to create a solution for small business owners, without requiring a traditional and expensive monthly retainer. That knowledge inspired us to pioneer performance-based SEO and our unique guarantee, "if you don't rank, you don't pay!"
Today, we have teams of specialists, services, and tools to help clients of all shapes and sizes, and we serve over 2,000 clients each and every month.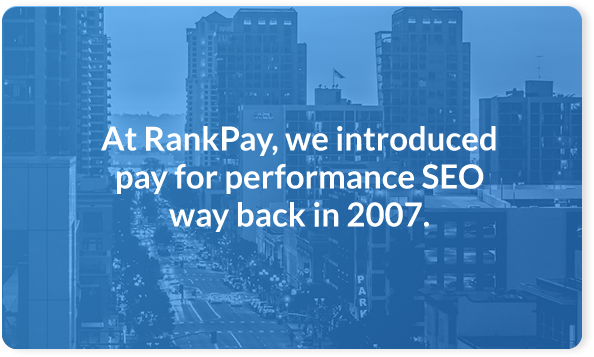 Learn More About Our Story
10+ years
years committed to providing superior SEO services
2000+
business owners trust us each month to earn higher search rankings
4000+
client keywords ranked on the first page of Google
Company Founded
RankPay was incorporated in 2007, as the first performance-based SEO service.
500th Client Signs up for Service
RankPay begins serving its 500th client since its official launch 3 years earlier.
Established a Content Team
Due to the rise in importance of content generation and optimization, we built a team of US-based professional writers who now produce over 5,000 pieces of unique content across blogs and social platforms, each and every month.
Developed our White Label Reseller Platform
To meet the growing needs of select resellers, we developed a platform and dashboard for reseller partners to more easily resell our digital marketing services to their own clientele, without exposure to RankPay as a brand.