HourlyNerd: How 6 Harvard Grads Turned $5k into Uber for MBAs
Guest Author
HourlyNerd: How 6 Harvard Grads Turned $5k into Uber for MBAs
Be your own customer.
Martha Stewart and Tim Ferris—two wildly successful entrepreneurs—follow this strategy. They won't invest in a product or service they wouldn't want themselves.
This kind of thinking can take you to exciting places. Case in point, Rob Biederman and the HourlyNerd. Rob Biederman and his Harvard Business School colleagues started a whole new category of consulting agency—HourlyNerd, following this strategy.
The Boston based online consulting service company harnesses talent from highly successful MBA students and offers it to rising companies at affordable rates. As I write this, 6,000 businesses have access to 12,000 MBAs through one website launched a few short years ago. The company has been up and running for about 30 months.
Rob has a great story, and I'm going to share it to show you how you can take a great idea that's already a part of your life, and turn it into a business.
Our story begins….
Investment Banking Days and the Kernel of an Idea
Rob graduated from Princeton University in 2008. He went to work right away for Goldman Sachs. Two years later, he moved to Bain Capital. He really enjoyed weekly meetings with teams from new companies. The projects were interesting and the money was great.
Sometimes on the weekends he'd help out his dad, a small business owner. It wasn't a big deal. Rob liked helping out. Life was good, but he was ready for a new challenge. He wasn't sure what was missing, so he did what he felt was the next logical thing—Harvard Business School.
Ivy Covered Halls and the Launching of a Brand
Having attended Princeton as an undergrad, Rob had a good idea of the kind of competition he'd find at Harvard.
Sort of.
"I'll never forget, the first day of class: they went around the room and asked us each to share a fun fact about ourselves. I said something stupid like 'while I was at Bain Capital, I spent the month working at Outback Steakhouse and ate from their test kitchen every day.' Don't get me wrong. Bain is first-rate. So is Outback, and I loved eating in their Test Kitchen.
"But other people shared things like, 'I almost died in Afghanistan' or 'I wrote Elizabeth Warren's acceptance speech for some really important political milestone,' or 'I sold a company for $140 million dollars when I was 24.' Incidentally, the 24-year-old business prodigy became an investor in HourlyNerd.
"It put things in perspective for me. And so, from the start, I knew that the MBA students coming into the program were already exceptional."
How HourlyNerd Started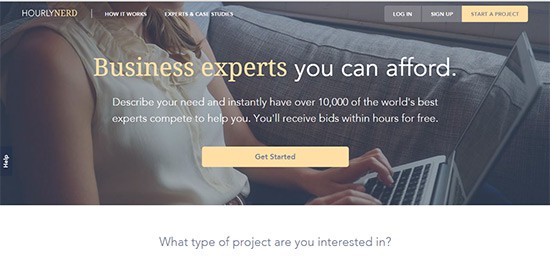 Teams of six students were asked to take $5000 and start a company from scratch. No other instructions were given. Rob's team settled on an idea quickly. The idea, as you may have guessed, came from helping Rob's dad, a small business owner, while Rob was still at Bain.
"I was helping him do things for his business that truthfully were not very difficult with my business background. A bunch of us thought there might be a business here. If we could do this for a business graduate of 1972, what could we do for someone who didn't even have an MBA?"
5 Takeaways From HourlyNerd That Startups Should Apply To Their Own Business Model
1. Harness technology to connect and empower people.
It wasn't going to be typical employment agency. Nerds are already experts. They know how to get things done. Rob's team had little vetting to do. The business schools and the MBA programs did most of the work. And, no one else was offering vetted, perfect-fit experts to small businesses and startups. No one.
The Nerds have proven career success and are training to become even better. Apart from school, Nerds may be transitioning in their personal lives—i.e. Moms leaving the workforce. Some have graduated from business school and are in full-time careers. But those careers aren't providing the kind of projects and challenges they need to continue their growth trajectory. So these MBAs are doing projects on the side to keep their head in the game and earn extra dough on the side.
2. Find your unique value proposition.
Small companies don't have to pay through the nose for good results. They also don't have to go on lengthy talent searches where oftentimes results are random. Rob and his colleagues sort through the talent to carefully match the right MBA with each company and project for the right fit.
Further, these aren't just any business schools. The Nerds have direct ties into Harvard Business School. They're also currently in the top 40 US-based business schools, and are slowly expanding into other English-speaking schools overseas.
Companies and programs that have hired Nerds for projects include Outward Bound and American Apparel.
3. Find gaps in the marketplace that your product or service can fill.
Small to midsize businesses now have the opportunity to employ people with the ability and training to drive results. This level of expertise had formerly only been available to big companies with deep pockets.
4. Create predictable revenue streams that are scalable.
The Nerds offers talent on a project basis. Companies can commit to whatever they can afford. They can also come back and work with other Nerds for different projects. Nerds are matched to projects on one major criterion: the right skill needed for that particular job. The process is repeatable for as many times as the client wants.
5. Make it easy for your customer to derive value from your product.
The person driving is the customer. The customer defines the terms, and Rob's team works to accommodate what each company needs.
Looking Back On Launching HourlyNerd
Rob takes this business seriously. No doubt, since the idea was his, he sees a little bit of his dad in each of the hiring companies. I wanted to dig deeper into the motivation of behind HourlyNerd. Two questions sprang to mind that I think every startup should ask themselves.
Why are you doing what you're doing? 
"Someone asked Bruce Springsteen how he got up to play for 4 hours after he just did it the night before. And he answered: There may be someone in the audience who has never seen me play.
"For me, I think about someone who needs to put food on the table or a small company that can't get its needs met another way.
"I work hard to find the right match, because that can really affect somebody's life. Or a small business needs the money to make a debt payment—they really, really need the extra money they would have spent on more expensive resources.
"Talking to those people on the phone has been really motivating for me.
"The quality of your resume and the impressiveness of your background are only as good as how suited you are to the project at hand. The best fit is NOT the person with the best resume, or who has caught the most brass rings, but the one who has the skill set required to solve the problem."
Knowing what you know now, what would you have done differently?
"I tend to internalize the successes and the failures of it. It's deeply personal. We have 48 employees now, but it was my idea. And, the sad fact of an early stage company is the number of amazing days pales in comparison to the number of really difficult days.
"On a difficult day, it's easy to fall into the trap of blaming yourself. I wish I'd done less of that over the last 30 months."
The TL;DR One-Liner List Of Business Advice for Startups
Rob and his colleagues are finding balance after the intensity of Harvard Business School and a wildly successful startup. Here is what they learned:
#1 Savvy business minds don't waste their time on what "other people" think they should do. They stay with what they're familiar with.
#2 Find an idea that you already understand.
#3 Don't invest in something you wouldn't want yourself.
#4 Think through each step of your business model in detail.
#5 When thinking about your ideal customer, listen to your instincts.
#6 Take a good look at yourself and what you'd want.
#7 Don't internalize the ups and downs.
#8 Finding the balance will help you over the long haul and it will keep life sweet.
Are you a founder of a startup? What advice would you give to your younger self?
Guest Author
Rita Mailheau– Bookworm by day, keyboard-wielding copywriter by night. I write fancy stuff on the internet. History geek and headline hoyden on my days off. And my baseball team is better than yours — Go Padres!