BEWARE: The High Cost of Cheap SEO Services
Sam Warren
BEWARE: The High Cost of Cheap SEO Services
If you believe effective cheap SEO services exist you also must believe in Santa Claus.
Or the Easter Bunny?
If you believe that, maybe I should tell you about the SEO campaign I successfully executed astride a chain-smoking unicorn, as I galloped through the woods in a psilocybin fueled binge of automated spammy link building.
What I'm saying is you're delusional.
Yep, you might get some links. And yes, search engine optimization can be affordable. But "cheap" is a feature best left for last. Chasing the cheap SEO dragon can lead to your site getting wiped off the (Google) map.
And I do not mean figuratively.
If you prefer to roll the dice on a few SEO packages offering "thousands of backlinks for only $5" be my guest. Once that Webmaster notification hits your inbox you won't be feeling so good about saving a few bucks.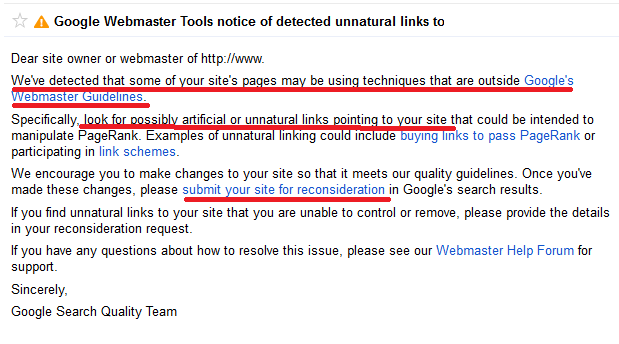 "Fack…"

"Where Do I Find Cheap SEO Services?"
Here's a cold hard lesson in reality: SEO is an investment that takes time.
Spammy link building will never stand a chance of building sustainable rankings. Think about it: Google is worth BILLIONS of dollars and the entire success of their company rests on their ability to deliver useful, relevant search results to a user's query.
Do you really think some schmuck hawking services for $5 knows how to beat Google at their own game?
Backlinks from Fiverr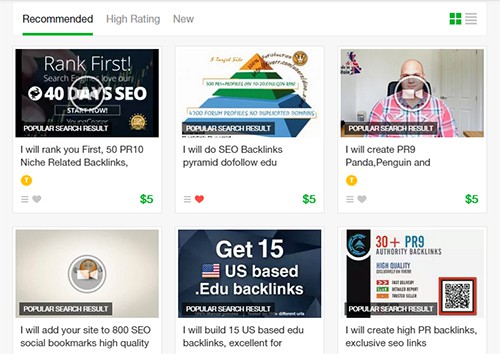 There are a ton of sites that promote "cheap SEO services". Fiverr is pretty blatant about promoting "gigs" that will sell you thousands of backlinks. Now, don't get me wrong — I actually use Fiverr. You really can't beat $5 for some graphic design help or hiring a virtual assistant for an hour. But using Fiverr as a source to get links is about as reckless as it gets.
In fact, it's fairly common to see a warning telling you not to send links to your "money" site from the same freelancers providing the gigs!
Here is an SEO gig on Fiverr warning you not to point the links to your site: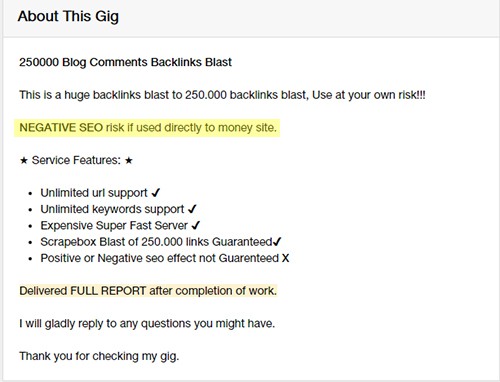 So, if the price is too good to be true and the warnings are right there for you to see, do you really think "cheap" is the best choice for SEO services?
SEO services in India
There are plenty of people from India who are damn near Gods in the SEO arena.
Neil Patel is recognized as a marketer at the top of his game. He's founded multiple companies and has an insanely informative blog that I'd recommend to anyone.
Dharmesh Shah, co-founder of HubSpot and OnStartUps.com, is another India-born marketer who has contributed a ton of knowledge to the digital marketing space.
That being said, the stereotypes around SEO services in India exist for a reason. If you have a website, I'm sure you've been bombarded with emails like this one: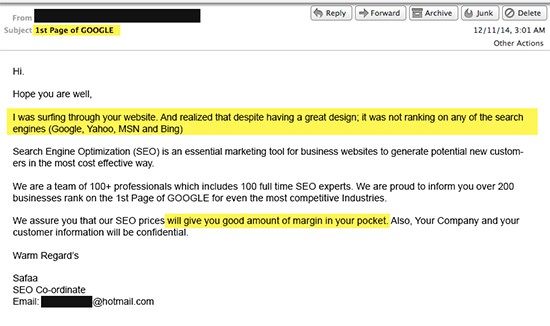 They haven't listed their last name or a business name. The only contact information they have listed is a throwaway email account. Is this a company that can be trusted?
A lot of companies engage in poor link building tactics and regularly spam blogs, websites and forums to get links.
There are three reasons you don't want to build links this way:
Those links can potentially get your site penalized
The method of acquiring those links reflects poorly on your company
The content is riddled with bad grammar, making you look unprofessional
I don't know about you, but the last thing I want is a bunch of poorly written content associated with my brand.
Private Blog Networks
There is still a lot of talk about how private blog networks still work.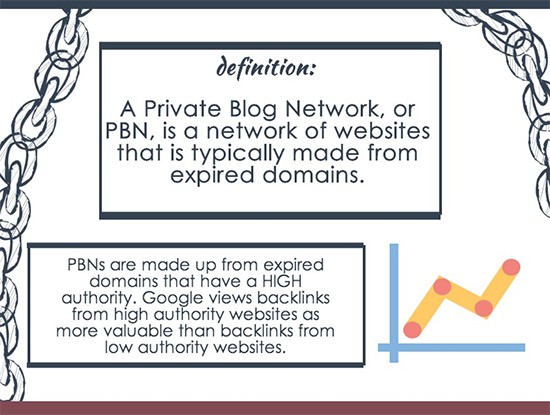 (source)
Private Blog Networks — or PBNs — work something like this:
But the reality is that even when PBNs work, they don't work for long. More often than not your traffic will end up looking like this.

PBNs may (sometimes) work as a "churn and burn" affiliate marketing hack, but the risk to reward ratio is lopsided. Google has gotten very good at discovering blog networks and link schemes. It only stands to reason that their algorithm will get better at sniffing out manipulative linking practices in the future.
If you are in business for the long haul you need to be focused on long-term goals and growth. Sneaky black hat tactics won't cut it.
Spammy link building tools
Everyone wants an 'easy button' for SEO. The reality is SEO takes a lot of hard work. Beyond the technical stuff, simply creating quality content takes a huge chunk of time.
You may have heard there are tools to help you shortcut the process. These tools scrape existing content and use "spin syntax" to try to rewrite articles into unique posts.
The technique is known as article spinning.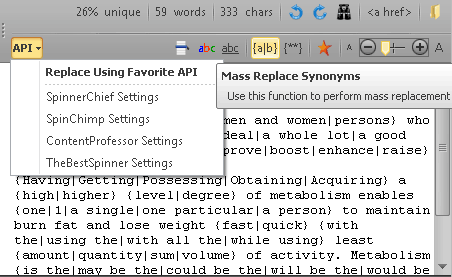 The basic concept is taking an article and replacing synonyms until the article is somewhat unique. Shady SEOs use software like this to scale content marketing and fill their blog network with content that they can then use to send links back to their clients' websites. Most of these articles are so horribly written that they become barely readable and can easily be recognized by Google as thin content.
And yes, "thin" content can get you a penalty from Google.
Forget About "Cheap" SEO Services
You don't have to take my word for it. There are plenty of people who have seen the horrors of bad SEO.
Here's what to keep in mind:
Think of SEO as a long-term strategy.
Any short wins through spammy tactics are short lived.
Fixing SEO mistakes costs more time and money than doing it right the first time.