The Last Penguin (Update) on Earth
Sam Warren
The Last Penguin (Update) on Earth
In case you didn't notice, there was some pretty big news at the end of September. In fact, it was every search marketer's favorite time of year, a Google algorithm update!
Fortunately for us here at RankPay, this has been a fantastic and productive update.
Ultimately, we've experienced more growth and benefit from this update than from any prior Google update. More on that later.
For starters, let's just take a look at what the update was. Then we can examine how it will affect the web, online businesses, our own SEO company, and others like it.
Penguin 4.0 Was Its Name
So we're all pretty familiar with Penguin updates at this point.
If by some fluke you're not, it's ok. Here's a pretty comprehensive background courtesy Search Engine Land.
Basically, each time Google releases a Penguin update, spammy sites get wrecked. Furthermore, previously penalized sites that have done the work to turn their link profile around (anyone need a Google Disavow Service?) often get back into the clubhouse.
Here's an example of what that might look like in terms of traffic.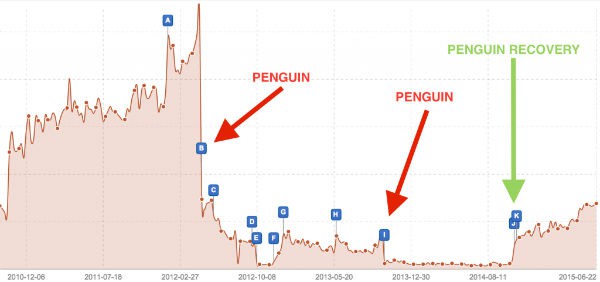 The catch is that it's always taken time for the Penguin signal to refresh. Until now…
With this change, Penguin's data is refreshed in real time, so changes will be visible much faster, typically taking effect shortly after we recrawl and reindex a page. – Google
Pretty cool if you ask me! Out with the old, in with new. I can think of a number of reasons why a real-time Penguin signal will continue to be beneficial over having a slow turn around time.
Also, and just as interestingly, Penguin is now going to be a bit more detailed.
Penguin is now more granular. Penguin now devalues spam by adjusting ranking based on spam signals, rather than affecting ranking of the whole site. – Google
Rather than devaluing the rank of an entire webpage, Google may instead devalue particular pages or swaths of a site based off spammy signals pointing to them.
What's The Word on the Street?
Pretty damn good!
Making both positive and negative adjustments more real-time is yet another step in the right direction.
"Ideally the latest Penguin update will benefit white hat SEO experts like myself and will help us take our SEO to the next level. Same goes with end users who will get better results to answer their search intent properly. Conversely, black hat techniques (especially PBNs) will slowly become obsolete and will eventually stop working which is the ultimate goal." – Nikolay Stoyanov
After all, it only makes sense. With more immediate results, we're able to get a quicker and more accurate idea of what exactly generates positive improvement (and what hurts rankings as well).
This just reiterates what we've been shouting from the mountaintops for years: those site owners that invest even a modest amount of time in keeping their content fresh and relevant, will continue to see that dedication pay dividends.
Of course, the update itself lead to extremely high volatility in the SERPs, but that's usually the way it goes when Google updates roll out.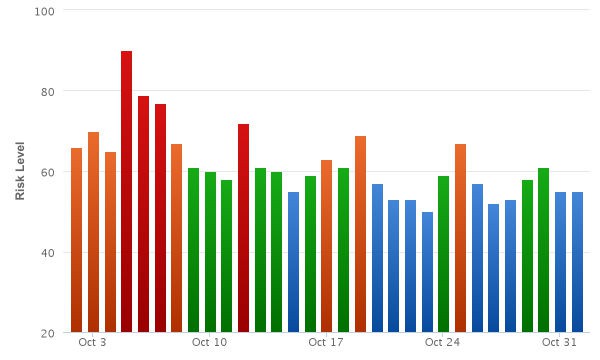 There are generally a few days of mild adjustment, then we see quite dramatic fluctuations in the search results and rankings (early October in this case). Usually after a week or two, things will have settled down and you can expect the results you're tracking to "stand" more or less.
How Has This Penguin Update Impacted RankPay?
Fortunately, all good news! Penguin 4.0 simply reaffirms what we've been saying all along.
Build and earn strong links
Produce high-quality, relevant content
Utilize social channels
Maintain strong on-page SEO optimization
Anchor-text diversification matters
We've seen nothing but positive impacts from this most recent update. Our SEO service customers have benefited greatly!
In fact, if we look at the numbers, this has been the single most beneficial algorithm update for our customer profile since we opened our doors in 2007. Cheers!
Furthermore, our own rankings have seen noticeable improvements and organic traffic is on the rise as a result.
Overall, we couldn't be happier with Penguin 4.0 and the direction that Google continues to take with regard to its algorithm.
What Should You Do?
Well, there are a couple of things to keep in mind in light of this update. But that being said, it's all sort of old news.
Be aware that there will not be any more penguin "updates" given that it's now a real-time feature of the Google algorithm. As stated earlier, you won't need to wait around for the Google to do a Penguin update in order for all of your disavows to have an effect on rankings.
You can also keep your eye on further information about the pages vs site-wide penalization. It was actually a bit unclear about what exactly Google meant by being more granular.
What we stated above is our best guess up to this point, but it's not entirely confirmed. Google's official response to further questions on what they meant by "granularity" went like this:
"It means it affects finer granularity than sites. It does not mean it only affects pages."
So the jury is out, but it's probably safe to assume we're on the right track with what we've postulated.
That's All She Wrote
That pretty much wraps it up folks. There's not a whole lot more to Penguin 4.0 at this time.
It's been a little over a month since the update started rolling out and the dust has started to settle. Here at RankPay, we're proud and happy to have come out on top.
As always, Google will continue to change things up and make active efforts to improve the search experience.
Keep your eyes peeled for more updates soon! Just remember, they won't be Penguin related!