Earn Local Leads with Google Maps Optimization
Sam Warren
Earn Local Leads with Google Maps Optimization
You likely have a smartphone, it's safe to assume you're at least somewhat familiar with Google Maps.
For starters, it's how the vast majority of us find directions from point A to point B. But it's also useful for finding businesses in a pinch.
How many times have you searched "coffee" or "gas station" and clicked the top result in the Google Map Pack? There's no better way to grab a quick cup if you're running late!.
So, we can probably agree that using Google every day has certainly become the norm. But did you know you can use google maps to gain leads for your business, too?
For most small business owners, Google Maps should play an essential part in generating local leads and foot traffic.
So today, we're going to focus on a few easy-to-implement tips and tricks that can help you digitally leverage your local business.
Even if you already have a profile, it might be a good idea to glance through the following section to make sure it's well optimized. But if you want to skip ahead, no problem!
How to Optimize Your Google My Business Listing
When you perform a local search, Google Maps actually leverages Google My Business listings to provide the most relevant and useful results.
You've probably seen this happen countless times, even if you don't realize it. If you're looking up business hours for your favorite restaurant or store, the map will typically be displayed prominently, while business results are listed below or embedded within the results.
Google My Business is thus primarily a visual-based platform that will allow you to provide detailed information about your business to web searchers.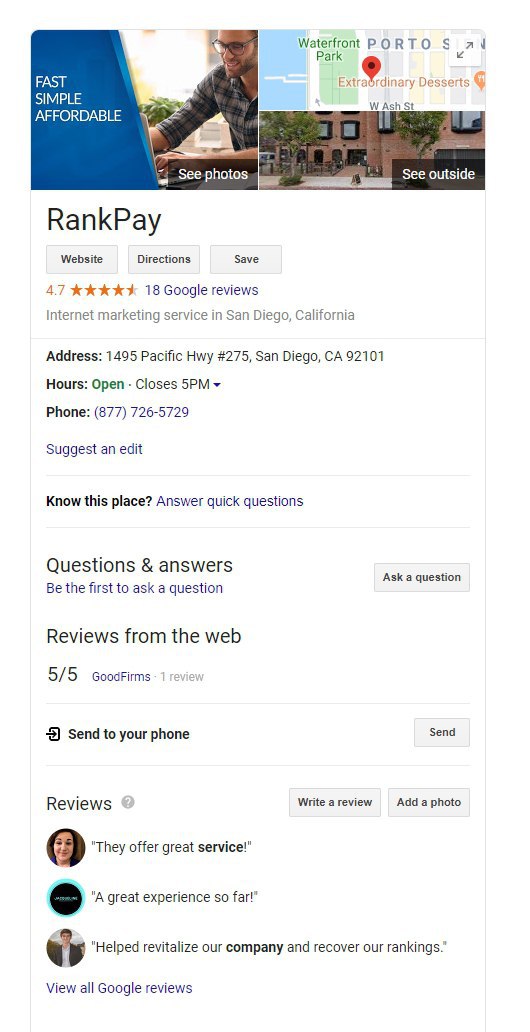 If you don't have a Google My Business profile yet, better late than never. Click here to read a guide that Google provided themselves. It's quick and painless to setup!
So it makes sense you'd want to take advantage of this right? After all, you probably want potential leads to have all the answers to the most common questions without actually needing to call in!
So without further ado, let's cover some basics that will help ensure you get the most value possible out of your Google My Business listing.
Use your actual business name
If you use "Smith & Jones" on your website and letterhead, don't be tempted to call yourself "Smith & Jones Plumbers" on your Google My Business profile. Consistency is key!
If you already have a keyword included in your company name, that's great. But don't adjust your brand name at all for the GMB listing.
Get verified
The verification process can take up to a few weeks; however, getting your business verified on Google ensures future leads that your information is correct and trustworthy.
Verifying your Google My Business can also encourage potential leads or previous customers to reach out, as they know you're the official account holder.
Leverage images and use metadata
Who you are, where you are, and what you do are essential notes to include in your business description listing.  And of course, you want to include visuals for your customers – so photos are key!
Start curating your brand image by uploading pictures and videos. Be sure to include intriguing shots that accurately represent your business's unique value and identity.
By optimizing your Google My Business profile with images, you can make it easy for leads to see what you're all about.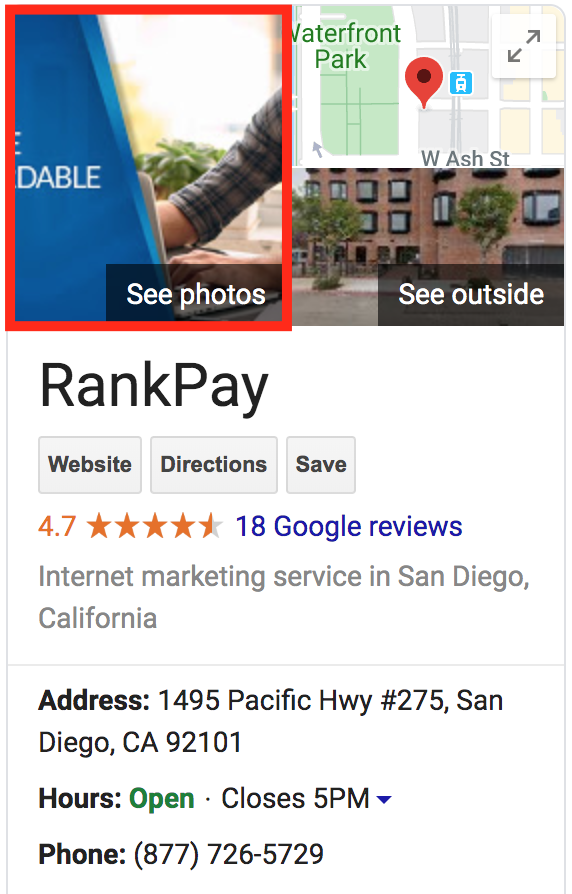 You can take it one step further by optimizing your images with metadata. Add keywords, locations, or relevant services you offer through a third-party app to optimize your views!
Garner local reviews
Reviews are as essential as ever!
Work hard toward quality consumer experience and encourage reviews. Google My Business will automatically show up to three reviews in your profile when users search for your business.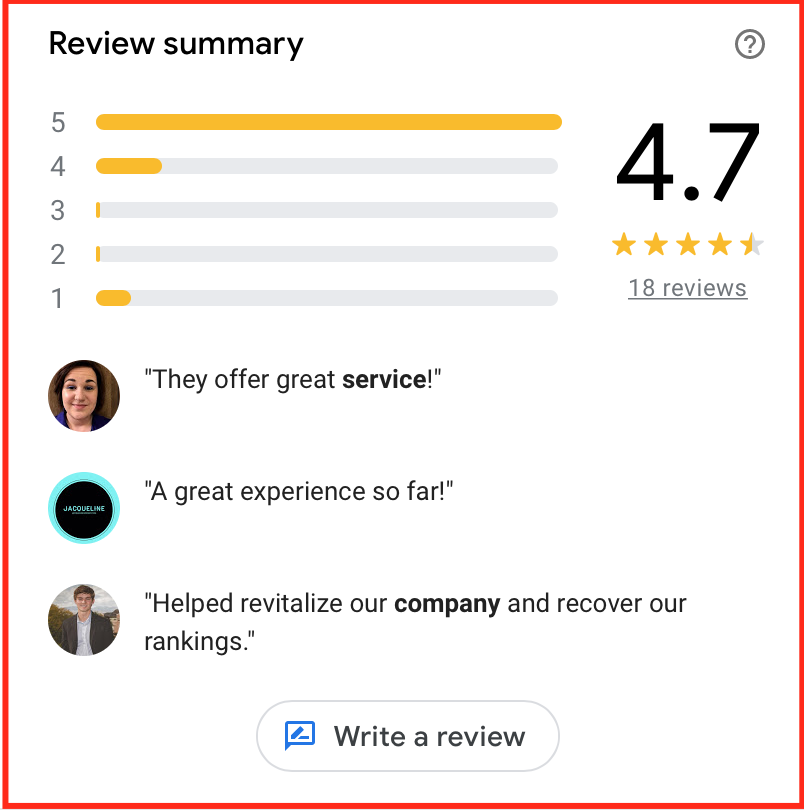 So make sure your customer service is top-notch, and ask your clients for reviews when it's appropriate and natural to do so.
Include professional affiliations
If you are a member of a local association, say so. Including all affiliations and accreditations will help both Google and prospects see your brand as trustworthy and authoritative.
Register your business in relevant directories
Google pulls information from a wide range of directories and customer review sites such as Angie's List, Yelp, Foursquare, and UrbanSpoon.
Make sure you register your business wherever possible, and keep the name, website, and location consistent!
Optimizing For Google Maps
Over the past few years, Google Maps has fast become one of the most efficient app services that Google has ever launched.
What's more, is that it offers business owners like you an additional way to get in front of qualified local leads.
The most prominent feature of Google Maps is the local map pack. You've definitely seen this before. It's right at the top of the page when you see localized search results.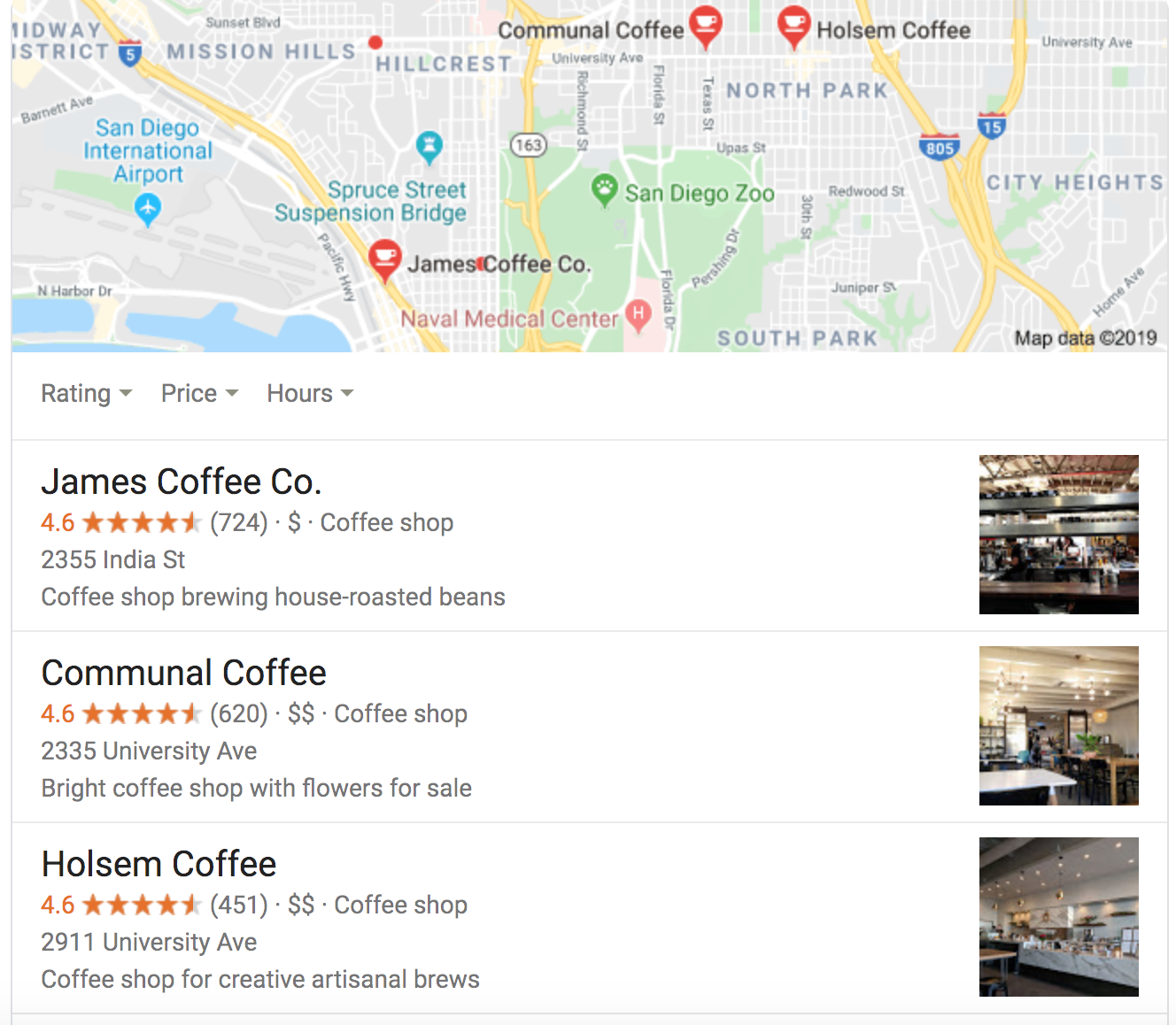 Pretty appealing right? If you're looking to earn more local leads, stands to reason you would want your business listed in that 3-pack.
Keep in mind though, Google Maps is a recommendation engine.
That means that what you want Google to show, may or may not be what their algorithm ultimately decides to show searchers.
You can do your best to try and influence what is displayed, but at the end of the day, there aren't going to be any guarantees. There's no magic button to push!
All of that being said, if you take some time to complete the following steps, you'll put your business in prime position to earn a placement in the Google Map Pack.
Complete your Google My Business address
It seems straightforward, but be sure to Include your USPS approved address and your entire nine-digit zip code in your Google My Business listing.
Also, check for any formatting errors while doing so! While this may be annoying, it can profoundly affect your Google Map ranking. Details are key!
Be consistent with NAP
NAP stands for Name, Address, Phone.
Like we said before, details are important, and format matters.
So, make sure you're consistent on your website, in emails, social media, review sites, and forums – this helps build trust and authority with Google.
Select Service Area
While it may be tempting to claim the entire country as your service area, be realistic.
It is best to focus on your exact local area/physical location instead of trying to get displayed in Boise, Idaho, when you are in Coral Gables, Florida.
Ensure you select the correct business category
Casting your net as widely as possible may be tempting, but this is usually self-defeating; it is best to be precise and concise.
Selecting the correct business category helps google efficiently display your business results to future leads and the correct audience.
Use keywords in your business name
Where and if applicable, use keywords in your business name.
Examples: San Diego Transportation Co, Richmond Dentistry, Portland Tax Services, etc..
However, don't change your business name to include keywords if it doesn't already.
Summary
Optimizing your digital marketing strategy with Google Maps and Google My Business will most likely take a bit of patience, and of course – effort.
And improving your visibility on Google Maps definitely won't happen overnight. However, if you follow the steps as they're laid out above, you should be done in no time!
Focus on keeping all information current and up to date. Include interesting customer photos on your Google My Business profile and respond to feedback online.
Above all, make sure your highest priority is offering quality service. That's the easy part!
You'll build your brand one day at a time by directing your energy to excellent customer service and your presence online.