Get 100k Subs with These YouTube Video SEO Tips
Christopher Jan Benitez
Get 100k Subs with These YouTube Video SEO Tips
When it comes to growing an online business, the need for quality traffic is universal. It doesn't matter if you run a blog or an online store. Either way, you're going to need to generate some traffic!
SEO is one of the best ways to do this, as you're probably already aware. Organic presence is the gift that keeps giving!
Search engines are already well-established. In fact, Google generates over 64,000 searches per second! This huge number undoubtedly proves that Google is still the one to beat.
But have you ever wondered: "What's the biggest search engine after Google?" 
If you guessed Bing, Yahoo!, or Ask.com, you guessed wrong. The answer is actually YouTube — the most popular video-sharing website in the world.
YouTube by the Numbers
Everyone knows that YouTube was critical in giving online video content the popularity that it now enjoys. Official statistics show that it now has over 1 billion users. What's more, these users watch over 1 billion hours' of video a day!
In terms of search volume, YouTube is actually bigger than Bing, Yahoo!, Ask, and AOL combined.
If you're not marketing on YouTube, you're missing out!
Click To Tweet
It also has some pretty incredible engagement stats:
40 minute average viewing sessions on mobile
Nearly 5 billion videos watched per day
30 million visitors per day
Impressive indeed. It should be pretty clear why marketers have been flocking to YouTube over the past few years.
Conquering the YouTube Search Landscape
Just like on Google, your video marketing success on YouTube will largely depend upon your ability to "rank" in the YouTube search results.
Put simply, higher rankings mean more views. Viewers can be turned into subscribers and potential customers.
Video quality is key for getting subscribers, but you also need YouTube SEO.
Here are the top SEO strategies for getting hundreds of thousands of subscribers on YouTube:
1. Use "Video Keywords"
Google has a neat little secret. Its algorithm pulls YouTube search terms that have "video keywords" into the top results.
Add keywords like "how to", "tutorial", and "review" to the search bar. If some of the top results are YouTube videos, you've found a video keyword!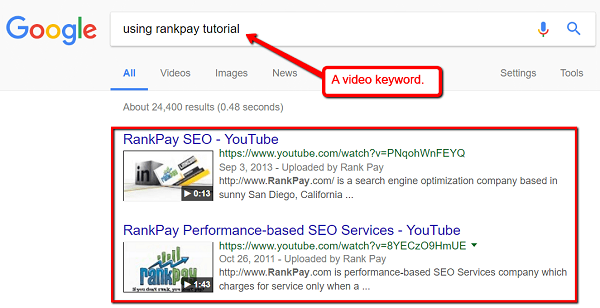 It may take awhile to find a video keyword that's relevant to you. Keyword research (no matter the platform) can be cumbersome. But once you've done a bit of the legwork, use Google Keyword Planner to measure its search volume. As a general rule of thumb, look for keywords that have a few hundred searches each month.
Video keywords can also put your video in organic search results. And not just on YouTube! Be sure to insert them where it counts, like in the video title, description, and tags. This brings us to our next point…
2. Spice Up Your Video Tags
On YouTube, tags help users discover content. If you're struggling to come up with a good list of tags, don't worry.
You can use a tool like Rapidtags for a list of relevant video tags. To use Rapidtags, fill in the "Video title" field and hit enter: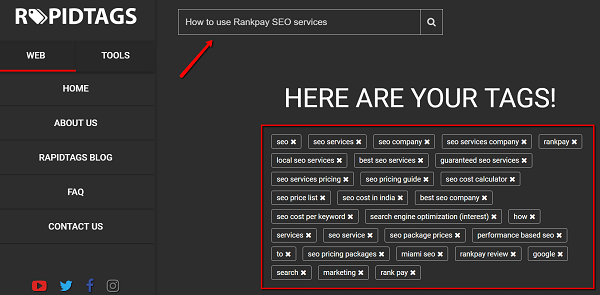 Easy enough, right? While using Rapidtags is a great start, it won't always produce the best results. So you may need to branch out and try some other tools.
One other strategy worthy trying it to check out your competitors' keywords with TubeBuddy. It's a YouTube-certified plugin that provides all kinds of in-depth insights without the risk of account suspension.
Once active, TubeBuddy will display all of the tags assigned to any video.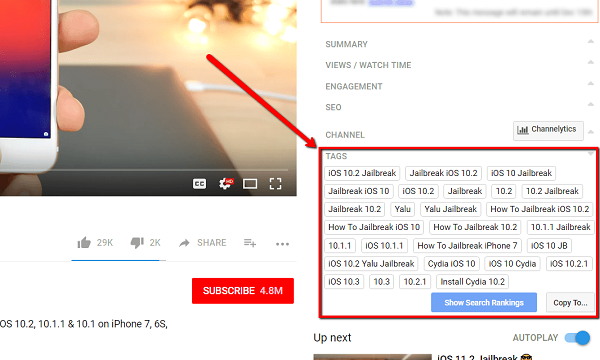 3. Optimize Your Video
Now that you have keywords and tags, it's time to integrate them into your video:
Title – It's common knowledge to put keywords at the beginning of your title. However, make sure you avoid keyword-stuffing!
Description – Include keywords within the first 25 words of your video description. A good total length is at least 250 words — with main keywords appearing a minimum of 3 to 4 times.
Filename – Unlike the title, you don't have to worry about filename readability. Feel free to include long-tail keywords in full.
Luckily, if you only make the adjustments listed above, you'll already have a leg up on the competition. But we'd still recommend you optimize the length of your video as well.
Users are far more likely to find your YouTube videos quicker if you optimize titles and video length.
Click To Tweet
So, let's make sure your video meets YouTube's standards of quality. As with text-based content and Google SEO, longer content will often rank better.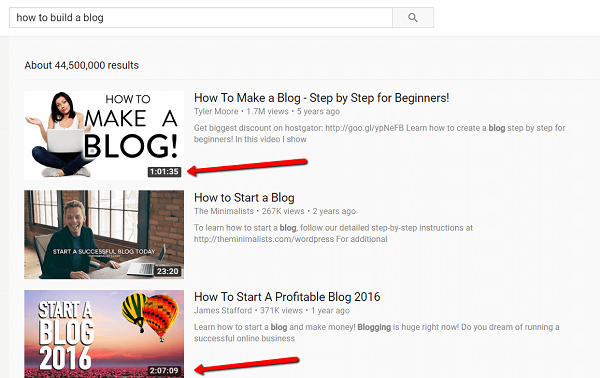 But be reasonable and don't go overboard. You don't always have to churn out hour-long videos to get noticed. Sometimes a 5 minute video will do better if it's packed with relevant and useful information.
4. Start Getting Views
The truth is, your video needs a lot of views to be seen as relevant and rank-worthy on YouTube. Success begets success. It's no surprise then that incumbent YouTube stars have snowballed to such tremendous heights.
So at the beginning, things may be slow, and it can be a bit harder to accumulate those precious views and exposure. We'd recommend starting with some standard promotional and marketing tactics.
Sharing your video on an existing blog or your social media accounts is a start. You can also employ any number of marketing strategies to get your video in front of a target audience.
Looking for some ideas? Try sharing your video on a related question on Quora. Try embedding it in your weekly newsletter. Try reaching out to business partners to see if they'd be willing to promote it.
Finally, don't forget to convert viewers into subscribers! It's best practice to find a creative way to request that viewers subscribe to your channel at the end of each video you publish. You can also remind them to turn on video notifications.
This is key to building long-term engagement!
Video SEO Is What You Make It
When it comes to traffic generation, YouTube can be nothing short of impressive!
But what does this mean to brands and marketers? Does it really deserve a spot in your content marketing plan?
For most, the answer is a resounding yes. Just be ready to spend some time and energy on YouTube video SEO. After all, there's a whole lot of content being produced and promoted every single day. It can thus be pretty damn hard to get noticed.
Try to be flexible. Explore other content channels that transcend text-based articles.
If you want to cut through the noise, you'll need to use a variety of different strategies.
Video content is effective in terms of engagement, shareability, and trust. And thanks to platforms like YouTube, you can expose your brand to millions! So let's get to it!