How to Start a Business This Summer
Guest Author
How to Start a Business This Summer
There is no better time to start a business than summer and it's easy to see why. The days are longer, the sun's shining bright, and the air is warmer – it's easy to feel inspired.
However, if this is your first business or you are branching out into a new side business, it is important to remember to lay the proper groundwork for your company to thrive in the future. After all, laying a solid foundation will allow smooth sailings ahead.
Here are the steps you should always follow to ensure that you have a strong and level footing.
Step 1: Determine Your Vision
The first step everyone should take after deciding to start a business, is to figure out what exactly your business will do.
You may have an abstract idea of what you want to do. However, you'll need to figure out precisely what your company will be offering to the open market.
What exactly is your product?

Is it a good you created or a service you want to provide?

What makes your product unique?
These may sound like obvious questions but they're a great place to start nevertheless. When you start to take your idea and turn it into reality, you will be better able to identify the problem areas you need to fix and the benefits you need to focus on.
Odds are you will not smooth out all the wrinkles in your product at this stage, but it will help to do so in the next steps. Remember that your product is your company's bedrock and you want it to be as strong and well-thought out as possible.  
Step 2: Use the Right Organization Type
After you have hashed out what your company is going to offer and have a tangible product, it's time to figure out what organization type will be most appropriate.
Sole proprietors, limited liability companies and corporations, among others, are all available for you to take into consideration. A common mistake is simply choosing one because you have experience with that type of organization. Rather, each business is unique. That means the best type of organization will always be different and dependent upon a variety of factors.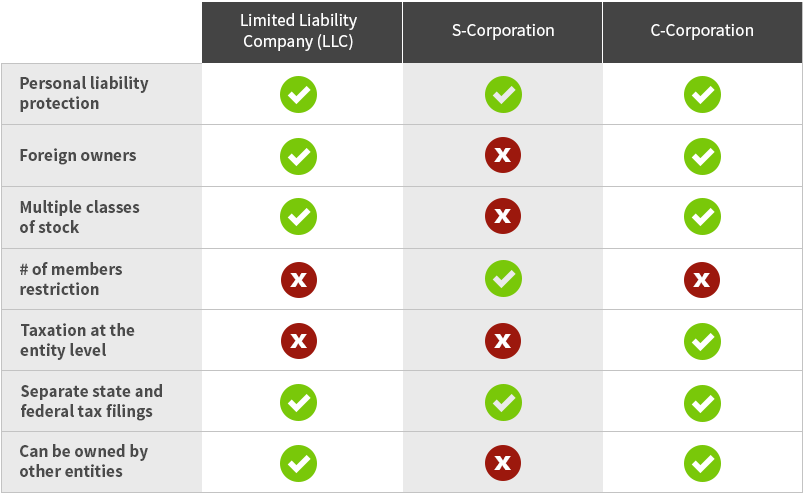 An uneducated or quick assumption could have you needlessly leaving money on the table. That being said, if you already know you will not be able to perform the required duties of other organization types than staying in your comfort zone may be appropriate.
On the one hand you have informal and easy to run companies. Despite the many benefits, these often open owners up to all kinds of personal liabilities. On the other hand, many organizations employ rigid and formal hierarchies. This method provides a defensive safety net for owners, but can hurt flexibility.
It's clear that there are advantages and disadvantages to each company type. That is why taking the time to learn about your product is so important. When you know what your company will be offering, you will know how much formality you will be able to take on, how much liability you can stomach, and the type of growth you are likely to have.
Step 3: Identify Your Market
With your product and company all set up, we can move on to understanding what your market will be.
The greatest good or service in the world will get nowhere if it is targeted to everyone. Because of this, it is important that you begin to identify your market and specialize. Understanding who will be buying your goods or services, what they need, where they live and other questions along those lines will help you better target your audience.
When you know who your customers are and what problems they have, you'll be able to tweak your original vision to better suit them. Make sure not to forget about maintaining an impressive online presence either.
Huge numbers of consumers search for local companies every day, and having a website active before your company ever opens its doors acts as both a marketing tool and a way to legitimize your business.
It not only can get you some early and easy sales, but it also builds a tremendous amount of credibility. This will be imperative for your small business to thrive once your product is finally launched.
Step 4: Find the Proper Funding
This step will vary wildly from person to person. There are numerous ways of receiving funding for your new business and it is important to get the type that will best help you. Funding is tricky because the wrong type can hurt your business or professional relationships in the long run if not properly chosen.
You may have a lump sum of money that you are able to put down this very second. Though it may sound nice to not owe any money, remember that the market may be volatile. This means it is a real possibility that the money may quickly disappear if not invested wisely.
If a lump sum is not an option, business and personal loans can be used effectively while also giving you the benefit of risking someone else's money. But do not forget, interest can easily destroy that benefit quickly.
At third option may be to borrow money from friends and family. This can end up going really well, or really poorly. These types of loans usually have a much more flexible payback method and can allow you the flexibility you need at the start of the business. However, money issues can very easily strain relationships no matter how strong. Always keep that in mind if you're thinking about stretching out the payment to test the flexibility.
Step 5: Start Building
Now that you have all of the steps complete, you have all the building blocks you need to start running your business.
With a clear vision of your product, proper protection, a market to tackle and the funding you'll need, it is time to put all the pieces together.
Covering each step one by one will ensure a strong foundation before you even open your doors for business. Assuming you've properly completed each step before moving onto the next, you'll be all set to focus on building your brand, honing your product and wowing your customers from the get go.
This means you'll come out guns blazing and waste no time getting your small business on a path to success. So what are you waiting for?
Guest Author
Deborah Sweeney is the CEO of MyCorporation.com. MyCorporation is a leader in online legal filing services for entrepreneurs and businesses, providing start-up bundles that include corporation and LLC formation, registered agent, DBA, and trademark & copyright filing services. MyCorporation does all the work, making the business formation and maintenance quick and painless, so business owners can focus on what they do best.