How Do I Find The Best SEO Company?
Sam Warren
How Do I Find The Best SEO Company?
Finding the best SEO company is a bit like finding the best nanny. You're going to want to do some research, perhaps even a little snooping.
Online reviews, checking the company page, maybe an email to find out more about their services and their story.
This is a great starting point for vetting SEO firms, but it's unfortunately not quite as easy.
It's true that most of what to look for in an SEO company comes down to common sense. But there is a catch. It's only common sense if you have a solid understanding of SEO best practices and standards.
Do you understand SEO?
Many small business owners knowledge of SEO begins and ends with knowing that it stands for search engine optimization.
The more well-informed might be able to explain that if you want your business to be discoverable on Google or Bing, that you'll need to either perform or buy SEO.

Sadly this just isn't going to be good enough when it comes to separating the wheat from the chaff. There are a lot of shady players in SEO, so let's take a look at how to identify who can help your company get discovered, and who to run like the Dickens from.
What to Look for in an SEO Company
As mentioned above, the majority of SEO companies are well-intentioned and can help your website achieve greater discoverability in the SERPS. It'll still help to take a closer look at what features you'll want to see before investing in any particular one though.
Without further ado…
On-page SEO consulting
There are a few different specialties when it comes to SEO, off-page, technical, and on-page SEO. But that being said, without even basic on page improvements or recommendations, achieving improved rankings would be an exceedingly difficult (if not impossible) proposition.
On-page improvements often concern:
keyword optimization
site speed enhancements
URL structure
site architecture
and that's just to name a few.
Now, your SEO firm doesn't have to lay a heavy focus on these tasks, but they should at least be interested in giving you recommendations on how best to address any latent issues your site may have.
Solid reporting standards
Regular updates with progress are standard operating procedure for any SEO worth their salt. While you may want more or less specific reports for your individual scenario, some form of scheduled reporting should be part and parcel for all good SEO companies.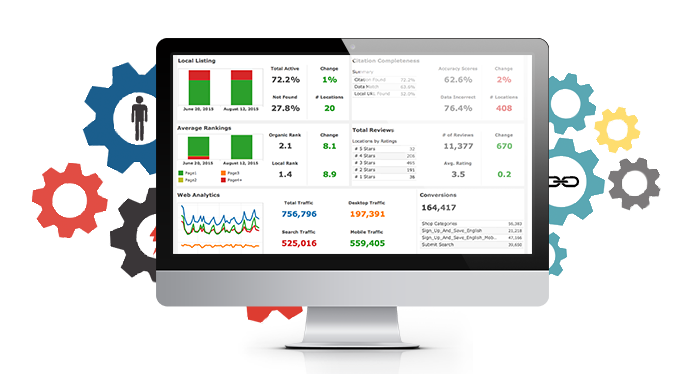 Further, these reports should either be clear enough for you to understand on your own, or they should provide on-demand help to interpret the meanings of complex data.
Social media marketing
We've written at length about why social media marketing is an important component of a strong SEO approach even though social signals themselves are purportedly not factored into Google's algorithm.
As such, any good SEO company will at least display that they're aware of the importance of a social media presence.
More complete (and usually more expensive) SEO options will include a managed social media solution as either a standard component or an add-on service to their main offer.
When you do decide to look into an SEO's own social profiles, instead of judging their competency by follower-count, instead make sure they are
engaging with their own customers
sharing meaningful content
actively promoting their own content and offers
Content marketing plan
In recent years, marketing and SEO have become more and more closely tied together. This is due in small part to the rise of content.
Content marketing delivers huge amounts of traffic and can create some serious (and measurable) brand loyalty amongst readers and followers. It's cut and dry and there's no room for interpretation, the numbers speak for themselves.
When there's data showing that companies that blog get 97% more inbound links than those that don't, it's pretty clear why most brands need a business blog.
To be clear, a good SEO firm doesn't have to provide a fully-fledged content solution, but it's great if they do. Regardless, they should at least be addressing it in some capacity.
What to Watch out for When Hiring an SEO Company
When it comes to knowing what to avoid, that same lack of knowledge amongst the general populace is precisely why so many skeevy SEO hack jobs have been able to prosper over the years.
They prey upon the relative ignorance of their customers and use it to their advantage.
But no more! With our powers combined, we can learn to avoid SEO's that aren't worth it.
Black hat tactics
Black hat SEO is broadly defined as the use of tactics to gain improved rankings that are expressly frowned upon by Google. Below you'll see a brief comparison (courtesy Neil Patel) that should help give you a good idea of what I'm talking about.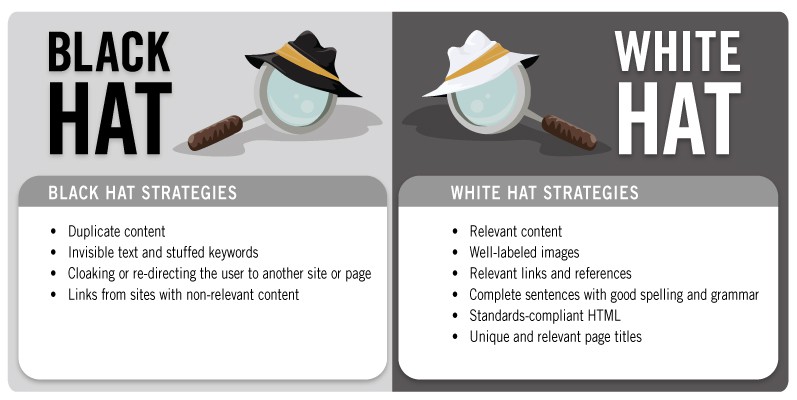 If you're not already aware of what these terms mean, I highly suggest you read our guide to avoiding black hat SEO. It should leave you well-informed enough to avoid ending up unwittingly aligning yourself with an unscrupulous SEO "expert".
Guaranteed #1 rankings
If you see an SEO claiming to guarantee a #1 ranking, move on.
Anybody that knows anything about SEO, knows that guaranteed results are the realm of unicorns and fairies. There are far too many variables, and remember, SEO is a competitive landscape.
Who's to stop a competing brand or SEO company from outperforming your chosen SEO firm? Even if the competitive nature of SEO were removed, it still wouldn't be possible to guarantee a top ranking.
The truth is, no SEO knows the Google algorithm. Google's algorithm is a closely guarded secret, don't forget it's the source of no small part of their growing fortunes.
Furthermore, the algorithm can change over 500 times a year!
Questions to Ask Your Future SEO Services Provider
Before we wrap up here, it's useful to take a look at some simple questions you can ask your future SEO provider. These questions are aimed at getting them talking and to help you get a bead on the aforementioned qualities and warning signs you know to look for now.
What manner of SEO do you primarily perform?
Is it on-page, off-page, or both? Do they engage in any social media marketing activities? Do they offer a content marketing solution? This will give you a good feel for whether they're a comprehensive solution or a one-trick pony.
What technical tools do you use?
There are a number of great tools that strong SEO firms will make use of, including Raven Tools, Ahrefs, Moz, etc. Any solid SEO strategy will require at least one of the aforementioned You just want to make sure they're not evasive about it. This is a recurring theme too: if the SEO provider you're interviewing seems to evade a lot of your questions, your internal warning alarm should start going off.
What kind of reporting do you offer?
There are a number of different reporting options SEO's generally provide. The most important of these concern SERP rankings, a summary of activities, search traffic metrics and conversion ratios.
You may not be personally invested in receiving each of these yet, but trust me when I say you'll eventually want to see them all.
Some SEO's will require an exceptionally long contract. Keep in mind that SEO is an investment. It's an act of "playing the long game". Contracts are thus standard, but be wary of anything that has you signing up for a year or longer.
What is your metric of success?
This final question will give you a good idea of how they go about doing their business. Are they considering all of the various facets of a strong SEO campaign? Are they narrow-minded?
By asking the right questions and having the right information ahead of time, you should be better equipped to enter the world of SEO without getting gobbled up by any of the scheisters who only want your money and don't care about what happens to your site in the process.