Website Conversion Rate Optimization (CRO) for Dummies
Christopher Jan Benitez
Website Conversion Rate Optimization (CRO) for Dummies
Online success is about more than just generating traffic. It's also about creating a successful user experience that increases conversions!
This is where conversion rate optimization (CRO) steps in.
So let's dive in and get familiar with CRO and some of the best ways you can work to improve yours!
What is CRO and Why Does It Matter?
The term "conversion" refers to the transition an online audience goes through. When a visitor subscribes to your mailing list, that's a conversion. When a Twitter follower makes a purchase, that's a conversion.
CRO can make this process go even faster. It creates a conversion funnel that focuses on touchpoints such as opt-in forms, landing pages, and search results.
If you're new to marketing, it might be easy to mistake CRO for any other marketing technique. But don't be fooled, it's actually a bit of a different beast.
Most marketing campaigns focus on filling the top of the funnel:
These content marketing strategies are great for brand growth, but they aren't enough to get conversions. For that, you'll need a much more elaborate set of CRO strategies.
In this post, we'll cover some of the best CRO tactics around!
A/B Testing
With CRO, you can't rely on guesswork or just copy other brands. Every business has unique needs, and the only way to determine them is through trial and error.
Conducting an A/B or split test is a great start! It involves testing two or more versions of a page or piece of content at the same time.
Remember, optimizing something requires weeks — if not months — of data before decisions can be made. Every detail, from the headline to a product photo, can impact conversion rates. A/B testing can save you a huge amount of time as it compares multiple combinations side-by-side.
Usually A/B testing features are implemented on a separate platform. It could be a landing page builder or an email marketing tool. Below are a few tools that can help you split test: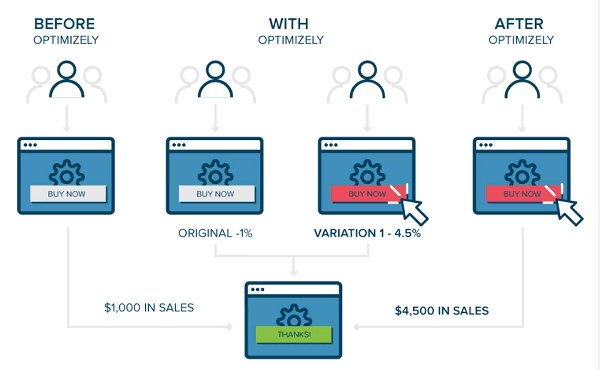 Optimizely is an A/B testing platform for digital channels on all devices. It monitors versions of a web page or app interface and identifies variables that affect conversions.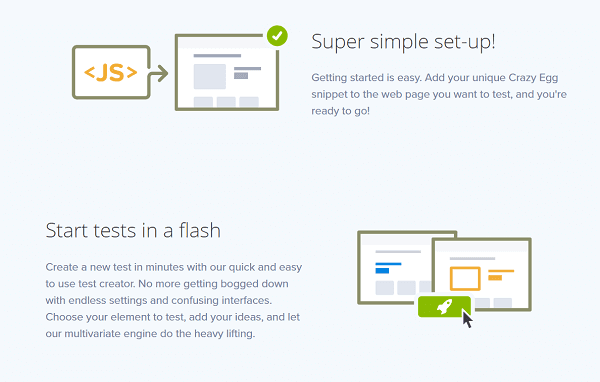 With Crazy Egg, you can skip the number-crunching and observe how visitors use your site with "heat maps". It offers easy-to-use A/B testing tools and only requires you to select the specific thing you want to test.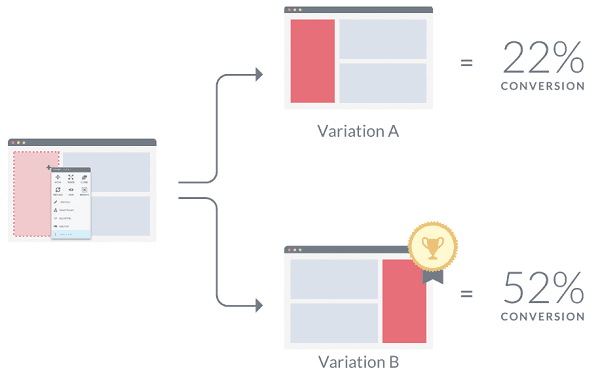 VWO works just like Optimizely. After creating variations of your web page, you can start tracking clicks, signups, and other metrics that matter for CRO.
CTA Design
When reading about CRO, you'll probably come across the phrase "CTA" or call-to-action. CTA plays a pivotal role in a lead's conversion journey.
For example, imagine a potential customer clicked on your blog post. This hopefully means you were able to address their concerns and earn their trust. However, you forgot to include the right CTA that shows them the next step.
It could be a simple "Sign Up" button or a "Contact Us Now" prompt. The potential customer is already there — engaged and willing to listen. But without the right CTA, you won't be able to convert them.
Tweet: "CTA's are essential in giving potential leads that one last push towards conversion."
Just like everything else in CRO, it's impossible to nail your CTA design on the first try. Still, you should be able to improve your chances by following these proven strategies:
1. Use the right color
When it comes to the color of your CTA button, there's no correct answer. It all boils down to two things: your brand's visual scheme and viewability.
If your website is blue, you should pick a contrasting color. An orange or green CTA button, for example, will really stand out!
2. Use actual buttons
Some brands use images or text-based links as CTA "buttons." Not only are they hard to see, but they're also not as appealing to click. Fortunately, most landing page builders can help you create a CTA button without having to write code.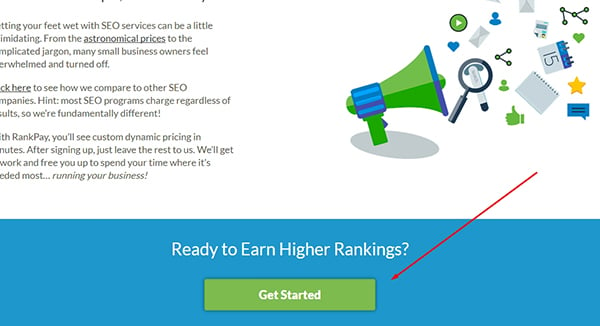 3. Use power words
Power words have been around for a long time— and for good reason. They can instill just about any emotion.
Here are some examples to illustrate what I mean:
Urgency — Now, Today, Limited, etc.
Greed — Grow, Boost, Supercharge, etc.
Curiosity — Discover, Join, Learn, etc.
Frugality — Free Access, Trial, Affordable, Risk-Free, etc.
Eliminate Friction
From a CRO standpoint, friction can mean many things. It could be a long registration page, a popup, poor site speed, you name it! Really, it could be anything that prevents a smooth conversion.
Here are the ones that demand immediate attention:
Page Loading Speed – Statistics show that 40% of web users will leave a site that takes longer than 3 seconds to load. Optimize your site speed if you want content conversions!
Boring Content – When designing a landing page, make sure you highlight your unique selling points. If you write a description, keep it short and easy to digest. Consider creating infographics with Canva.
Asking Too Many Questions – Avoid asking too many questions in conversion points. For example, when creating a checkout page, only ask for details that are important to the sale. Asking for extra information, such as a home address or phone number, will only put off potential customers.
It shouldn't be too difficult to determine which on-page elements generate friction. However, off-page factors, such as negative PR or dominant competitors can also kill your conversions.
If you want to focus on the finer details of CRO, start with your customers first.
Conclusion
It's important to keep in mind that CRO isn't a weekend DIY project.
If you want to be competitive, you'll need to put in some work. It may also be in your best interest to partner up with an agency or hire on people that can help you cover the bases. These could include optimizing your content marketing and social media as well.
Hopefully, the strategies above can set you in the right direction. Be sure to come back often for more marketing, SEO and CRO tips. Good luck!